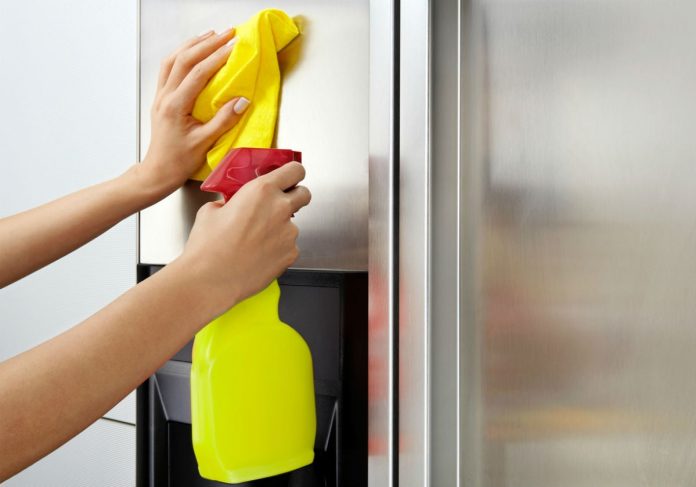 Carefully and thoroughly remove fingerprints, food splatters and grease from kitchen metal surfaces with this suite of cleaning products and techniques.
Gleaming stainless steel brings a bright and polished look to any kitchen. However, maintaining that shine takes a little work – and some very specific cleaning products. Fortunately, this complete guide on how to clean stainless steel will help you keep this metal surface looking as good as new.
6 Mistakes You Can't Make With Stainless Steel
When considering how to clean stainless steel appliances, sinks and countertops, the first thing you need to know is what not to do. Some popular cleaning products can damage the surface of stainless steel, and even clean water can leave unsightly marks and spots if used improperly. Despite its name, stainless steel can, and does, stain.
So, first and foremost, for clean stainless steel surfaces, these products and techniques are to be avoided.
Don't use chlorine bleach or any product that contains chlorine.
Do not use oven cleaners.
Do not use steel wool, steel brushes, or highly abrasive scouring pads, all of which can cause scratches or leave a residue of small particles that may rust. (If you have already caused some damage, check out our guide to removing scratches from stainless steel).
Do not use abrasive cleaners on brushed stainless steel.
Do not clean a stainless steel surface unless it is cool to the touch.
Do not use gritty, dirty or overly hard water as it can leave spots or brown stains.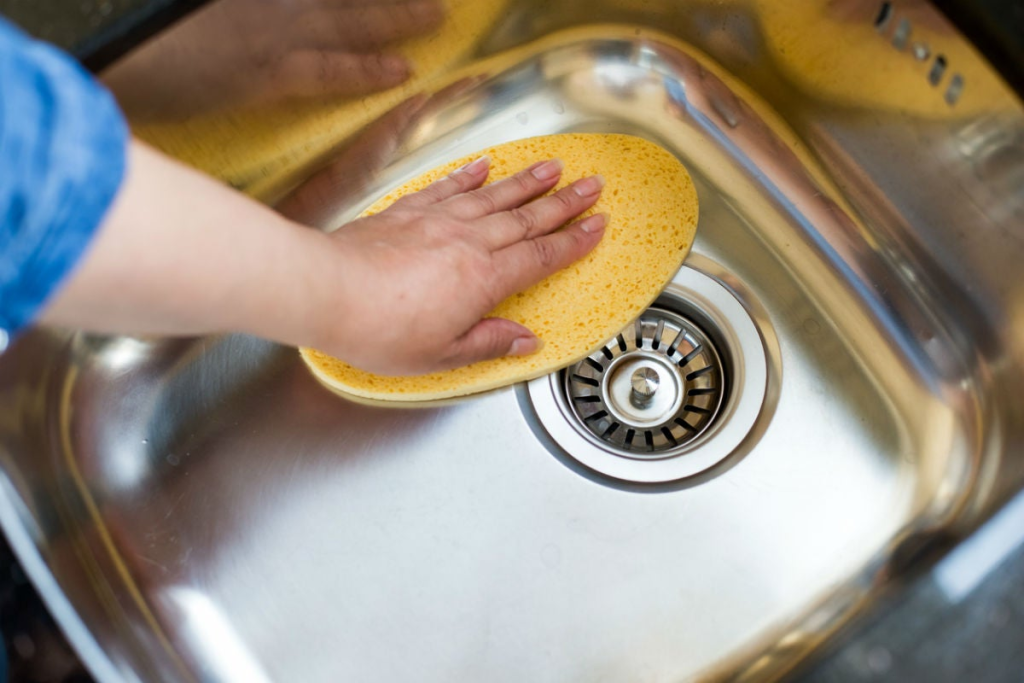 The right way to clean stainless steel
While the list of what not to do may seem daunting, there are some very simple things you can do to clean stainless steel appliances without going any farther than your kitchen sink.
Keep the following tips on how to clean stainless steel in mind.
Pay attention to your owner's manual and follow the cleaning and care instructions to the letter.
Some new stainless steel appliances come from the factory with a clear coat finish, and some cleaning products can peel or damage that coating.
Wipe the appliance down with soapy water every time you wash the dishes.
This is one of the best habits to get into when cleaning stainless steel, and it's easy to get into. Rinse the towel with clean water, then wipe again to remove any soap; finish by wiping with a dry terry towel.
Wipe in the direction of the "grain" of the stainless steel.
Start at the top of the unit and work your way down to the floor.
Wipe down baked-on food with a nylon scrubber, mild liquid dishwashing detergent and hot water.
Dealing with heavier grease or baked-on food requires a bit of abrasion, but be wary of tools that leave scratches – a nylon scrubber offers just the right compromise. After cleaning stainless steel surfaces, be sure to rinse the surface and towel dry to prevent water spots or stains.
Use baking soda paste to remove the most stubborn stains.
Mix baking soda with liquid detergent to form a paste and gently scrub into the texture with your nylon cleaning tool or an old toothbrush. If some really stubborn dirt and stains remain, you can use undiluted cleaning vinegar to remove them – but only if you've confirmed that your stainless steel has no oleophobic layer (i.e., oil-resistant), which can be stripped away by the vinegar solution – and gently scrub again with a soft brush. Be sure to rinse well and towel dry.
CLICK NEXT PAGE BELOW TO CONTINUE READING …