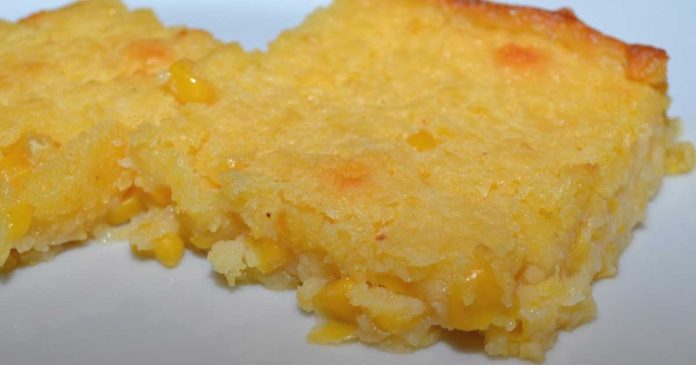 I have a lot of favorite comfort food dishes: homemade mac n' cheese, scalloped potatoes, fried chicken, bacon grilled cheese, chicken pot pie… gosh, is anyone else getting hungry? If you love these and all forms of comfort food, the recipe we're about to share with you is bound to become one of your new favorites.
This recipe is basically a combination of creamy corn casserole and cornbread. And if you enjoy both of these dishes, just imagine what you'll think of this one. Especially when you sprinkle some cheese over top! 
This is a great recipe to whip up for a family dinner, holiday meal, or comfort food-inspired side dish
Prep Time : 10 mins
Cook Time : 45 mins
Total Time : 55 mins
Servings : 12
Yield : 12 servings
Ingredients
1 (11 ounce) can whole kernel corn, drained
1 (11 ounce) can cream-style corn
1 (8 ounce) container sour cream
1 egg
1 (8.5 ounce) package dry corn bread mix
1 small onion, diced
1 cup shredded Cheddar cheese, divided
Local Offers
00000 ChangeOops! We cannot find any ingredients on sale near you. Do we have the correct zip code?ADVERTISEMENT
Directions
Preheat oven to 350 degrees F (175 degrees C). Grease a 9×13 inch baking dish.
In a large bowl combine whole corn, cream-style corn, sour cream, egg, dry corn bread mix, onion and 3/4 cup of Cheddar cheese. Mix well and pour into prepared dish.
Bake in preheated oven for 25 minutes.
Remove from oven and sprinkle with remaining cheese. Bake for another 20 minutes.