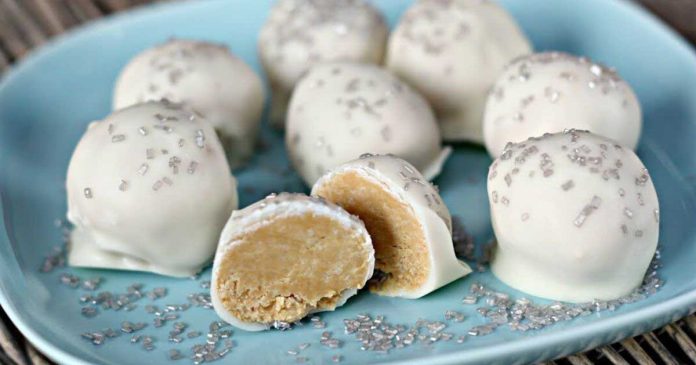 Ever since I was a kid, I have always been obsessed with peanut butter. Whether I was dipping apple slices or eating it straight from the jar with a spoon, peanut butter is creamy, nutritious, and oh so delicious. And as any peanut butter lover knows, what better way to eat peanut butter than in dessert form?!
Six Sisters' Stuff came up with a recipe for Peanut Butter Snowballs that you'll definitely want to add to your list of favorite sweet treats. This recipe involves dipping balls of chilled peanut butter into candy coating or white chocolate before topping with sprinkles. If you're a milk or dark chocolate lover, you could use either one of those instead.
Want to use something other than peanut butter? Almond butter, cashew butter, Nutella, Oreo's (blended), and crunchy peanut butter can all be used as substitutes. The best part about this recipe is that it requires very few ingredients and can be whipped up in very little time. Plus, they're quite pretty and present very well!
Six Sisters' Stuff has made it oh so simple to create this recipe – with both step-by-step instructions and a video tutorial, they really do walk you through the entire recipe. Thanks for sharing this unique and drool-worthy recipe, Six Sisters' Stuff – we can't wait to try it!
PREP TIME : 45 MINS
CHILL TIME : 30 MINS
TOTAL TIME : 1 HR 15 MINS
Ingredients
1 cup powdered sugar
3 Tablespoons butter softened
½ cup creamy peanut butter
1 pound white chocolate candy coating or almond bark
sugar sprinkles optional garnish
Instructions
In a medium-sized mixing bowl, combine powdered sugar, peanut butter and butter; mix well.
Line a large cookie sheet with wax paper and shape dough into 1″ balls; place balls on wax paper.
Chill dough balls in the fridge for about 30 minutes or until firm.
In another medium-sized bowl, melt candy coating according to directions on package (I usually microwave mine for 30-second intervals, stirring each time, until completely melted and smooth).
Dip balls in candy coating (roll around so that they are completely covered) and place on wax paper. If you want, garnish tops with sugar sprinkles (do this quickly before the candy coating hardens).
Place balls back into the fridge to set up.
Notes
For dipping, one of our tricks is to use a plastic fork and break off the middle tines. Just leaving the two on each end (it kind of looks like a hand doing a rock-on sign! Ha ha!).Drop the frozen ball into the white chocolate and then carefully lift out with the fork invention, tapping the side of the bowl to let the excess chocolate drip off.
Nutrition
Calories: 172 kcal · Carbohydrates: 20 g · Protein: 1 g · Fat: 10 g · Saturated Fat: 7 g · Cholesterol: 4 mg · Sodium: 43 mg · Potassium: 35 mg · Fiber: 1 g · Sugar: 19 g · Vitamin A: 44 IU · Calcium: 3 mg · Iron: 1 mg