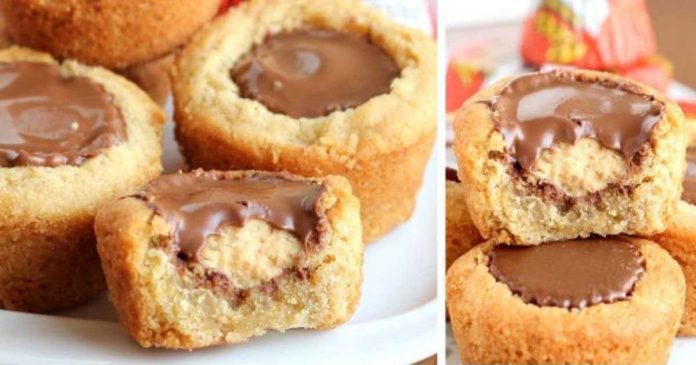 There are some things that are just meant to go together – macaroni and cheese, spaghetti and meatballs, and of course, peanut butter and chocolate. And that's precisely why Reese's Peanut Butter Cups were invented. Now, the only thing better than a Reese's Peanut Butter Cup is when that cup is combined with a chewy chocolate chip cookie.
Food blogger Cakes Cottage has created a recipe combining these two delicious treats that is even better than it sounds. The best part about this sweet and delicious recipe is that it doesn't require a ton of ingredients and only takes eight to ten minutes to cook.
Although this recipe is clearly perfect for making year-round, it's also the absolute perfect holiday treat. After all, have you ever met someone who doesn't like peanut butter cups or chocolate chip cookies? Probably not. This recipe is a serious crowd-pleaser, and I know I'll be keeping it in my recipe book from here on out.
Prep time ; 20 mins
Cook time : 10 mins
Total time : 30 mins
Ingredients
1¾ cups all-purpose flour
1 teaspoon baking soda
½ teaspoon salt
½ cup unsalted butter , softened
½ cup peanut butter
½ cup white sugar
½ cup brown sugar
1 egg
1 teaspoon vanilla extract
2 tablespoons milk
48 miniature Reese's peanut butter cups, unwrapped
Instructions
Preheat oven to 375 degrees F.
Lightly spray (2×24) mini muffin pans with baking spray or use silicone muffin pan.
In a small bowl, whisk together the flour, baking soda and salt. Set aside.
In medium bowl, beat butter,white sugar,peanut butter and brown sugar with electric mixer on medium speed until light and fluffy, about 3 minutes.
Add the eggs, vanilla and milk and on low speed add the flour mixture and beat just until incorporated.
Fill each miniature muffin cup with about one tablespoon of batter.
Bake the cookie cups for about 8-10 minutes, or until the cookie cups are lightly browned around the edges but still soft in the center.
Remove from oven and immediately press a miniature Reese's into each cookie cup.
Let cool 15-20 minutes in pan.
Remove cookie cups from baking pan (At first the Reese's miniatures are nice and melty – be sure to eat at least one cup this way!), and serve.
Store leftovers in an airtight container for 3-4 days, or freeze for a convenient treat.