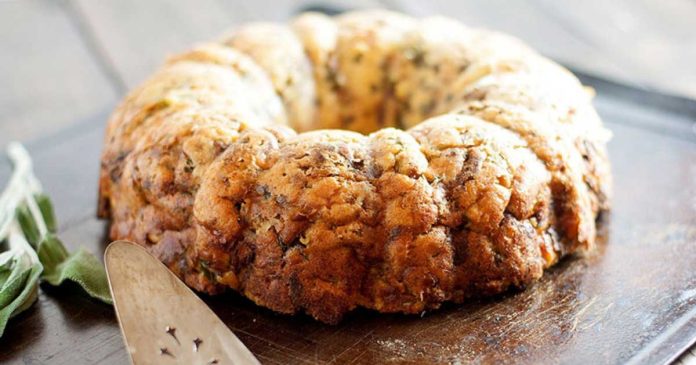 Elevate your holiday feasts with a stunning twist on a classic favorite. "Savory Stuffing In A Bundt Pan" is not only a delicious addition to your table, but it also adds a touch of elegance to your holiday gatherings. The distinctive shape and flavors of this dish are bound to make it the star of your feast. Let's explore this unique approach to stuffing and create a memorable dining experience for your family and friends.
Savory Stuffing In A Bundt Pan Recipe:
Ingredients:
1 loaf of rustic bread, cut into cubes
1/2 cup unsalted butter
1 large onion, finely chopped
2 celery stalks, diced
2 cloves garlic, minced
2 cups chicken or vegetable broth
2 eggs
1/4 cup fresh parsley, chopped
1 tablespoon fresh sage, finely chopped
1 tablespoon fresh thyme leaves
Salt and pepper to taste
Instructions:
Preheat and Prepare: Preheat your oven to 350°F (175°C). Grease a Bundt pan generously with butter or cooking spray, ensuring it's well-coated.
Sauté Aromatics: In a large skillet, melt the butter over medium heat. Add chopped onions, diced celery, and minced garlic. Sauté until they become tender and fragrant, about 5-7 minutes. Remove from heat and let it cool.
Mix Ingredients: In a large bowl, combine the bread cubes, sautéed vegetables, fresh herbs, and season with salt and pepper to taste. Toss to distribute the flavors evenly.
Moisten with Broth: Gradually pour the chicken or vegetable broth over the mixture, making sure it's evenly moistened. You can adjust the amount of broth to achieve your desired stuffing consistency.
Bind with Eggs: Beat the eggs in a separate bowl and then fold them into the mixture, ensuring they help bind everything together.
Fill the Bundt Pan: Carefully pack the stuffing mixture into the prepared Bundt pan, pressing down gently to ensure it takes on the distinctive Bundt shape.
Bake to Perfection: Place the Bundt pan in the preheated oven and bake for approximately 40-45 minutes or until the top is golden brown and the stuffing is set.
Serve with Style: Allow the Bundt pan stuffing to cool for a few minutes before inverting it onto a serving platter. The stuffing will emerge beautifully and is ready to steal the spotlight on your holiday table.
Conclusion:
"Savory Stuffing In A Bundt Pan" is not just a dish; it's a statement piece for your holiday celebrations. This unique recipe combines the comforting flavors of classic stuffing with an eye-catching presentation that will leave your guests in awe. As you enjoy this dish with your loved ones, savor the blend of tradition and innovation that the holiday season brings. Create memories and traditions by introducing this delightful culinary masterpiece to your table.
SOURCE OF THE PICTURE : kims healthy eats