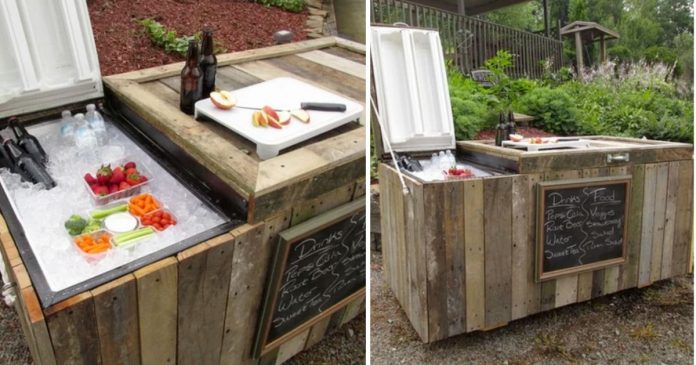 When the weather is nice in spring, I like nothing better than to have dinner on our terrace with a good glass of wine. We love to entertain outdoors and I am always looking for new ways to make our outdoor space more welcoming. And that's exactly where this great DIY project comes in. If you have an old fridge in your basement or garage, why not turn it into a rustic inspired outdoor cooler?
Matt Makes from "Instructable" explains that an old broken refrigerator can easily be reused for this great project. If you don't already have an old fridge, you can find a used one at Kijiji, Facebook Marketplace, or something similar. Once you have a cooler, all you need is a few basic tools and about $40 worth of supplies.
This project essentially consists of dismantling the refrigerator, then covering it with old wood (from wooden pallets) and adding wheels at the bottom to make the cart portable. This makes it the perfect place to store cold drinks, snacks or anything else you want to keep cool while having fun outdoors.
Feeling very creative? you can add a little picture on the front of the fridge so your guests know what's being served! This project is cheap and can be done easily in a weekend. It will also beautify your garden and make your outdoor gatherings a topic of conversation in the neighborhood.
CLICK NEXT PAGE BELOW TO CONTINUE READING …