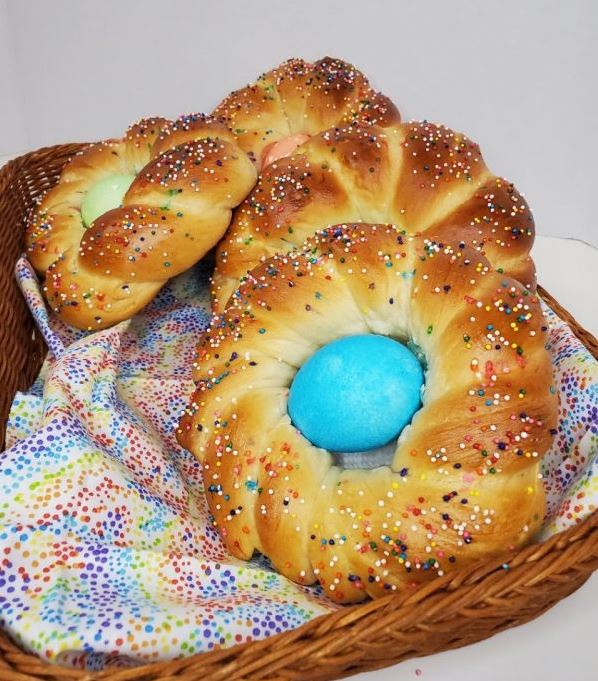 PREP TIME : 20 minutes
COOK TIME : 20 minutes
ADDITIONAL TIME : 2 hours
TOTAL TIME : 2 hours 40 minutes
INGREDIENTS
1 package rapid rise yeast (2 1/4 teaspoons)
1 1/4 cup warm milk
1/4 teaspoon salt
1/3 cup unsalted butter
2 large eggs, beaten
1/2 cup of granulated sugar
4 cups all purpose flour
6 dyed eggs
1 egg for egg wash
INSTRUCTIONS
In a small bowl heat the milk in the microwave for 1 1/2 minutes.
Check the temperature to make sure it isn't over 130F degrees and then add the yeast.
In a large mixing bowl combine the sugar, butter, salt, eggs and milk mixture. Mix the ingredients until combined.
Add 2 cups of flour and mix with dough hook attachment for about 2 minutes at medium speed.
Add the remaining flour and mix at low-medium for approximately 14 minutes until the dough attaches to the hook.
Shape the dough into a ball and place in a greased bowl with a cover for about 1 hour until doubled in size.
While the bread is rising color 6 eggs and let them dry until it's time to bake.
Divide the dough into 12 pieces and roll them out with your hands into long strands about 14 inches long.
Twist two pieces together and form a circle by pinching at the ends.
Place onto a parchment lined baking sheet three at a time. Cover with cling wrap and let rest for another hour.
Brush each circle with egg wash and cover in sprinkles. Place a colored egg in the center of each.
Bake at 350F degrees for approximately 20 minutes.
CLICK NEXT PAGE BELOW TO CONTINUE READING …