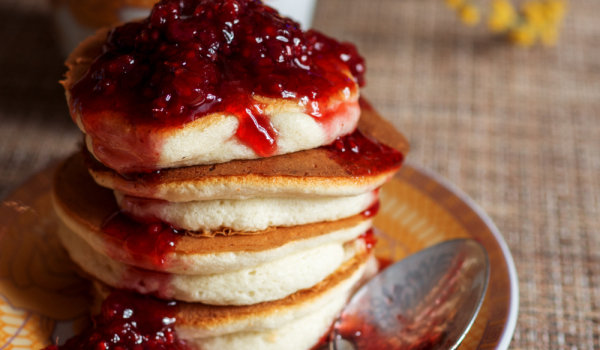 "The Japanese Pancakes are tastier in the morning, after all they come from the country of the rising sun"
Preparation : 10 min.
Cooking : 15 min.
Тotal : 25 min.
Servings : 6
INGREDIENTS
eggs – 2 pcs.
sugar – 1.1 oz (30 g)
honey – 1 tbsp.
flour – 4 oz (110 g)
baking powder – 1/2 tbsp.
powdered milk – 0.7 oz (20 g)
milk – 3 1/3 tbsp (50 ml)
HOW TO COOK
Try something different than the classic pancakes, by preparing this Japanese recipe. They a light and fluffy!
Mix the eggs, sugar and honey, until the sugar desolves completely.
Mix the dry ingredients in a second bowl – flour, baking powder and powdered milk. Add them to the egg mix, and add the milk in the end.
The batter should be homogeneous and not clumpy. Allow it to rest for about 15 minutes.
Heat a non-stick pan and pour half a laddle of the batter. Don't put too much at once and keep the pan still, without trying to spread the mix all over.
This batter is a little thicker than the classic one, so it won't spread too much. Observe the pancakes and once you start seeing bubbles along the surface, it is ready to be flipped. Cook the other side for a minute and set aside.
Repeat until the batter is finished.
Enjoy!