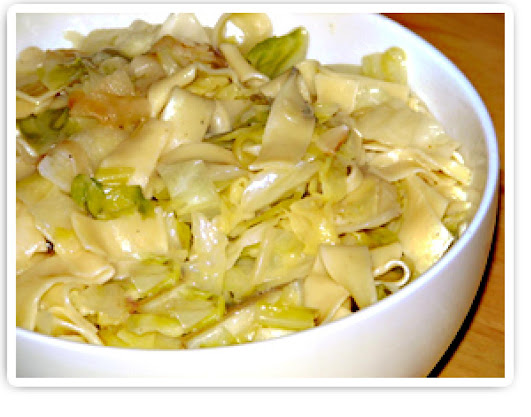 This dish has its roots in Hungary but is also popular in Austria and Germany. My German grandmother made this using square pieces of pasta, I like to use dumpling noodles when I can find them. I like to fry some chopped bacon and garlic together with the onions and cabbage. This a cheap but very good meal. Edit to say, and hope this helps for others who will try this recipe, the step of letting the cabbage sit in the salt is important, it does add a better flavor to the recipe and the texture.

Ingredients For Krautfleckerl- Hungarian Cabbage And Noodles
1 Tbspkosher salt
4 csliced cabbage
1 csliced onions
4 Tbspbutter, canola oil or bacon fat
2 tspsugar
1/4 tspfreshly ground black pepper
3 ccooked noodles
sour cream for serving
How To Make Krautfleckerl- Hungarian Cabbage And Noodles
1– Mix the salt and cabbage together and let stand 30 minutes.
2– Squeeze out as much liquid as possible. Heat the butter in a deep skillet, add the onions, cabbage, sugar and pepper.
3– Cook over low heat, stirring frequently, until cabbage is browned, about 25/30 minutes.
4– Add the noodles and toss to blend thoroughly. Serve with sour cream that has been drained in cheesecloth.
5– To make this a main dish meal add Kielbasa or cubed ham to cabbage when frying.