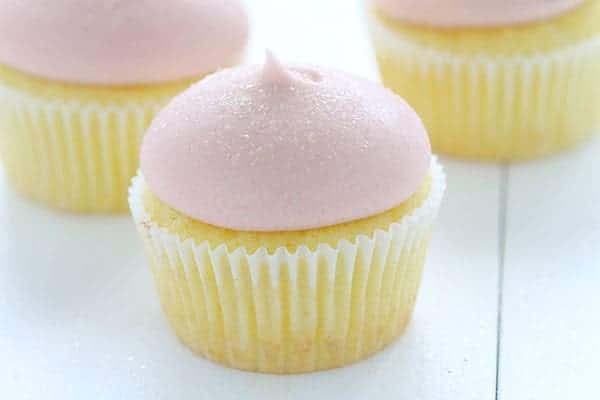 There is something so magical about these lemon cupcakes with strawberry buttercream! The flavors, the light, the heat, the refreshing flavors of summer that taste amazing any time of year!
PREP TIME : 10 MINS
COOK TIME : 20 MINS
TOTAL TIME : 30 MINS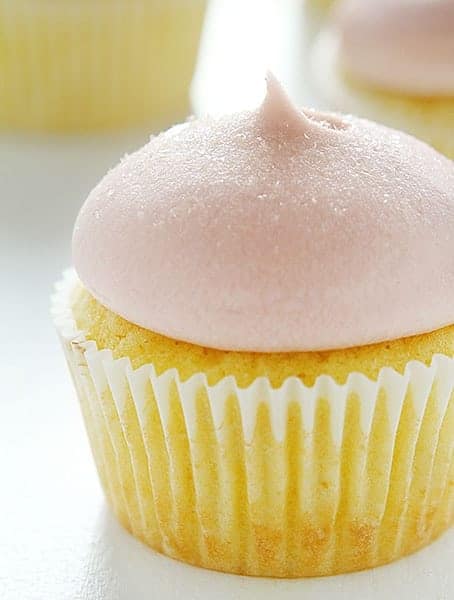 Ingredients
Lemon Cupcakes
▢1½ cups (192g) all-purpose flour sifted
▢1 tsp. baking powder
▢¼ teaspoon coarse salt
▢½ cup (1 stick, 113g) unsalted butter, room temperature
▢1 cup (200g) granulated sugar
▢3 large eggs, room temperature
▢½ cup (123g) whole milk, room temperature
▢1 teaspoon pure vanilla extract
▢3 tablespoons lemon juice, divided
▢1 tablespoon lemon zest
Strawberry Buttercream
▢½ cup (1 stick, 113g) unsalted butter, room temperature
▢1 teaspoon vanilla
▢⅓ cup strawberry jam or preserves
▢3 cups (384g) confectioners' sugar
▢1 tablespoon milk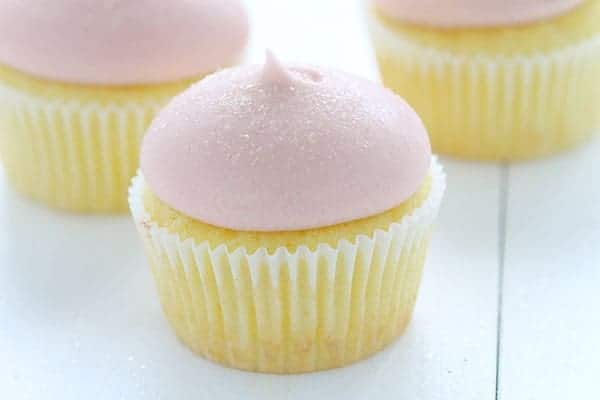 Instructions
Lemon Cupcakes
Heat oven to 350°F. Prepare cupcake tins. (This recipe yielded 15 cupcakes for me.)
In a medium bowl, whisk together flour, baking powder, and salt; set aside.
In stand mixer with paddle attachment (starting on low), cream together room temperature butter and sugar on medium-high until light and fluffy. Reduce speed to low and add in eggs, one at a time and mix until just blended.
Add in vanilla, 2 tablespoons of lemon juice and milk and mix for about 30 seconds on low. Slowly add in dry ingredients and mix until just combined.
Remove from mixer then fold in lemon zest with spatula.
Divide batter evenly among prepared muffin cups. Transfer muffin tin to oven and bake until tops are just dry to the touch, 18 to 20 minutes.
Use a pastry brush to brush remaining 1 tablespoon of lemon juice over the top of the cupcake while they are still warm.
Let cupcakes cool completely and dry before topping with strawberry frosting.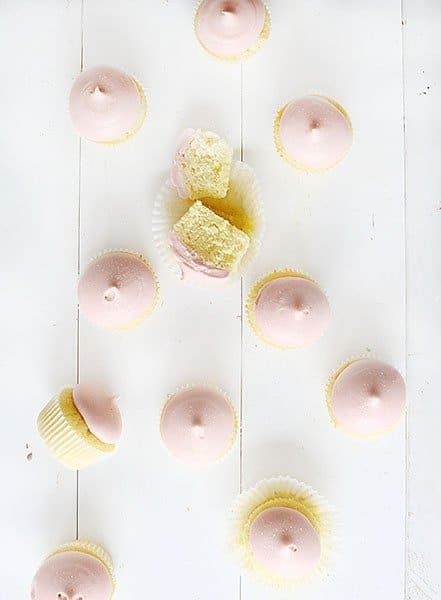 Strawberry Buttercream
Place butter, vanilla and jam in stand mixer with whisk attachment. Whisk on medium-high for 1-2 minutes, or until fully incorporated.
With mixer on low, add in sugar, one cup at a time. When mixer starts to struggle, drizzle in milk one tablespoon at a time.
After all milk as been added whisk buttercream on high for 1-2 minutes.
To make cupcakes, put buttercream in a pastry bag with a large open tip. (or no tip at all, just the opening of the bag) and pipe out dollops on top of cooled cupcake.
OPTIONAL: Sprinkle with gold Star Dust.