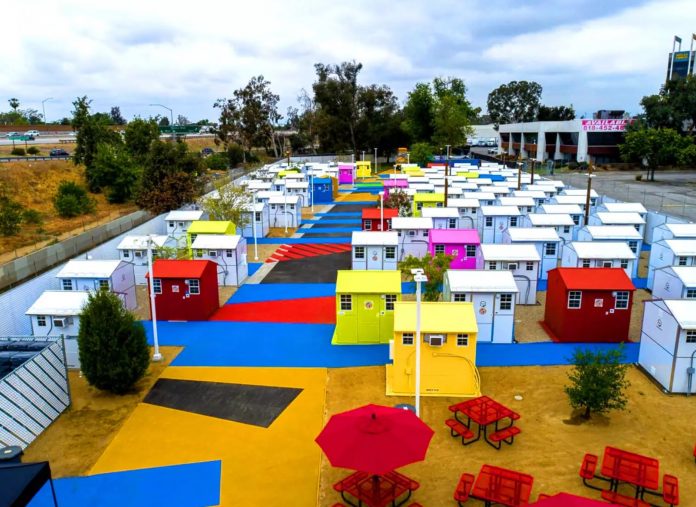 Tiny homes represent a delightful residential concept in their own right, but architects and developers are increasingly venturing into the creation of tiny home communities, adding a layer of social good to the mix. Recently, Lehrer Architects, a Los Angeles-based architecture firm, proudly unveiled the grand opening of the Alexandria Park Tiny Home Village in the heart of North Hollywood. This vibrant tiny home community not only boasts a cheerful aesthetic but is also meticulously designed to address the pressing issue of homelessness in Los Angeles.
As reported by The Architect's Newspaper, the Alexandria Park Tiny Home Village marks the second collaborative effort between Lehrer Architects and the Bureau of Engineering to bring these tiny home communities to life. The village comprises 103 single and double-occupancy units, complemented by a variety of communal structures and outdoor spaces. In sum, this tiny home haven has the capacity to shelter up to 200 of Los Angeles's homeless population.
The project site is characterized as an "edge space," a previously overlooked parcel of land adjacent to the freeway. While other developers dismissed this space as unsuitable for conventional construction, Lehrer Architects recognized its potential to serve as an efficient home for a functional tiny home community.
Beyond the tiny homes themselves, the Alexandria Park Tiny Home Village provides residents with three daily meals and grants access to communal showers, restrooms, storage facilities, dining areas, and essential support services. Each unit features a fold-down bed, heating, air conditioning, electrical outlets, and secure locks. While not intended as permanent housing, these tiny homes offer a secure and valuable transitional space for individuals moving from the streets toward more stable accommodations.
Remarkably, there is no set time limit for residents at the Alexandria Park Tiny Home Village. As long as residents adhere to the village's policies, including a no-alcohol rule and an evening curfew, they are welcome to stay until they secure a more permanent solution. Michael B. Lehrer, the founding partner of Lehrer Architects, expressed his enthusiasm, saying, "It is thrilling to be here using our medium to give, develop, and invent form and processes to transform LA into a fully housed city. Making a difference is a joy of citizenship."
We applaud Lehrer Architects and similar firms for their initiatives in creating projects like the Alexandria Park Tiny Home Village. These developments are undeniably transformative for those experiencing homelessness, and we hope to witness more of such projects sprouting up in the future.
SOURCE of pictures : archpaper.com , The Architect's Newspaper via Lehrer Architects