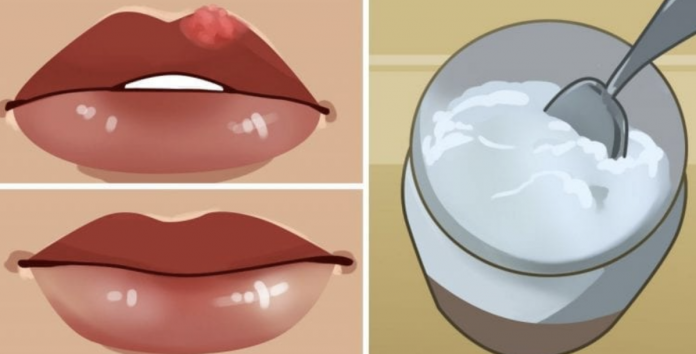 The cold sore causing virus, HSV-1, infects a lot of people, and approximately 3.7 billion people have a chronic condition. Surprisingly it infects 49% of women and 39% in the United States of America and 69% of women and 61% of men in Europe.
Cold sores do not last long and they stay for only 2 to 4 weeks before disappearing because the human body can treat this condition by itself even though it takes quite some time. If you want to help your body speed up the healing process, you can make these DIY lip balms to help it do just that.
Shea Butter Lip Balm
To make shea butter lip balm you are going to need:
– Ingredients:
an ounce of coconut oil
an ounce of beeswax
an ounce Shea butter
15 to 20 drops of essential oil
a teaspoon of honey
To make the lip balm, fill 50% of a medium pot with water and put it over medium heat on your stove. Make a double boiler by putting a smaller pot in the previous one, then add in the beeswax, coconut oil, and shea butter. When the ingredients meltdown, start whisking the essential oil and honey after removing the pot from the heat. Now, use a funnel to transfer the obtained liquid to chapstick tubes and let everything stay for an hour to cool down.
Healing Cold Sore Balm 
– Ingredients
1 tablespoon Shea butter or mango butter
2 tablespoons coconut oil
2 tablespoons beeswax
4 tablespoons lemon balm oil
2 drops clove bud oil
15 drops tea tree oil
25 drops peppermint essential oil
half a tablespoon castor oil
half a tablespoon tamanu oil
This is a relatively complicated method, so pay close attention to details. Fill a quarter of a heat-proof jar with crumbled dried lemon balm leaves, then slowly pour in sunflower or olive oil until the jar is almost full. Grab a saucepan and fill it with some water and place the jar in it, then turn on the heat (medium-low or low, these are the only two options you have) and let it sit for a few hours. Make sure to keep an eye on the saucepan to prevent herbs from burning. When the infusion is completed, strain then put in sealed jars and store them in a dark and cool place for an entire year.
To make the lip balm, grab a heatproof container and mix all of the ingredients in it. Now fill a saucepan with some water and put the container in it. Heat over medium-low heat until the butter completely melts down. Remove from heat and start stirring. Transfer and store the obtained liquid in separate containers.