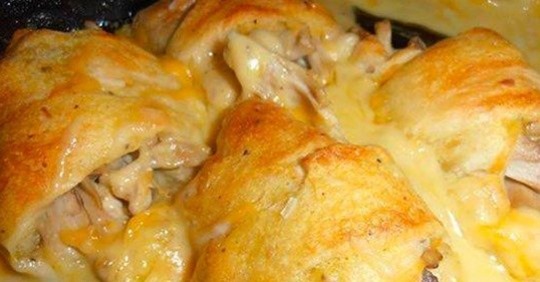 Mama's chicken roll ups are one of my most popular recipes, pure comfort food! Yummy and delicious they make a kid friendly meal!
It doesn't get any easier then this for a quick weekday meal! And the best part is the whole family will love it. This recipe is always popular when my kids have friends over, they all love it! The filling is delicious and even the pickiest of eaters will request these again.
If you want to kick it up a notch you can add some spices or a bit of hot sauce. This will definitely be one of your favourites! It's that good!
"These were very tasty. Nice and easy to fix. Will make again. Thanks for posting."
Ingredients:
2 large Chicken Breasts ; Shred
1 can Crescent Rolls
1 10.5 oz Cream of Chicken Soup
1/2 can of broth ; Use cream of chicken can
1/2 can milk ; Use cream of chicken can
1 tablespoon All purpose flour
6 oz shredded cheese
pinch salt
Directions:
Click Next Button Bellow for Full Recipe…