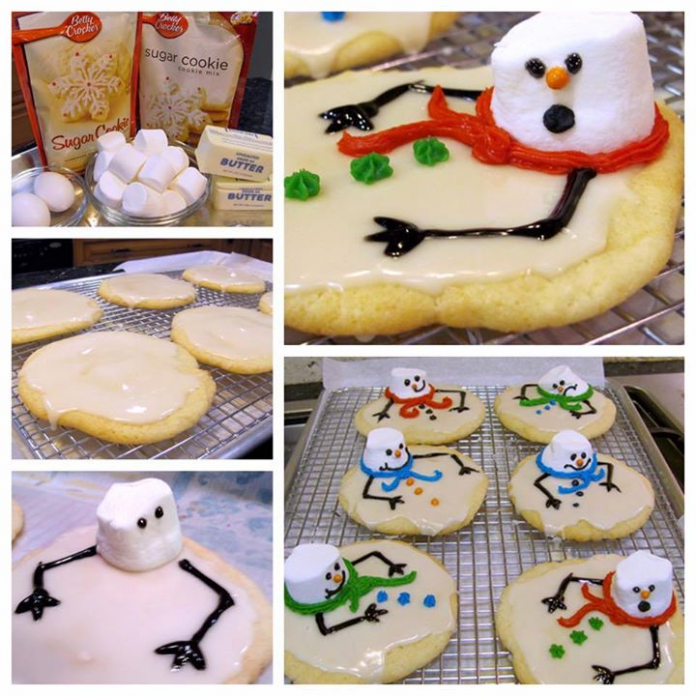 Some of the product links on this site are affiliate links through Amazon. Making a purchase through an affiliate link does not change your cost, but I will earn a small percentage of any sales made through those links.  Thank you very much for reading and helping to support My Imperfect Kitchen.
I came across these adorable Melted Snowman Cookies during my weekly internet quest for bowling snacks.
The moment I saw them, I knew I had to make them! They are so darn cute!! Plus, they are simple and easy to make! Between work and the craziness of the holidays, I'm all about "easy-to-make!"
Let's gather a few things from the fridge and the pantry and get started!!
You know I didn't even notice the cookie dough packages had two different covers on the front. Do you see how focused I was on creating these yummy cookies?! This picture shows the ingredients for TWO batches! (Y'all know I like cookies! Don't judge!)
For ONE batch (approx 10-12 cookies), you'll need:
1 package of Betty Crocker's Sugar Cookie Mix
10-12 large marshmallows
your favorite white cookie icing (or use my recipe below!)
Wilton decorating tips (I used a #16 star tip from Wilton)
and your imagination!
You can use Betty Crocker Cookie Icing or make your own. I used Betty's Red, Green, and Blue!  I also used mini orange pieces from Wilton's Rainbow Chip Crunch sprinkles for the noses, however you can also use mini M&M's (nose will be flat) or a bit of orange frosting!
See, simple and easy! Would I lie to you?
Mix the cookie mix (does that sound weird to anyone else?) together, then take a small chunk (about the size of a golf ball) and flatten to about 1/4″-1/2″ depending on how thick you like your cookies. Remember, they are supposed to be melted snowmen so the more irregular the shapes are, the better the final product will be! Isn't that just perfect for an Imperfect Kitchen? I think I love these cookies even more now!
Bake the cookies according to the package directions. Pull them out when they're done and let them cool on a rack. When they are cool, ice the cookies with an offset spatula, letting some of the icing drip over the edge for that melting effect!
Spray a microwave safe plate with cooking spray and put the marshmallows on it. Cook on high for about 15-20 seconds. Watch the marshmallows carefully, you don't want to let them get too fluffy.  Spray your hand with the cooking spray (Great tip!) and pull the marshmallows carefully off the plate and set them on the frosted cookies.
Some of my marshmallows fell over, but I just left them that way! I think it gives my cookies character. HA!
Start decorating! I found it easier to do the arms and faces first, then add the rest of the details.  For the arms, eyes and mouth, I used black piping gel.  It comes in a small tube and is easy to use for fine details.  Plus, I like the glossy look of the gel, it adds to the melting feel, don't you think?
For the scarves and buttons, I used a variety of cookie frosting colors! I bought a set that came with different plastic piping tips that just screwed on to the cookie frosting tubes. (Thank you Betty Crocker, for making it easy!) however, if you don't have those available in your supermarket, you can use a #16 star tip from Wilton and fill the frosting in your own decorating/piping bags.  The #16 tip  is nearly the same size and will give you the same look.
Aren't they cute?
Ahhhh… I'm melting….
What? It's going to get how hot?
For those noses, I used Wilton's Rainbow Chip Crunch Sprinkles.  It comes in a container with lots of colors and I simply picked out the orange ones.  They have odd little shapes and I liked the character they brought to the cookies.  You can see I used a few of the other colors to make buttons too!
All together now!
I love, love, love these cookies! The only thing I would have changed, is my icing recipe. I didn't have clear vanilla extract when I made them, so my cookies aren't as bright white as they should have been. It would have made them even more adorable. When you do yours, get the clear vanilla extract or use white cookie icing!  Some readers even suggested using peppermint extract or almond extract to flavor the icing!  Great ideas!!
MELTED SNOWMAN COOKIES
1 package of Betty Crocker's Sugar Cookie Mix
10-12 large marshmallows
CLICK NEXT PAGE BELOW TO CONTINUE READING …