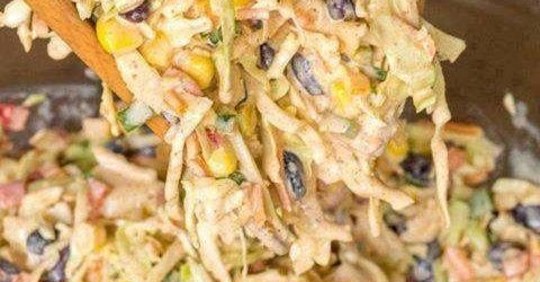 This Mexican coleslaw is a combination of shredded cabbage, black beans, corn, red peppers, jalapeno and avocado, all tossed in a creamy dressing. A great side dish for a barbecue or picnic!
Coleslaw is a summer time classic and can be found at almost every party or gathering. This southwestern version includes a zesty dressing and plenty of Mexican inspired add-ins for a unique and satisfying salad.
This recipe calls for fresh diced jalapenos. You can turn the heat factor way down if you remove the seeds and ribs from the jalapenos. If you're trying to go a little healthier, you can use light mayonnaise and light sour cream instead of the regular and it will taste just as great. Also, if you are one of those people who thinks cilantro tastes like soap, you can try green onions in its place instead.
Ingredients:
Click Next Button Bellow for Full Recipe…