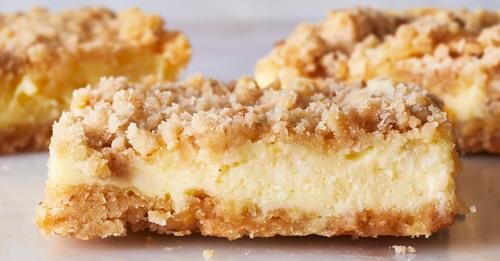 Found this cheesecake cookie bars recipe going through my mom's recipe box. Good memories…
Prep:15 mins
Cook:40 mins
Total:55 mins
Servings:16
Yield:1 9×13-inch baking pan
Ingredients
Decrease Serving16Increase ServingAdjustOriginal recipe yields 16 servingsIngredient Checklist
2 cups all-purpose flour
1 cup chopped walnuts
⅔ cup butter
⅔ cup brown sugar
2 (8 ounce) packages cream cheese, softened
½ cup white sugar
2 eggs
¼ cup milk
2 tablespoons lemon juice
1 teaspoon vanilla extract
Oops! We cannot find any ingredients on sale near you. Do we have the correct zip code?Zip Code UPDATEor use the browser toFind Me
Directions
Instructions Checklist
Step 1Preheat the oven to 350 degrees F (175 degrees C).
Step 2Mix flour, walnuts, butter, and brown sugar together in a bowl. Line a 9×13-inch baking pan with half the crust mixture.
Step 3Bake in the preheated oven until browned, about 15 minutes. Remove crust and leave oven on.
Step 4Mix cream cheese and white sugar together in another bowl using an electric mixer until blended. Add eggs, milk, lemon juice, and vanilla extract; mix until blended. Pour on top of the baked crust. Sprinkle with remaining crust mixture.
Step 5Bake in the hot oven until set, about 25 minutes.
Cook's Note:
Use any nuts you prefer.
Nutrition Facts
Per Serving: 331 calories; protein 5.9g; carbohydrates 26.3g; fat 23.2g; cholesterol 74.7mg; sodium 149.9mg. Full Nutrition