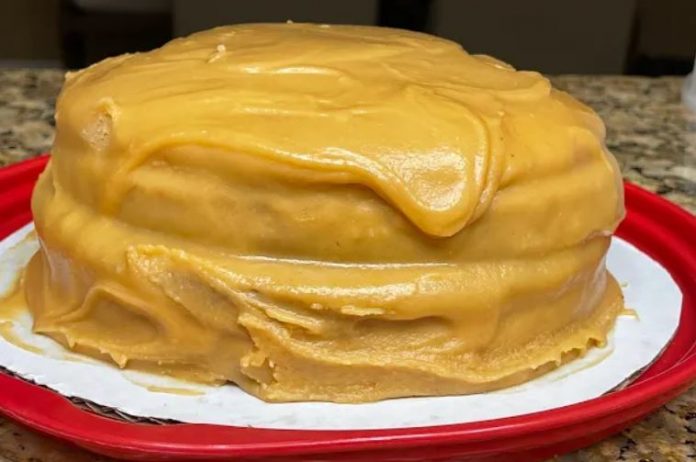 This is my husbands grandmothers caramel frosting. She baked desserts for her sisters restaurant, Cafe South, in Milledgeville, Georgia. It goes well with your favorite yellow cake or maybe chocolate cake! Caramel frosting is very finicky though. Humidity plays a big role in your success. If you fail at first, just try again. My frosting started cooling on me at the end, so my cakes picture is not too pretty, but I know it WILL be good!!
You will get it! Don't give up! It's totally worth it!
Ingredients :
1 stickbutter
2 csugar
1 tspcorn syrup
1 can(s)5 oz evaporated milk
1/4 csugar
How to Make Mona's Caramel Frosting :
In a heavy sauce pan melt butter, mix in 2 cups sugar, milk and syrup til boiling. Boil for 3 minutes.
While boiling, brown 1/4 cup sugar in a small skillet. Just to a nice golden brown. Careful not to burn!
Slowly drizzle the browned sugar into your butter mixture, stirring well and continuously, allowing it to combine. Remove from heat keep stirring, it will thicken.
Your cake should be prepped and cooled and ready to frost at this point.
Mix your cooled frosting with a hand mixer until it's at your desired, spreadable consistency. Take your time and slowly allow the frosting to coat your cake. If your frosting gets too thick you can add a scooch of milk to thin it out a bit.
Once done I like to place it in the fridge over night to fuse well, IF you can wait that long!!