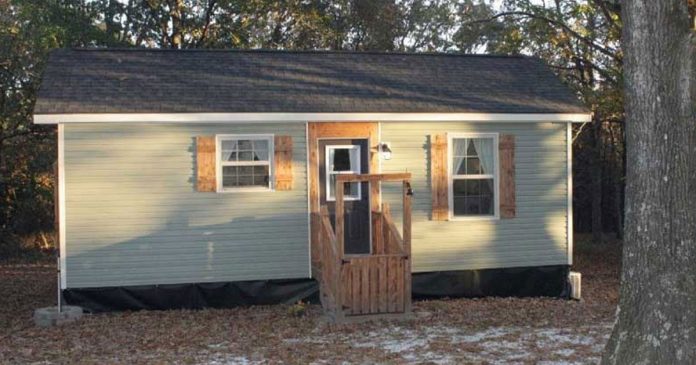 There is nothing like teamwork and a common vision when it comes to designing your dream home. The story we are going to share with you today is the story of a mother-daughter duo who designed a beautiful rustic-chic little house of only 406 square feet.
Arkansas resident Lauren Sivewright and her mother wanted to create a light, airy design to maximize the feel of their small retirement home. This charming cabin in the woods has a stylish kitchen, a living room, a small office area, a four-poster bed separated from the main area by privacy curtains, and even a bathroom with a double vanity.
Lauren and her mother have been creative in their storage solutions and furniture arrangements, making their country house look much bigger than it really is. They even managed to set up a small dining service, an electric fireplace and a laundry room. There is also a folding bed under the main bed to provide extra sleeping space for guests.
Most impressive is the way Lauren and her mother managed to integrate full-size appliances (including a dishwasher!) into the kitchen design. Floor-to-ceiling shelves provide plenty of storage space, and the wood plank details give the room a sense of country elegance. All in all, this comfortable cabin turned out to be wonderful. Many thanks to Lauren and her mother for their ingenuity in this charming little retreat!
CLICK NEXT PAGE BELOW TO CONTINUE READING …