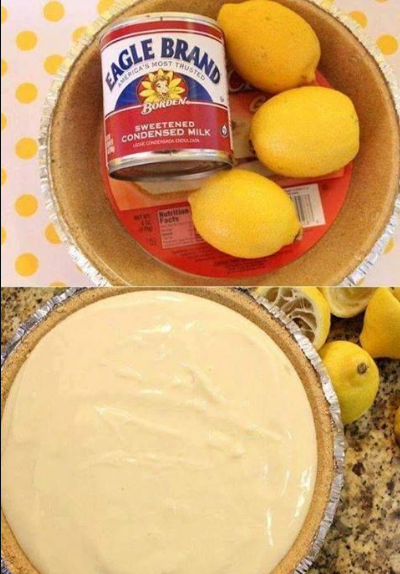 I totally went on a lemon dessert binge this spring. As lemon isn't my go-to choice for dessert, I even surprised myself when I made 3 or 4 in a row last month. Truth be told, the Lemon Cream Pie has been on my mind for quite some time. I've ooed and awed over them on Pinterest for months. I first started with a lemon cream pie cupcake, but I knew there was a pie in my future.
This pie is seriously so easy! The filling is made with a can of lemon pie filling, sweetened condensed milk and homemade whipped cream. I chose the lemon pie filling because I knew it would give me a solid base from which to start. I reached for a can of Lucky Leaf, as my cabinet is stocked full!
I always prefer to make my pies in a springform pan because I know I can make a deep-dish pie. I also love to peel away the edges of the pan and see that perfectly formed crust! I'll admit I struggled with crust before, but my friend Lindsay gave me a tip: grease my edges with a little bit of cookie spray and that seemed to do the trick.
In the past couple of years, I've taken it a step further and purchased cake collars, which are just sheets of clear acetate. I line my pan with these and it allows me to get those perfectly smooth edges. I also like to take the bottom of my angled spatula and gently press down the edges of the crust so they are somewhat even and compact.
I also find that it helps to refrigerate the crust before adding the filling so that the butter has time to bind the crust together. Some people prefer to bake their crusts for 10 minutes, but I am usually too impatient to wait for my oven to heat up.
Ingredients : 
1 Pie Crust
2 cans (14 oz.) sweetened condensed milk
3/4 cup lemon juice
Directions : 
CLICK NEXT PAGE BELOW TO CONTINUE READING …