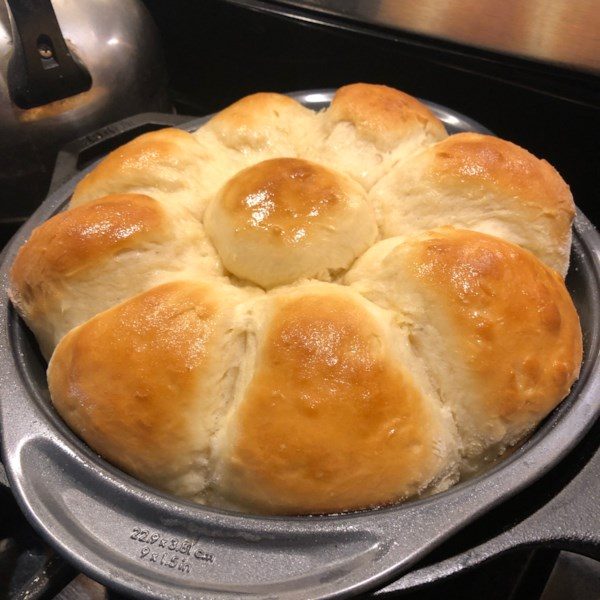 "Good bread is the most fundamentally satisfying of all foods; and good bread with fresh butter, the greatest of feasts."
― James Beard
Bread is one of the necessities in every kitchen, each one of us has its favorite bread recipe that is constantly there on the table. Today, I'm sharing my favorite bread recipe and ricks with you folks! Are you ready? Of course you are!
This latter gives fluffy tasty well-made bread to use in many meals and sides, get yourself rolls of delicacy magically made without any bread machine needed! Just follow my instructions and don't forget to take notes!
"In the history of art there are periods when bread seems so beautiful that it nearly gets into museums."
― Janet Flanner
How to section
Wear your favorite apron partner, and lets taken this journey together!
RED FLAG:
To bake simple bread at your home and still get amazing results, read the instructions and make sure to relax and keep your eyes on the oven to avoid over baking the bread.
Simple Steps:
Take a big bowl, combine yeast and warm water and stir for some time (max 10 minutes).
Take a new bowl, combine hot milk with sugar and salt and butter; stir until everything is well combined then cool in 105 to 115 temperature degree.
Mix the two mixtures together, add an egg and beat after adding 4 cups of flour (1 cup at a time).
Cool and place the dough in a warm buttered bowl, cover so it doubles in size and form small balls with your hands.
Put the balls in a baking dish and let cool for 30 minutes before baking.
Bake under 375°F degree for 20 minutes.
Serve!
Ingredients
2 tablespoons of melted butter
1 lightly beaten egg
Hot milk (1 cup)
4 ½ cups of all-purpose flour
¼ cup of softened butter
¼ cup of warm water
2 ¼ tablespoons of dry yeast
1/3 cup of white sugar
1 tablespoon of salt
Old-Fashioned Soft and Buttery Yeast Rolls
Prep time: 2 hours 45 minutes
Baking time: 20 minutes
Total time: 3 hour 5 minutes
Servings: 16 slices
Enjoyed your bread? I hope you did! It tastes perfectly with fruit jam and butter, try it out and tell us about it in the comment section down below!
Important notes:
If you felt the need to be more specific in the quantity given, better use a digital scale! A few grams or ounces can make a huge difference. Try as much as you can to control your proportions.
The next tip may seem weird, but get yourself a bread diary! Or just make a specific place in your notebook for bread to keep jotting things down (notice changes and write).
Serving Ideas :
My friend, bread can be served along with everything and anything! So keep yourself creative. These are some of my favorite dishes with bread:
Savory Bread Pudding with Spinach, Chèvre, Smoked Ham & Smoky Roasted Red Pepper Sauce
Slow Cooker Cheesy Panade with Swiss Chard, Beans & Sausage
Panzanella with Artichokes & Olives
CLICK NEXT PAGE BELOW TO CONTINUE READING …