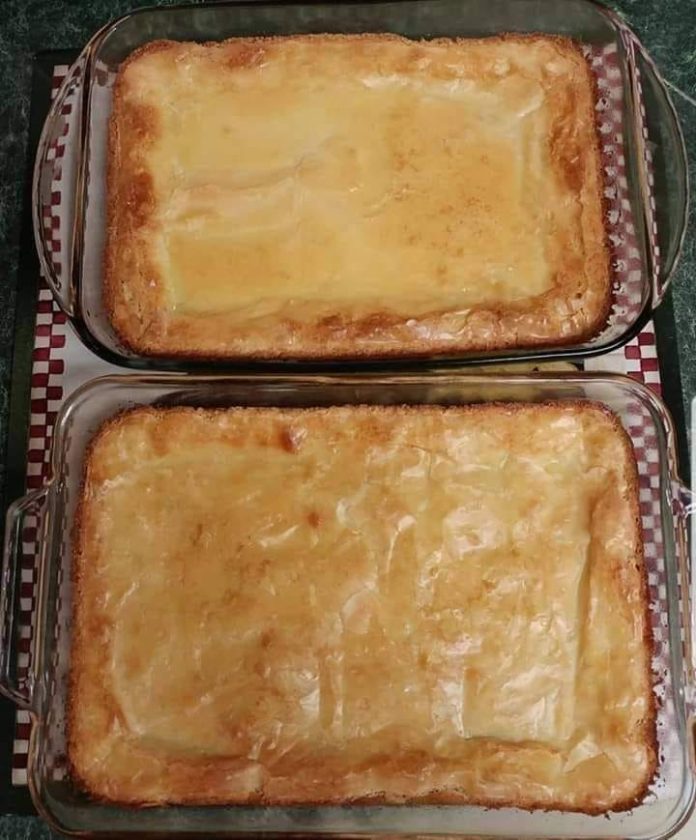 Crafting these Ooey Gooey bars is a breeze, ensuring they consistently delight a gathering with their delectable charm. Packed with ingredients like cake batter, butter, cream cheese, and powdered sugar, this recipe guarantees a delightful treat that's bound to satisfy taste buds. The only real challenge? Resisting the urge to dig in while they cool.
Ingredients :
For the Crust:
1 box of dry yellow cake mix (not prepared)
8 tablespoons of melted butter
1 egg
For the Gooey Layer:
8 oz. of softened cream cheese
2 eggs, beaten
16 oz. of powdered sugar
How to Craft These Ooey Gooey Bars :
Start by preheating your oven to a toasty 350 degrees Fahrenheit.
In a medium-sized bowl, meld the cake mix, melted butter, and the egg. Stir until a smooth, well-combined dough emerges.
Proceed to pat and press this dough evenly across the base of a generously greased 9×13 baking pan. Set this aside as you prepare the gooey goodness.
In a separate, larger bowl, whip up and cream that cream cheese until it's perfectly smooth. Then, introduce the beaten eggs and continue to whip until they've melded seamlessly. Gradually add the powdered sugar, ensuring a thorough and harmonious blend.
Pour this delightful gooey mixture over the prepared crust, creating a heavenly union of flavors.
Slide the pan into your preheated oven, maintaining a temperature of 350 degrees Fahrenheit, and bake for approximately 25-30 minutes or until the bars achieve their tempting, just-done state. Avoid the temptation to overbake, as it's the ooey-gooey texture that makes these treats truly irresistible.
When they're done baking, carefully remove the pan from the oven and exercise patience – allow them to cool completely before succumbing to the anticipation and cutting them into bars.
These Ooey Gooey bars promise a divine blend of textures and flavors, making them a must-have for any occasion.
Enjoy!
SOURCE OF THE PICTURE : allwecook.com