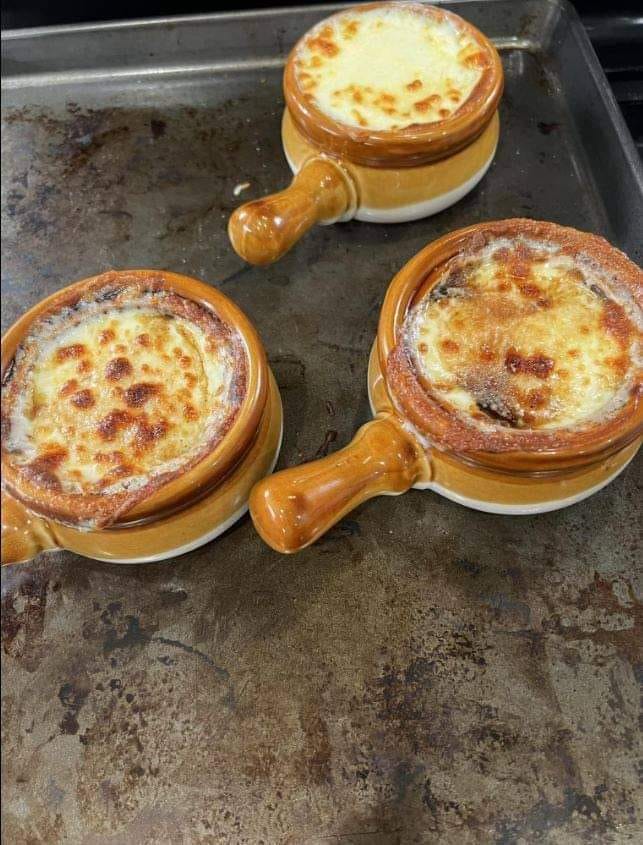 Indulge in the savory delight of our homemade Creamy Outback Euphoria Soup. This exquisite onion-infused masterpiece will warm your soul on those chilly winter days when you crave a hearty bowl of comfort.
Creamy Outback Euphoria Soup
Ingredients:
2 cups of sweet yellow onions, thinly sliced
2 tablespoons of butter
1 can (15 ounces) of chicken broth
1/4 teaspoon of salt
1/4 teaspoon of freshly ground pepper
2 chicken bouillon cubes
1/4 cup of Velveeta cheese, diced into cubes (pressed in a measuring cup)
1 1/2 to 1 3/4 cups of our homemade white sauce (see below)
Shredded cheddar cheese for garnish
Homemade White Sauce:
3 tablespoons of butter
3 tablespoons of flour
1/4 teaspoon of salt
1 1/2 cups of whole milk
Directions:
In a 2-quart saucepan, melt 2 tablespoons of butter and add thinly sliced onions.
Cook over low to medium heat, stirring frequently until the onions become soft and translucent, avoiding browning.
Add the chicken broth from the can, chicken bouillon cubes, salt, and freshly ground pepper. Stir until everything is heated through.
Incorporate the white sauce and Velveeta cheese. The white sauce will be thick as it's removed from heat. Simmer on medium-low heat, stirring constantly, until the cheese is completely melted, and all ingredients blend harmoniously.
Reduce the temperature to warm and let it simmer for an additional 30 to 45 minutes, allowing the flavors to meld together.
Serve your Creamy Outback Euphoria Soup with a generous garnish of shredded cheddar cheese and a couple of slices of freshly toasted dark Russian bread.
Homemade White Sauce:
In a 1-quart saucepan, melt 3 tablespoons of butter and add flour. Cook over medium heat until the mixture thickens and pulls away from the sides of the saucepan.
Gradually pour in the milk, stirring constantly. Add the salt. Continue stirring until the mixture thickens to a pudding-like consistency.
Ensure you stir continuously to prevent lumps from forming. Set the white sauce aside off the heat until you're ready to incorporate it into your soup.
Experience the euphoria of flavors with our Creamy Outback Euphoria Soup—a delightful twist on the classic Walkabout Soup. Enjoy a unique and soul-warming culinary journey!
image source : allwecook.com