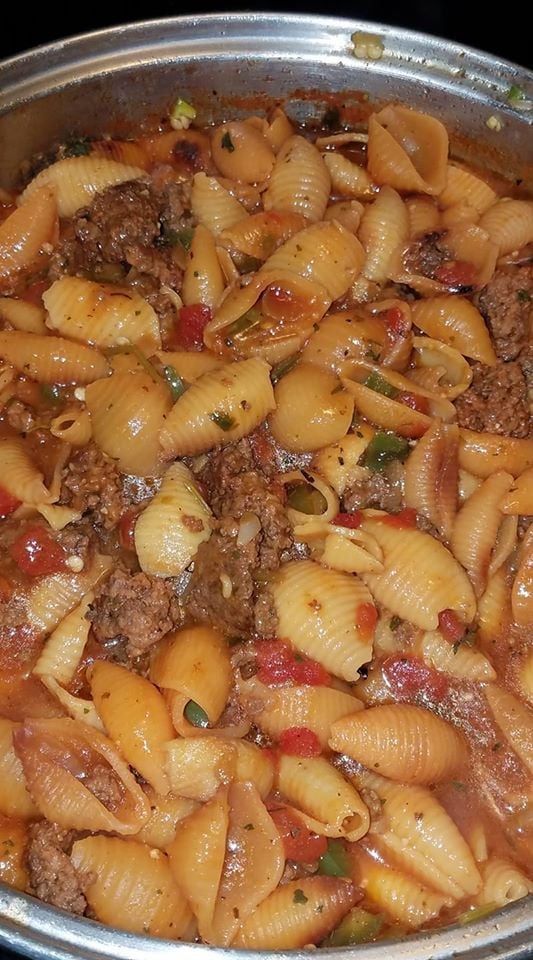 Pasta Shells with Ground Beef is a savory and satisfying dish that combines the rich flavors of seasoned ground beef with tender pasta shells. This recipe marries the heartiness of beef with the aromatic blend of spices, creating a mouthwatering meal that's both easy to prepare and immensely flavorful. The addition of serrano chiles and cilantro adds a touch of zest and freshness, while the sazon and Knorr bouillons infuse the dish with depth and complexity. Whether enjoyed as a comforting family dinner or a delightful meal for guests, Pasta Shells with Ground Beef is a classic recipe that never fails to please the palate.
Ingredients:
1.5 pounds of ground beef
1 medium clove of garlic
Black pepper, to taste
Sazon perfecta seasoning
2 cups of medium-sized pasta shells
1/4 cup of oil
4 cups of water
2 tablespoons of granulated Knorr chicken bouillon
4 tablespoons of granulated Knorr tomato bouillon
3 serrano chiles, diced
1/2 onion, chopped
1 can of Rotel
A handful of chopped cilantro
Garlic and onion powder, to taste
2 packets of red sazon
1 bay leaf
Instructions:
Begin by browning the ground beef with chopped garlic, black pepper, and Sazon perfecta seasoning.
Simultaneously, in a deep skillet, brown the pasta shells in 1/4 cup of oil, similar to how you would brown rice a Roni.
Drain the excess grease from the ground beef and add it to the pasta shells.
Add water, granulated Knorr chicken bouillon, diced serrano chiles, granulated Knorr tomato bouillon, half of the chopped onion, Rotel, a handful of chopped cilantro, red Sazon, bay leaf, and adjust the garlic and onion powder to your preferred taste.
Stir the ingredients together and cover the skillet. Cook over medium-high heat until the pasta shells reach the desired level of doneness.
Serve immediately and enjoy!
SOURCE of picture : daintfood.com