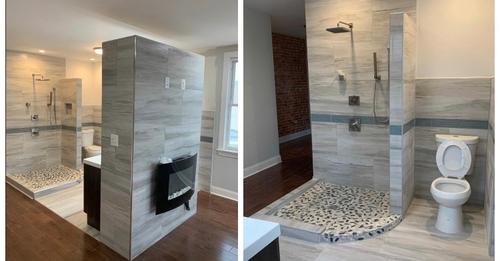 Open floor plans are nothing new when it comes to home design. This style usually refers to the main living space of a home, such as combining the kitchen, living room and dining room into one large space. This style can improve the flow of a living space, make it feel larger and prevent the person cooking from feeling isolated from the rest of the family.
We're all in favor of open living spaces, but there's a new room in the house where the concept of openness seems to go a bit too far. It's the bathroom.
Imagine walking into a home and seeing a bathroom without walls. In some cases, the shower doesn't even have a glass wall to separate it from the bedroom or the rest of the living space. The toilet is right there in the open air. No walls.
Many people walk into open homes and discover exactly what we just described. The open bathroom trend is real, but it's not very popular.
There is currently an apartment for sale in Boston with an open bathroom in the master bedroom. The bathroom is completely open to the rest of the room. In this case, the shower is separated by walls and a glass door, but we don't think this is enough. The toilet also has no privacy. At best, it seems very unusual.
The listing agent, Robert Nichols, was very surprised when he first saw the open bathroom. So far, when he has shown the house to potential buyers, they have had a hard time imagining living in a house with a bathroom like this. If necessary, his company is willing to rebuild the bathroom wall and door for the right buyer.
Don't think that open concept bathrooms are a novelty of 2022. Another home with a similar bathroom in the master bedroom was put on the market in 2020. The listing agent tried to make this unusual bathroom a selling point by writing, "Master suite includes large walk-in closet and open concept bathroom !!!!". Personally, we'd rather have an open concept closet than an open concept bathroom.
Could you ever picture yourself living in a home with an open-concept bathroom?
Do you think the open-concept bathroom trend will become more popular or less popular over time?