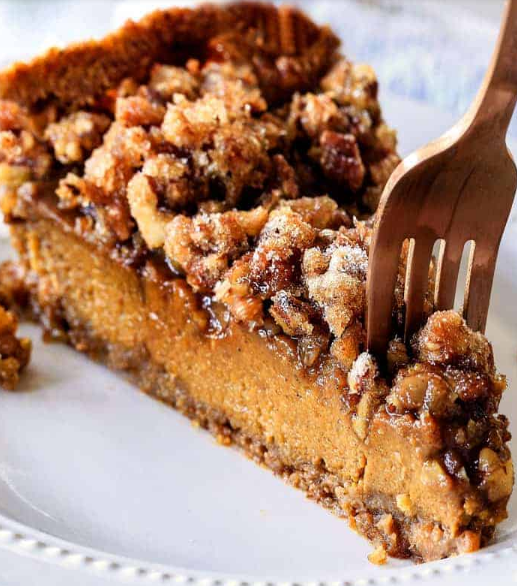 A creamy pumpkin pie topped with crunchy, chewy brown sugar pecans for the perfect combination of flavors and textures in every bite! Be the hero of Thanksgiving with this new twist on the comforting classics!
prep time 15 minutes
cook time 1 hour 10 minutes
total time 1 hour 25 minutes
servings 10 – 12 servings
ingredients  
pumpkin filling
▢15 ounces pure pumpkin NOT pumpkin pie filling
▢¾ cup packed dark brown sugar
▢2 teaspoons ground cinnamon
▢1 teaspoon ground ginger
▢½ teaspoon ground nutmeg
▢½ teaspoon salt
▢¼ teaspoon ground cloves
▢1 cup evaporated milk
▢3 eggs
▢2 teaspoons vanilla extract
praline topping
▢1 cup pecans finely chopped
▢⅓ cup packed dark brown sugar
▢⅛ teaspoon salt
▢1 tablespoon dark corn syrup may substitute light
▢1 teaspoon vanilla extract
▢1 tablespoon granulated sugar
instructions 
pumpkin filling
Add pumpkin, brown sugar, cinnamon, ginger, nutmeg, salt, and cloves to a medium saucepan and whisk to combine. Cook over medium-high heat for 4 minutes, stirring constantly.
Remove from heat and whisk in evaporated milk followed by eggs and vanilla. Pour filling into pie crust.
Bake at 350°F for 40-50 minutes – UNTIL pie is cracked around the edges and the center barely jiggles.
praline topping
While pie is baking, add pecans, brown sugar and salt to a bowl and stir until evenly combined. Add corn syrup and vanilla and mix until evenly moistened.
Sprinkle Topping evenly over filling then evenly sprinkle with 1 tablespoon sugar.
Return pie to oven (you may need to cover edges of crust with foil) and bake 20 minutes or until toothpick inserted in the center comes out clean.
Let pie cool on a wire rack for at least 2 hours.
make-ahead
Pie can be made and cooled 2 days ahead of time then wrapped in plastic and refrigerated. Bring to room temperature before serving.
nutrition information
Calories: 322 | Carbohydrates: 42g | Protein: 5g | Fat: 14g | Saturated Fat: 3g | Cholesterol: 56mg | Sodium: 273mg | Potassium: 278mg | Fiber: 2g | Sugar: 30g | Vitamin A: 7195IU | Vitamin C: 2.5mg | Calcium: 120mg | Iron: 1.8mg