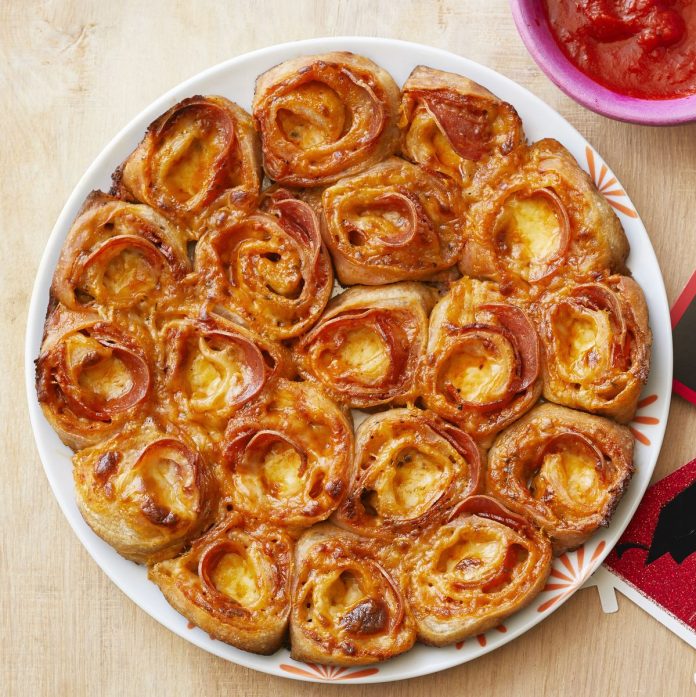 Topped with your favorite pizza toppings.
Directions
1 – Preheat oven to 400˚. On a floured table, roll out the pizza dough until it is a large flat rectangle, about 11 x 18 inches. Spread the pasta sauce, leaving about 1 cm around the perimeter, and sprinkle with Parmesan cheese, oregano, and salt. Top evenly with mozzarella and half of the pepperoni.
2 – Unwrap the string cheese and place it on one long side of the dough. Starting from this long side, roll the dough as tightly as possible, wrapping the cheese strings around the center of the dough. Pinch the dough closed, seam side down. Using a serrated knife, cut into 1-inch wide strips and place rolls cut side up in a 12-inch round baking dish or cast iron skillet. Tuck the remaining pepperoni into the folds of the pizza rolls, just a little overhanging. Let rolls stand at room temperature for 20 minutes.
3 – Bake pizza rolls until crust is golden brown and toppings are bubbly, 20 to 25 minutes. Serve with marinara sauce for dipping.
How to Make Pizza Rolls
Pizza rolls are surprisingly easy to make, and if you've ever made cinnamon rolls, you'll be familiar with the process. It's similar to the way you make stromboli. Once you have your pizza dough, follow these three simple steps
Stretch the dough, dimple it with your fingers, and brush it with olive oil. Why? The small indentations in the dough prevent air bubbles, while the olive oil helps prevent the dough from becoming sticky.
Add pizza sauce, cheese, pepperoni or other pizza toppings of your choice to the dough. You can also add thinly sliced peppers, onions or crumbled grilled sausage.
Roll out the dough and refrigerate for 25 minutes. Why? Refrigeration will prevent the rolls from falling apart when you cut them open. Meanwhile, preheat the oven. The entire oven should be hot.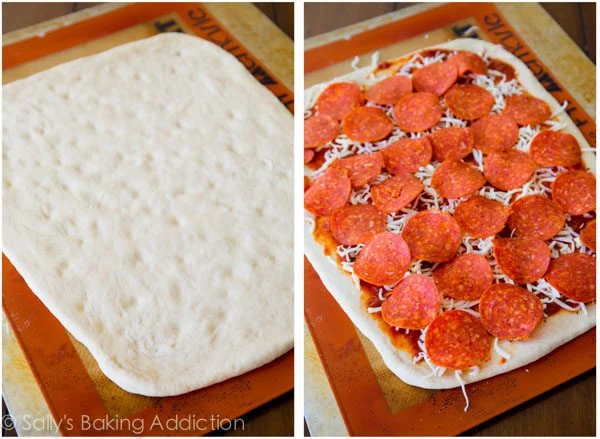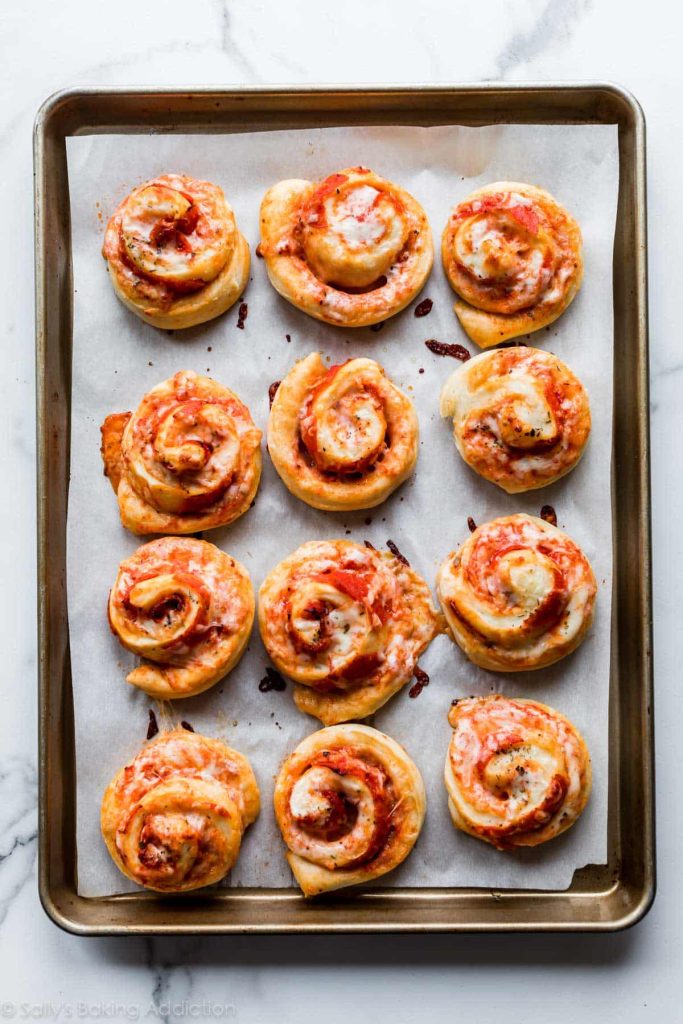 Top with Parmesan cheese and bake until crisp and melted.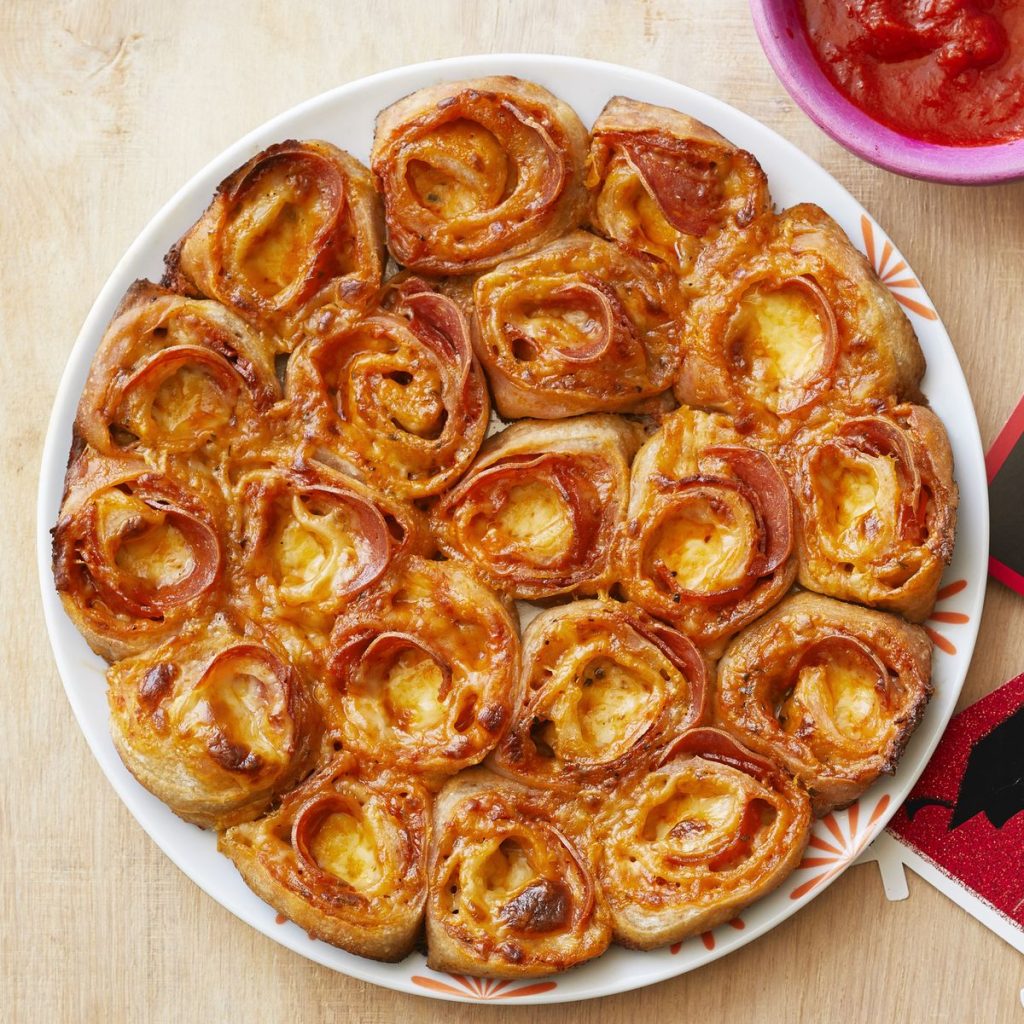 Yield : 16-20 servings
Preparation time : 20 minutes
Total Time : 1 hour
Pepperoni Pizza Rolls: Made with pizza dough, pepperoni pizza rolls are an instant hit in my cookbook. Filled with mozzarella cheese and pepperoni, these rolls are especially delicious when dipped in your favorite pizza sauce.
Ingredients
1 ball refrigerated pizza dough (about 14 ounces), at room temperature
All-purpose flour, for sprinkling
1/2 c. marinara sauce, plus more for dipping
1/2 c. grated parmesan cheese
1/2 tsp. dried oregano
1/2 tsp. kosher salt
10 slices part-skim mozzarella cheese
2 oz. sliced pepperoni, halved
4 sticks mozzarella string cheese
Instruction Manual
Prepare pizza dough according to step 3. When dough is ready, punch to release air bubbles. Divide the dough in half. On a lightly floured table, roll each dough half into a large rectangle, about 10 x 12 inches.
To prevent the filling from becoming soggy, lightly brush the surface with 1 teaspoon olive oil to keep the pizza rolls moist. Dimple the top of the rectangle of dough with your fingers to avoid air bubbles. See photo above. Spread 1/3 cup pizza sauce on top of each rectangle of dough. Lightly sprinkle Italian seasoning and garlic powder on each dough piece.
Sprinkle 1/2 cup of shredded mozzarella cheese evenly over the sauce and top with sliced pepperoni. Carefully roll the rectangle of dough to resemble a log. Place the dough seam side down on the prepared baking sheet and refrigerate, uncovered, for at least 20 minutes. Chilling will prevent the bread from falling apart when cut.
During this time, preheat the oven to 204°C. Line two large baking trays with silicone baking mats or parchment paper.
Remove the logs from the refrigerator and cut each into 12 1-inch wide slices. Pour the cornmeal into the dish or bowl. Dip the bottom of the rolls in the cornmeal and place 12 on each baking sheet, cornmeal side down. Cornflour is optional, but it makes the bottoms of the rolls deliciously crispy. Sprinkle more cheese on top of the rolls if desired.
Bake for 15-20 minutes or until lightly browned on both sides. Let cool for 5 minutes, then top with fresh basil (optional) and drizzle with extra pizza sauce for dipping. Pizza rolls will keep, tightly covered, in the refrigerator for several days, but should be served immediately. Reheat if desired.
Notes.
Preparation and Freezing Notes If you are making this treat ahead of time, prepare it in step 3 by placing the logs in the refrigerator to chill. Cover the rolls tightly with cling film and refrigerate for 1 day. The next day, continue with the recipe. The baked pizza rolls can be frozen and stored for up to 3 months. Bake the frozen rolls at 350°F (177°C) for 25 to 30 minutes until the heat is removed. For instructions on freezing and thawing pizza dough, see Pizza Dough Recipe.
Half Batch. Halving the recipe easily makes 12 rolls. Freeze half of the pizza dough.
Whole Meal Version. If you prefer, you can substitute whole wheat pizza dough.
Muffin tin or 9 x 13-inch baking pan. These rolls can be baked in a muffin tin or 9×13 baking pan. Baking time is the same.