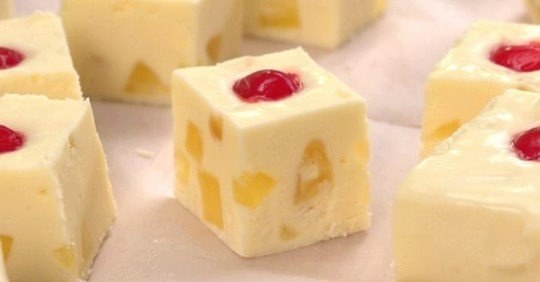 Makes 25 pieces
Prep Time: 15 minutes
Total Time: 3 hours 15 minutes
Pineapple Upside Down Cake Fudge | This creamy fudge is packed with pineapple flavor, candied cherries and a butter cake bottom layer.  Yes!  Fudge on top of cake!  This may not be your typical fudge but it will be one of your favorites!  Great on a dessert table at a Holiday Party or gifting on a Christmas tray of goodies.
Not only is this Pineapple Upside Down Cake Fudge filled with pineapple flavor, it also has tons of texture.  From the pop of the candied cherries to the soft cake.  There's nothing like a mouth full of delicious fudge.
INGREDIENTS
2 cups sugar
½ cup unsalted butter
¾ cup heavy cream
2 cups white chocolate chips
2 teaspoons pineapple juice
4 tablespoons yellow cake mix
7 ounces marshmallow creme
1-¼ cups dried pineapple, diced
13 maraschino cherries, cut in half
DIRECTIONS
Click Next Button Bellow for Full Recipe…