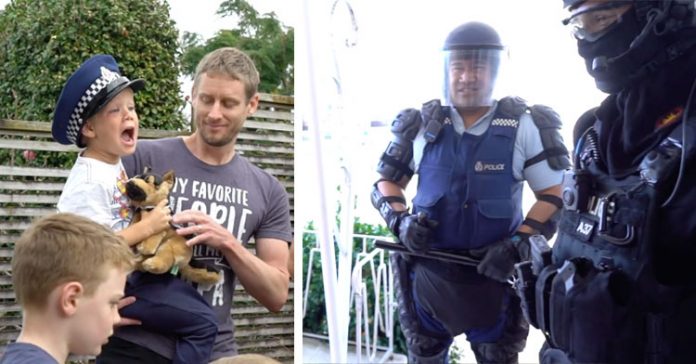 If, when you were a kid, you ever called 911 without an emergency and immediately hung up as soon as someone answered, raise your hand (*shamefully raises hand*). Now, raise your hand if when the dispatcher called back your mom or dad picked up and you got in big trouble (*raises hand…again*).
It's not uncommon for kids to be genuinely curious about what happens when they call the emergency line, and thankfully dispatchers are prepared for these situations. However, there was no way to prepare one dispatcher when a little boy named Zachary called the emergency line in reference to his 5th birthday party.
In a video posted to Facebook by the North Shore, Rodney & West Aukland Police, an emergency dispatcher calls a home to check things out after she received a hang-up from their phone. A woman answers the line and starts apologizing profusely.
The emergency dispatcher notifies her that she received numerous calls from that number and she is just checking to ensure everything is alright. The woman continues to apologize and tells the dispatcher that it was her nearly-five-year-old son who called – because he wanted to invite the police to his birthday party.
Word of the hilarious (and adorable) phone call made its way through the emergency services channels all the way to the police department. The officers were flattered by the invitation – and it's rude not to attend a party for no reason! So, they showed up at Zachary's house ready to celebrate.
In the video, Zachary is completely surprised by their arrival and gives the officers a bit of sass when they come to the door (the way only a 5-year-old can). After promises of presents, the birthday boy finally lets them come into the house. Eventually, Zachary and his friends make their way outside where the officers let them play in police cars and dress up.
CLICK NEXT PAGE BELOW TO CONTINUE READING …