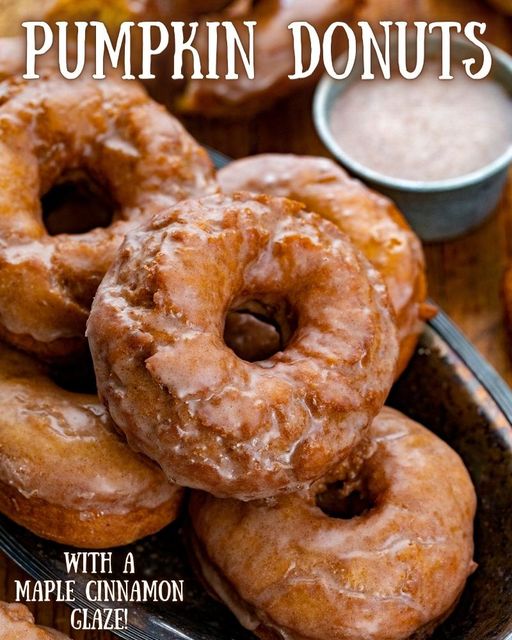 PREP TIME : 20 MINS
COOK TIME : 2 MINS
TOTAL TIME : 22 MINS
Pumpkin donuts are the ultimate fall treat. They are made with pure pumpkin and pumpkin pie spice, giving each bite the perfect pumpkin flavor!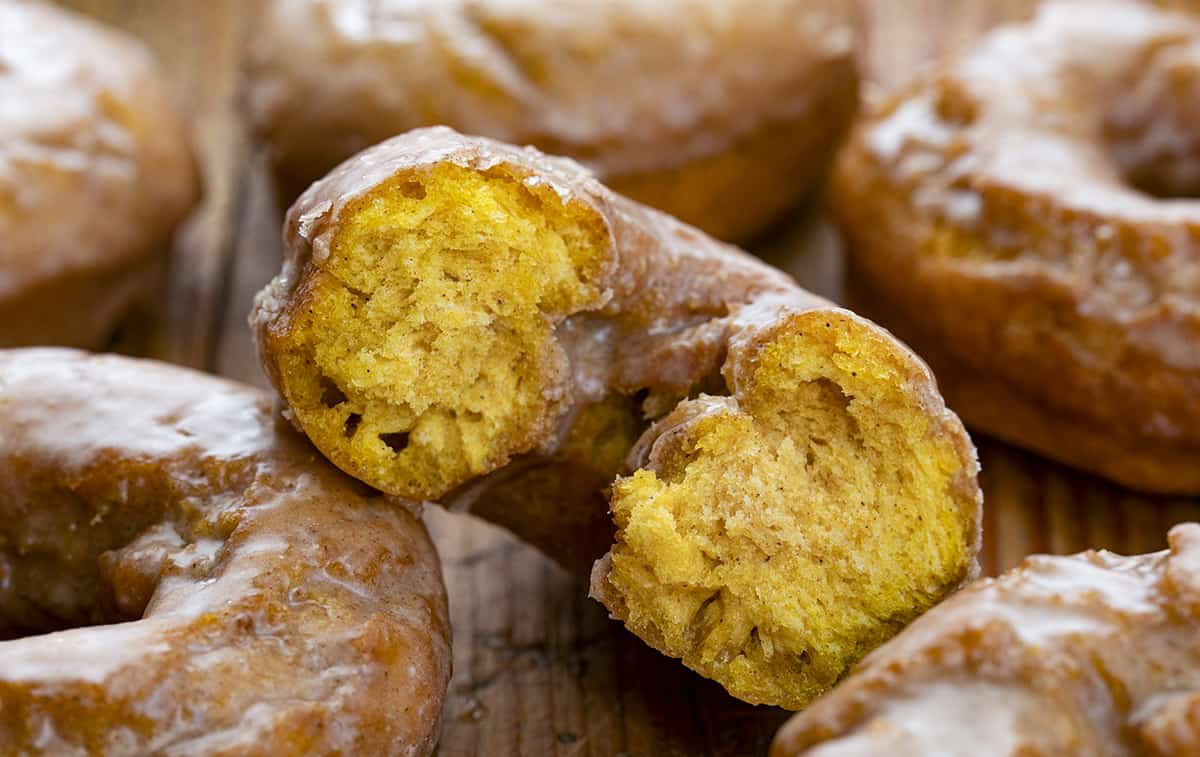 Ingredients
Donuts
▢3½ cups (437.5 g) all-purpose flour
▢1 cup (200 g) granulated sugar
▢4 teaspoons baking powder
▢2 teaspoons pumpkin pie spice
▢1 teaspoon kosher salt
▢1 cup (245 g) pure pumpkin
▢½ cup (122.5 g) buttermilk, room temperature
▢2 large eggs, room temperature
▢2 tablespoons unsalted butter, melted
▢2 teaspoons vanilla extract
▢canola oil, for frying
Maple Cinnamon Glaze
▢2 cups (250 g) confectioners' sugar
▢2 teaspoons cinnamon
▢2 tablespoons pure maple syrup
▢2-4 tablespoons whole milk, room temperature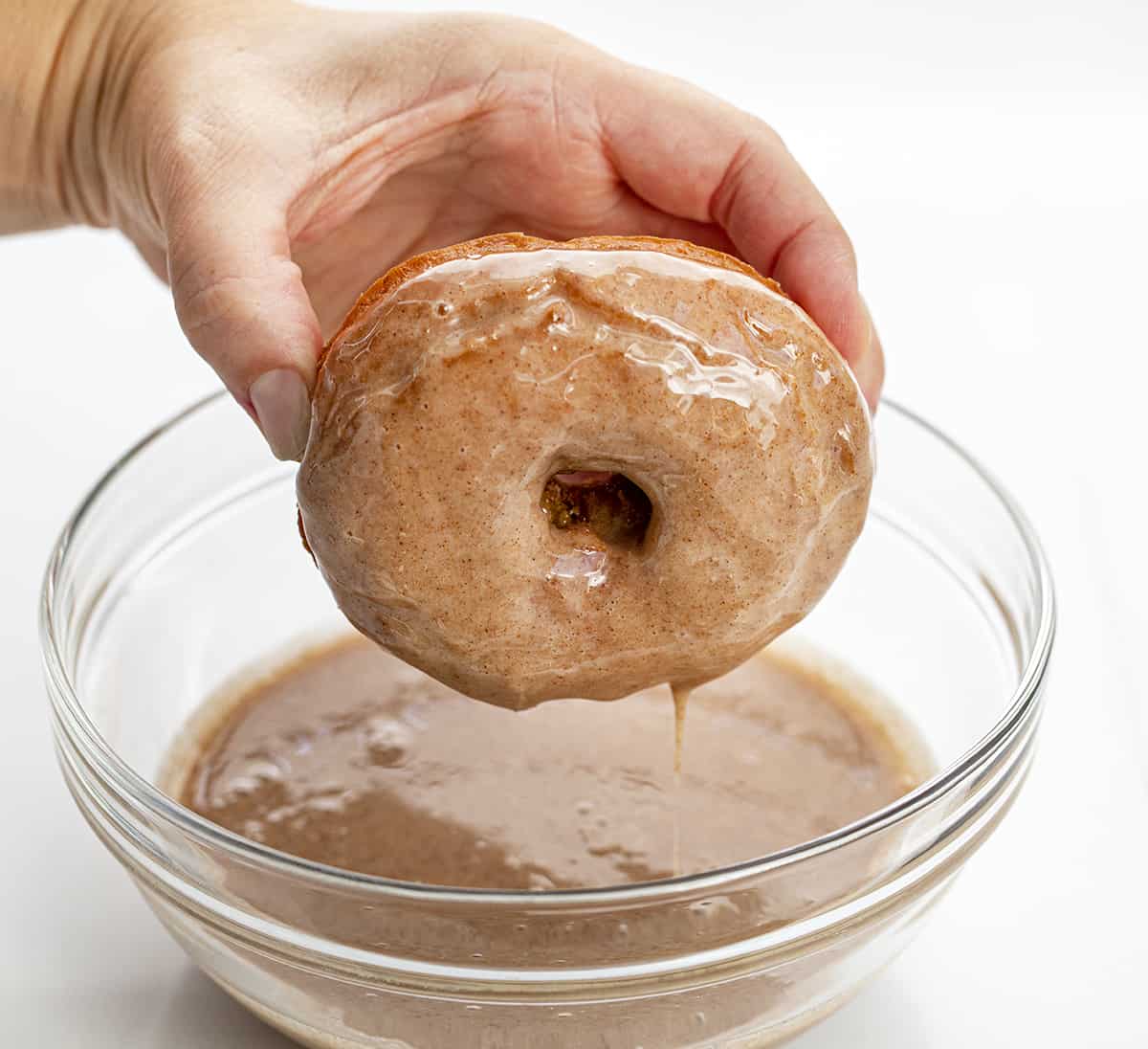 Instructions
Donuts
Prepare three baking sheets, one lined with parchment paper, one with paper towels, and a third with a wire rack. Set aside.
In a large bowl, whisk together flour, sugar, baking powder, pumpkin pie spice, and salt.
In a second bowl, whisk together pumpkin, buttermilk, eggs, melted butter, and vanilla extract.
Pour the wet ingredients into the dry ingredients; Stir by hand until well combined.
Pour the dough out onto a floured surface. Roll out the dough to ½-inch thickness, adding more flour to the work surface as needed. (The donuts will puff up when cooked in oil.)
Once rolled out, use a donut cutter to cut out shapes. If you do not have a donut cutter, use a round tool like a kitchen glass or a jar lid that is about 3-inches across. You can use a bottle cap or small shot glass for the smaller hole.
Set cut-out donuts on the parchment-lined baking sheet. Set aside while you prepare the glaze.
Maple Cinnamon Glaze
Mix all ingredients in a medium to large bowl. Whisk until they are smooth and you have reached the desired consistency. (I think the perfect consistency is the same as the corn syrup, not too runny but loose enough for it to fall beautifully over all the nooks and crannies of the donut.)
Frying in Oil
In a large heavy-bottomed pot or deep fryer, heat about 2-3 inches of canola oil to 350°F.
Working 2-3 at a time, carefully lower donuts into the hot oil and fry for 45 seconds to 1 minute. Flip and repeat on the opposite side. The donuts should be golden brown.
Carefully remove the donut(s) from the oil (I prefer a hand-held strainer) and set each on the paper towel-lined pan.
While the donuts are still warm, submerge one side of the donuts into the maple cinnamon glaze. Lift and let drain into the bowl, then move the donut to the baking sheet with the wire rack on it. (You can also place on parchment or wax paper but the glaze might pool.) Let the glaze set before serving.
Store donuts in between parchment paper in an airtight container for up to two days.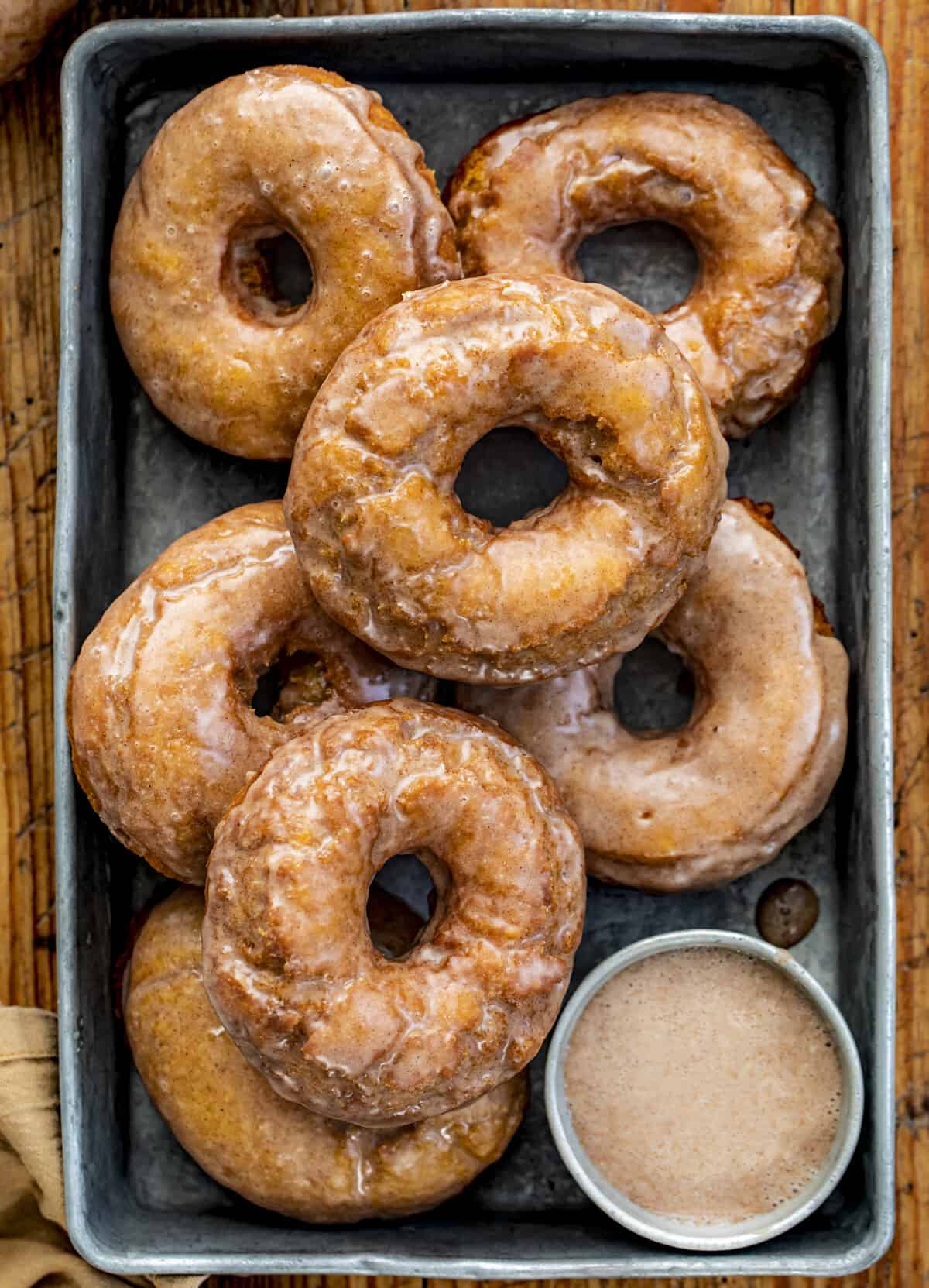 Nutrition
Course: Breakfast, Dessert
Keyword: Pumpkin Donuts
Servings: 17 donuts
Calories: 301