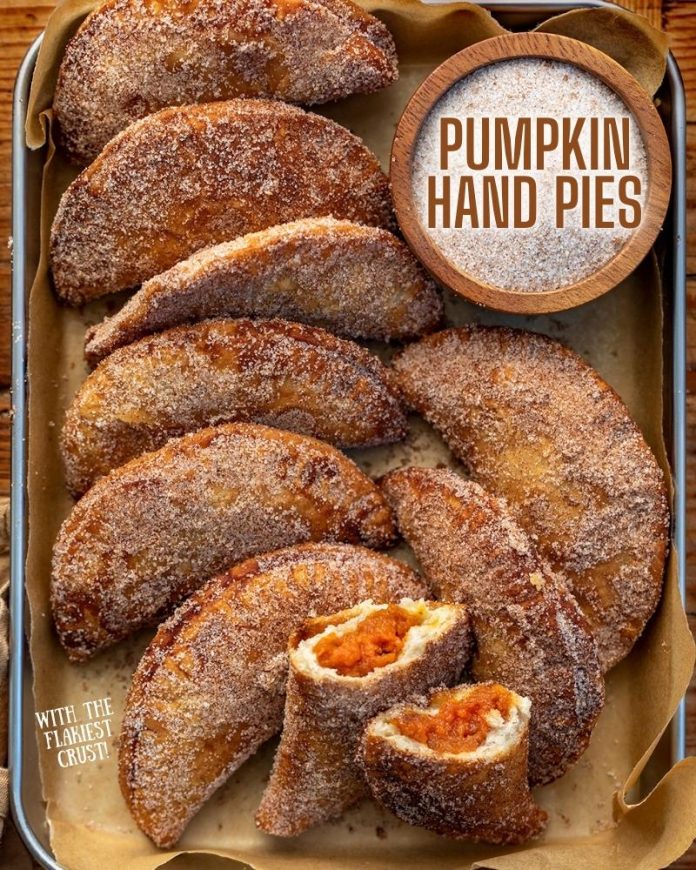 Pumpkin hand pies are mini pumpkin pies made from homemade pie crusts filled with pumpkin pie filling. This is the perfect treat for pumpkin spice season, I mean fall.
PREP TIME : 20 MINS
COOK TIME : 4 MINS
TOTAL TIME : 24 MINS
Ingredients
Pumpkin Hand Pies
▢1 pie crust recipe, homemade or store-bought
▢2 cups pumpkin pie filling, homemade or store-bought
▢canola or vegetable oil, for frying
Cinnamon Sugar Topping
▢¾ cup granulated sugar
▢1 tablespoon cinnamon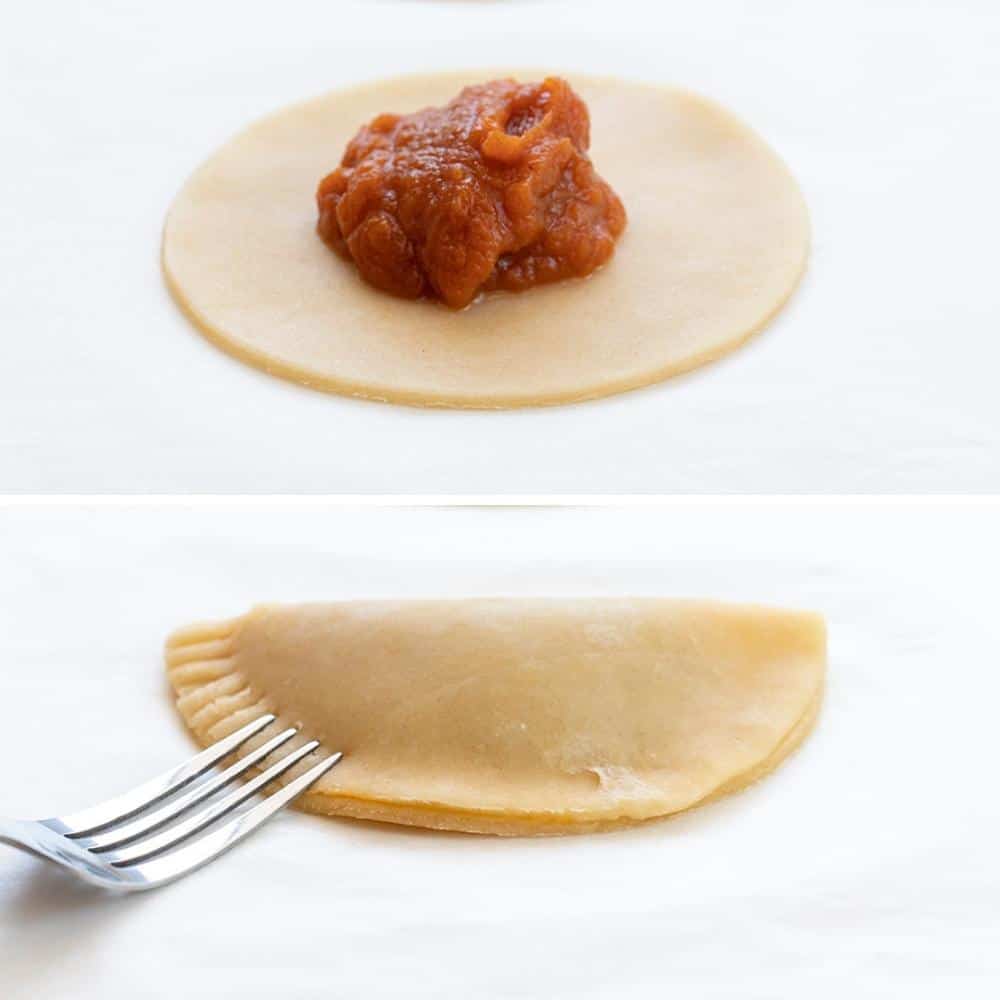 Instructions
Pumpkin Hand Pies
Roll out the pie crust to ⅛-inch thick. Use a cookie cutter to cut the crust into 4-5-inch rounds. (You should get 26-28 pie crust rounds.)
Add 1 heaping tablespoon of pumpkin pie filling to each round.
Fold each mini pie crust into a half-moon shape. Use water to wet the edges of the crust to help seal each crust. Crimp with a fork.
Cinnamon Sugar Topping
In a small bowl combine sugar and cinnamon. Set aside.
Frying
In a medium pot over medium heat, add 2-3 inches of oil. Heat the oil until it reaches a temperature of 375°F.
Place 2-3 hand pies into the pan. Fry until golden brown (3-4 minutes). Transfer to a paper towel-lined cooling rack. (Before adding each batch of hand pies, make sure the temperature of the oil is at 375°F; it may cool down after each batch.)
While the hand pies are still warm, dip them in the cinnamon sugar mixture. Serve warm or cold.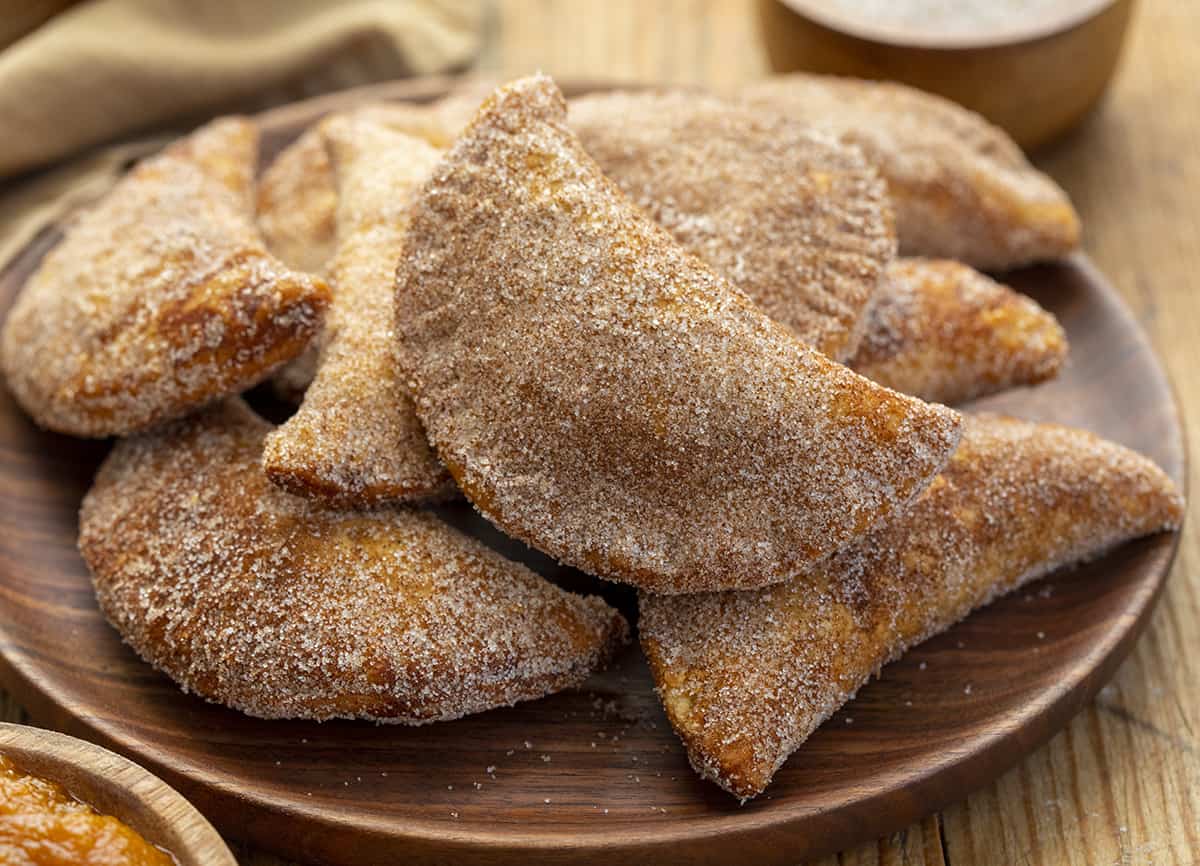 Notes
Homemade Pie Crust recipe. This recipe is the exact amount needed for this pumpkin hand pie recipe. If using store-bought you may want to buy 2 boxes as they are thinner and smaller. 
Nutrition
Course: Dessert
Keyword: Pumpkin Hand Pies
Servings: 26 hand pies
Calories: 191