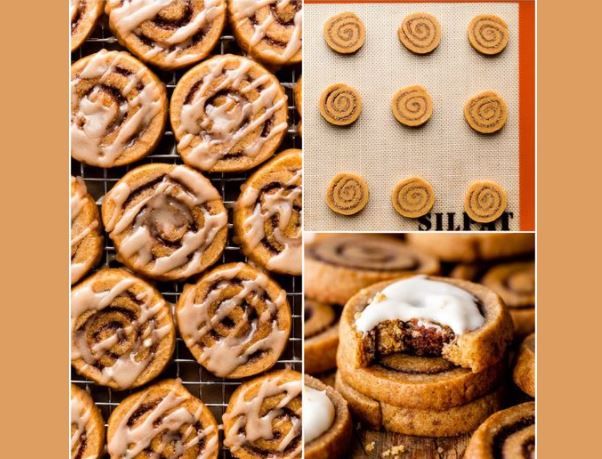 Pumpkin Spice Roll Cookies: What to Expect
Flavor: The pumpkin flavor is light, but the spice flavor is strong especially on day 2. One of my recipe testers said "the pumpkin flavor comes through and it's just the right amount of pumpkin spice." They're like pumpkin cinnamon rolls in cookie form and you can choose a cream cheese or maple icing. If all of that sounds tasty to you, you'll most definitely love these fall cookies!
Texture: Each cookie is soft in the center with buttery brown sugar spice swirls and deliciously crisp edges. They take on a slightly crunchier texture on day 2, similar to dense shortbread.
Ease: Once you get going, the recipe is pretty simple. However, since they aren't typical drop cookies and require precise measurements, I consider these an intermediate baking recipe— definitely a fun project for a fall afternoon.
Time: Set aside enough time to chill this cookie dough after you roll and assemble it into logs. Without chilling, it's impossible to neatly slice the cookies and if you manage to slice a few decent cookies, they'll lose shape and over-spread in the oven. Don't waste your ingredients and efforts– chill this dough. After all the prep, chilling, baking, and a few minutes of cooling, this recipe typically takes a little over 3 hours.
The Trick to Working Pumpkin Into Cookie Dough
These pumpkin spice roll cookies start with a pumpkin spice sugar cookie dough. Pumpkin puree takes the place of an egg, so these cookies are egg-free like my other naturally egg-free baking recipes. Pumpkin is quite wet and can ruin the texture of cookie dough, especially a dough that requires specific shaping. As you might remember from these brown butter pumpkin oatmeal cookies and my pumpkin chocolate chip cookies, the trick to working pumpkin into cookie dough without it changing the cookie's texture is to rid its excess moisture.
Here's what you'll do: Start the recipe by blotting 6 Tablespoons of pumpkin puree with a clean kitchen tea towel or paper towels. The amount of liquid could surprise you! After drawing out some moisture, you should have about 1/3 cup of pumpkin puree.
Why Is This Important? It might seem like a silly and pointless step, but it's crucial to the success of this pumpkin sugar cookie dough. Without doing this, the dough will be a sloppy mess that's impossible to roll and shape.
Do You Always Do This with Pumpkin Cookies? No, it's not always necessary. You can skip this step when making my soft pumpkin cookies because we want the extra moisture from the pumpkin to produce soft and cakey cookies. Think about your end result and if you want chewy, dense cookies or cookie dough that can you can easily handle and shape, it's likely best to remove some moisture from the pumpkin.
Step-by-Step Photos & Details
After you ditch some of the pumpkin puree's moisture, it's time to start preparing the cookie dough. Like many cookie recipes, this recipe starts with creamed butter and sugar. Remember that room temperature butter is cool to the touch– not overly soft– and you can read more about how this affects your baking's success on my Room Temperature Butter page. Beat the pumpkin and vanilla into the creamed butter and sugar until combined and don't worry if the mixture appears curdled because it will all come together when you add the dry ingredients.
This is a 1 bowl cookie dough– add the dry ingredients one by one right into the wet ingredients.
The rest of the process is like my regular cinnamon roll cookies. Divide the dough in half, and then roll out each half into 10×8 inch rectangles (which is slightly larger that the regular version). The dough should be about 1/4 inch thick. Now you can top with melted butter and cover the butter with a brown sugar, pumpkin pie spice, and cinnamon mixture.
Using your fingertips, carefully roll each up into a log. If your cookie dough is cracking, I have troubleshooting tips to help you listed below. Wrap up the logs and chill them in the refrigerator for at least 2 hours. After that, slice and bake your pumpkin spice roll cookies. It's not too difficult, especially if you understand the process before you get started.
---
Maple Icing or Cream Cheese Icing?
The cookies don't necessarily need a finishing touch, but if there's an opportunity for glaze, let's seize it. Now which should you choose? Taste tasters LOVED the cream cheese icing, but it covers up the pretty swirl. Maple icing was another favorite and you'll appreciate that it eventually sets, so the iced cookies can easily be stacked, stored, and/or transported. Both the maple icing and cream cheese icing recipes are included below.
You might even like these with salted caramel or the brown butter glaze from these brown butter pumpkin oatmeal cookies. Lots of choices!
---
Can I Use This Dough for Pumpkin Cookie Cutter Cookies?
Yes, but I find this dough a little difficult to work with when using cookie cutters. Instead, I strongly recommend just using my sugar cookies and adding 1 and 1/2 teaspoons of pumpkin pie spice and 1/2 teaspoon of ground cinnamon when adding the flour.
If you decide to use this dough, make sure your work surface and cookie cutters are lightly floured and take your time re-rolling any scraps of dough. For specific instructions, it would be best to follow my printable sugar cookie recipe instructions (steps 4-9) using this pumpkin cookie dough.
---
Troubleshooting the Dough
Dough is Too Soft to Roll: If your butter was too soft or if you didn't blot enough moisture out of the pumpkin puree, your cookie dough may be too soft to roll out in step 3. Add 1 Tablespoon of flour to the dough and beat on low speed until combined.
Dough is Too Crumbly to Roll: A few times I tested this recipe, the weather was quite dry and I noticed that my dough was dry, too. This also could have been because I blotted *too much* moisture out of the pumpkin. If your cookie dough is too crumbly to roll out in step 3, add 2-3 teaspoons of pumpkin puree (not blotted) to the dough and beat on low speed until combined.
Dough Log is Tearing/Cracking: First, roll the dough out thin enough– about 1/4 inch thick. Second, make sure your work surface is floured well because otherwise the dough will stick to the counter and create cracks and tears as pictured below. If the dough is still cracking/tearing as you're rolling it, flour your hands and try to pat the tears back together. If you notice the dough is cracking because it's too dry, moisten your fingertips with a little water to help mold the cracks back together.
Prep Time: 2 hours, 40 minutes (includes chilling)
 Cook Time: 14 minutes 
Total Time: 3 hours, 10 minutes 
Yield: 50 cookies
Description
These pumpkin spice roll cookies are icebox cookies that combine a pumpkin sugar cookie dough with a brown sugar and pumpkin pie spice filling. Overall, the pumpkin flavor is faint but the spices are strong. Choose cream cheese icing or maple icing as the final finishing touch before serving. Review recipe notes and watch the video before starting.
---
Ingredients
3/4 cup (170g) unsalted butter, softened to room temperature
3/4 cup (150g) granulated sugar
6 Tablespoons (86g) pumpkin puree (moisture blotted, see note)*
1 and 1/2 teaspoons pure vanilla extract
2 and 1/4 cups (281g) all-purpose flour (spoon & leveled)
1 and 3/4 teaspoons pumpkin pie spice
1/2 teaspoon ground cinnamon
1/2 teaspoon baking powder
1/4 teaspoon salt
Filling
3 Tablespoons (43g) unsalted butter, melted and slightly cooled
2/3 cup (135g) packed light or dark brown sugar
1 and 3/4 teaspoons pumpkin pie spice
1 teaspoon ground cinnamon
Cream Cheese Icing (Or Use Maple Icing in Notes)
4 ounces (about 1/2 cup or 112g) full-fat block cream cheese, softened to room temperature
1 Tablespoon (15g) unsalted butter, softened to room temperature
3/4 cup (90g) confectioners' sugar
1/4 teaspoon pure vanilla extract
optional: pinch of salt
---
Instructions
First, make sure you have removed excess liquid from the pumpkin puree by blotting it as much as you can with a clean kitchen tea towel or paper towels. This dough will not turn out properly with the pumpkin's excess moisture. After blotting excess liquid, you should have about 1/3 cup (75g) to use in the recipe. See recipe note.
Make the dough: In a large bowl using a hand mixer or a stand mixer fitted with a paddle attachment, beat the butter and sugar together on high speed until completely smooth and creamy, about 2 minutes. Add the pumpkin and vanilla extract, and then beat on high speed until combined, about 1 minute. Scrape down the sides and up the bottom of the bowl and beat again as needed to combine. It's ok if the mixture looks curdled. Add the flour, pumpkin pie spice, cinnamon, baking powder, and salt. Beat on low speed until combined and a thick dough forms.
Shape and fill: Divide the dough into 2 equal parts. If you want to be accurate and weigh the dough, each half should be around or a little more than 12 ounces each. On a floured work surface using floured hands, pat each into a small rectangle. Then, using a lightly floured rolling pin, roll each portion of dough out into a 10×8 inch rectangle. It should be about 1/4″ thick. As you're rolling, use your hands to help keep the sides straight as you see me do in the video. Spread half of the melted butter onto each rectangle– doesn't need to be exactly half, just eyeball it. It will be a thick layer of butter. Mix the brown sugar, pumpkin pie spice, and cinnamon together then sprinkle evenly over each. Using the back of a spoon, pat the brown sugar and spices down into the butter to help it stick.
Working slowly using your fingertips, tightly roll up each rectangle into a 10-inch log. If the dough is cracking at all, use your fingers to smooth it out. (See troubleshooting above if needed.) Wrap the dough logs in plastic wrap, parchment paper, or aluminum foil. Chill the dough logs for at least 2 hours and up to 3 days in the refrigerator. (Or freeze for up to 3 months, see freezing instructions below.) The pictured cookie dough logs chilled in the refrigerator for 1 day.
Preheat oven to 350°F (177°C). Line large baking sheets with parchment paper or silicone baking mats.
Remove dough logs from the refrigerator. Using a sharp knife, cut each into slices that are slightly less than 1/2 inch (between 1/4 and 1/2 inch is perfect). You'll have around 24-26 cookies per log. Arrange sliced cookies onto baking sheets 1.5-2 inches apart. If the slices have lost their round shape, use your fingers to help mold them into perfect circles again. Not necessary of course, but you can see me do it in the video.
Bake for 13-15 minutes or until very lightly browned around the bottoms. (As the cookies bake, you can make the icing in the next step.) Remove finished cookies from the oven, allow to cool on the baking sheet for 10 full minutes, and then transfer to a wire rack.
Make the cream cheese icing (or the maple icing listed in the recipe notes): In a large bowl using a handheld or stand mixer fitted with a paddle or whisk attachment, beat the cream cheese on high speed until completely smooth and creamy, about 1 minute. Add the butter and beat until smooth and combined. Add the confectioners' sugar and vanilla extract, and then beat on medium speed until combined. Taste. Add a pinch of salt if desired.
Spread cream cheese frosting (or drizzle maple icing) on warm or cooled cookies.
Cover plain or iced cookies and store at room temperature for up to 2 days or in the refrigerator for up to 1 week.