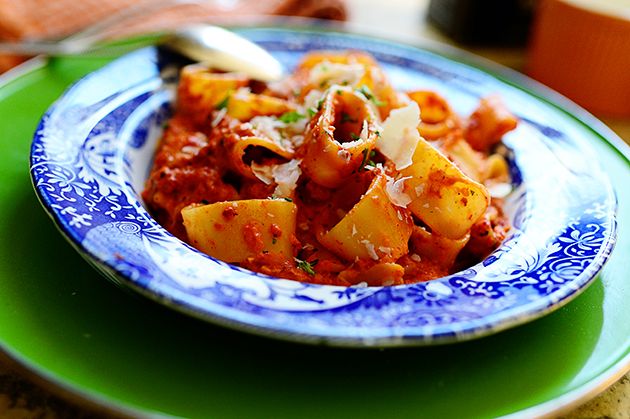 This is a short version of an old favorite recipe of mine.
---
Yield : 8 servings
Preparation time : 5 minutes
Cooking time : 10 minutes
Total time : 15 minutes
---
Ingredients
12 oz. weight Pasta Of Your Choice (I Prefer Short Ones Like Rigatoni, Penne, Etc.)
4 tbsp. Butter
1/2 whole Large Onion, Finely Diced
3 cloves Garlic, Minced
1 jar (15.5 Ounces) Roasted Red Peppers, Drained And Roughly Chopped
1 c. Vegetable Or Chicken Broth
1/2 tsp. Salt, More To Taste
Freshly Ground Black Pepper
1/2 c. Heavy Cream (more To Taste)
1/2 c. Parmesan Shavings (more For Serving)
Finely Minced Parsley
Chopped Fresh Basil (if You Have It!)
Directions
Cook pasta in salted water according to package directions.
In a large saucepan, melt 2 tablespoons butter over medium heat. Add onion and garlic and saute for 2-3 minutes until softened. Add chopped red pepper and cook until hot, 2 to 3 minutes.
Remove pan from heat. Carefully transfer contents of pan to a food processor or blender. Cover and puree until well blended (chiles still have texture).
Return the remaining 2 tablespoons butter to the pan and heat over medium heat. Return pepper puree to pan. Add broth, salt, and pepper; stir until heated through. Drizzle in the cream and stir to combine. Taste and adjust seasonings if necessary.
Drain pasta and add to pan. Add the Parmesan cheese and parsley-garlic and toss to coat the pasta.
Serve in bowls with a little more Parmesan cheese and a sprinkling of parsley.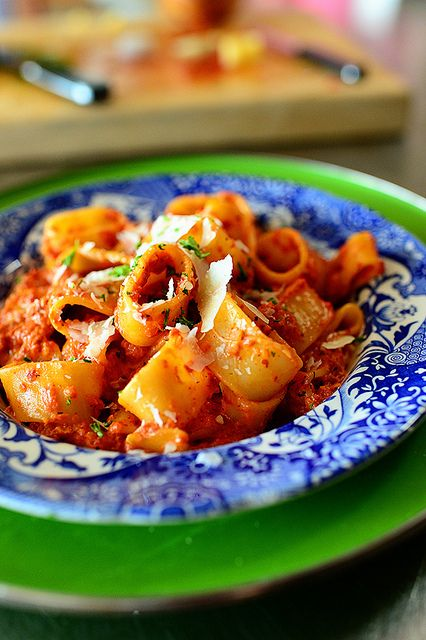 I made a quick dinner last night, so I thought I would share this with you this morning. It is almost identical to a recipe I posted in 2009, but it is faster, easier, and will give you and your spouse time to catch up on the third season of the old show "24" that has been airing on some cable channel lately, commercial-free.
Along those lines, I don't think my central nervous system will last until season 4. It just doesn't.
Anyway, in this ancient version of pasta, I took the time to roast the red peppers myself on the stovetop and added toasted pine nuts for a nutty flavor and a little crunch. However, I didn't have time to roast them last night. I didn't have time for nuts and crunch. I just had time to make a simple pasta dish. I just had time to watch Jack Bauer.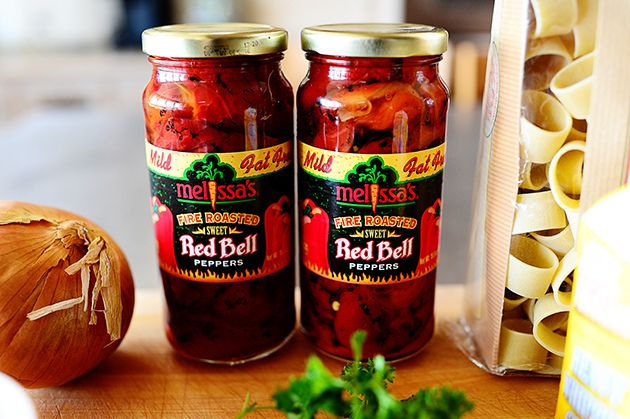 I love, love, love these things. You can find different brands, different sizes of jars. However, if you don't already have jars of roasted red peppers, you should definitely keep them in your pantry or refrigerator. They are delicious in a sauce like this, but you can also cut them into strips and make sandwiches, chop them up and sandwich them between blocks of cream cheese and crackers, or serve them on a plate with a pile of cottage cheese.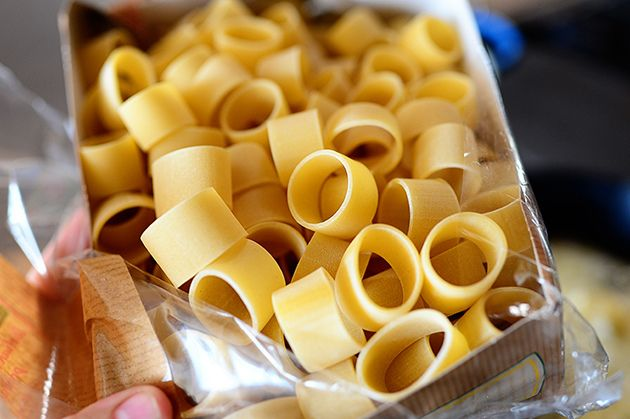 First, pick up your favorite noodle. This one I picked up in the big city and is part of my collection of pasta in various forms, which I plan to bequeath to a museum someday.
Pasta. It is everything.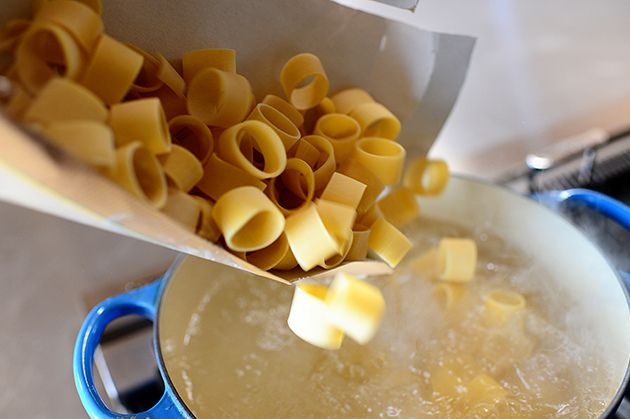 Throw in boiling water with salt and cook until cooked through.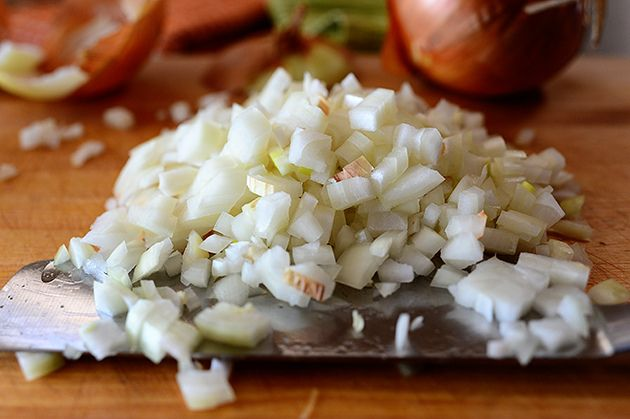 Next, chop the onion…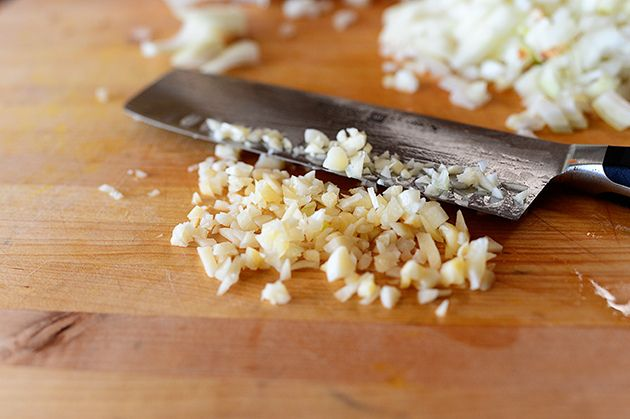 Then chop the garlic.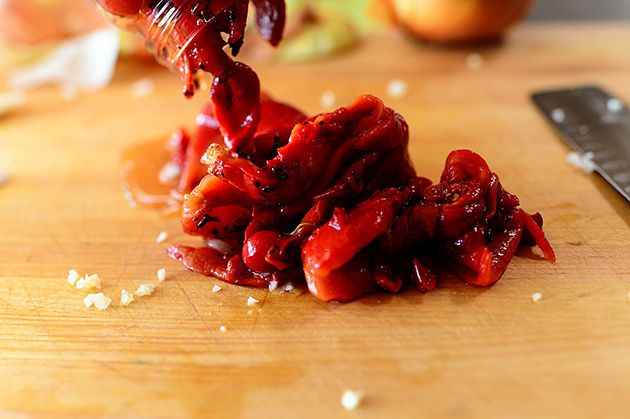 Then pile the roasted red peppers on a cutting board…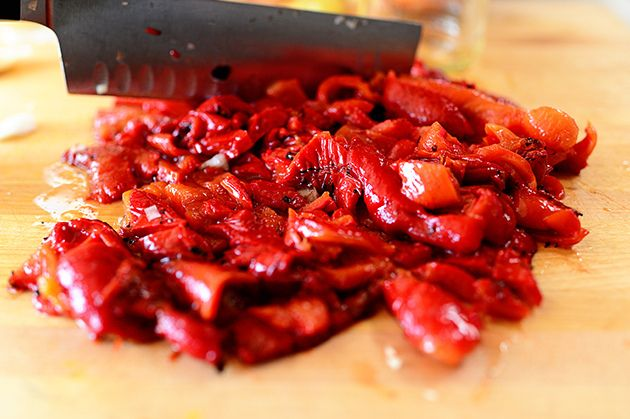 Then chop them a little coarsely.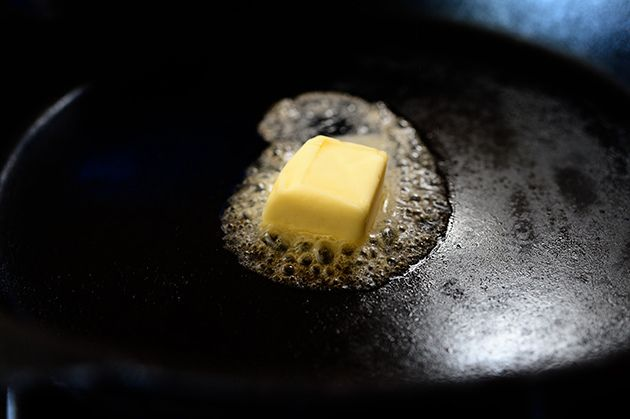 Next, take two tablespoons of good butter…
Then, throw in the onions and garlic.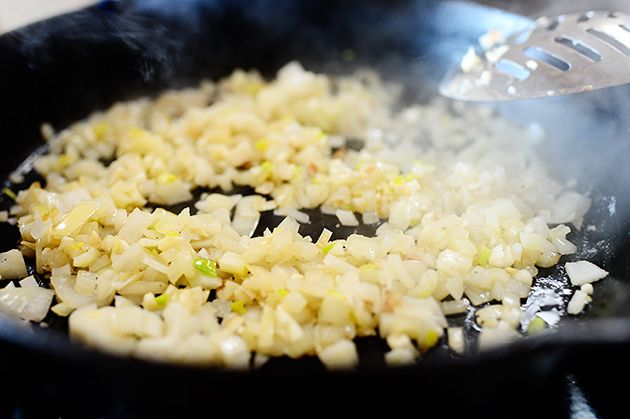 Saute until softened, about 3-4 minutes.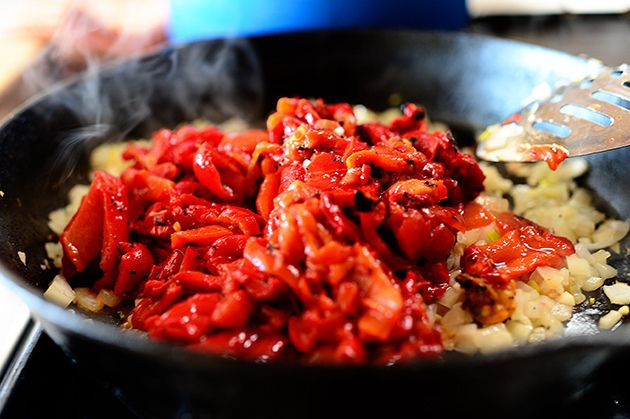 Next, throw in the chopped red bell pepper….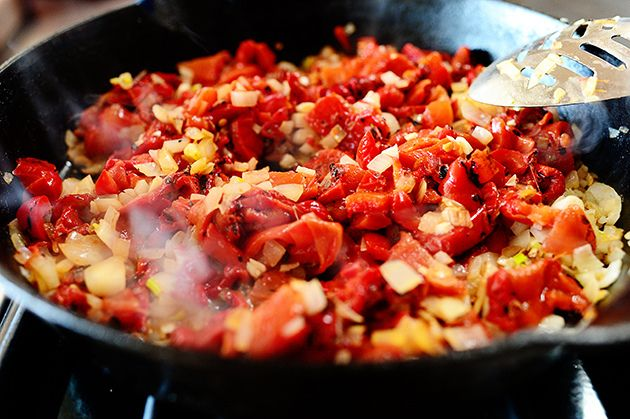 Then cook for a few more minutes until heated through.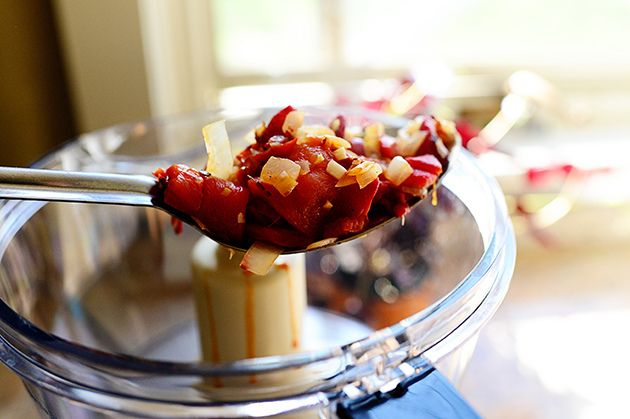 Transfer the mixture….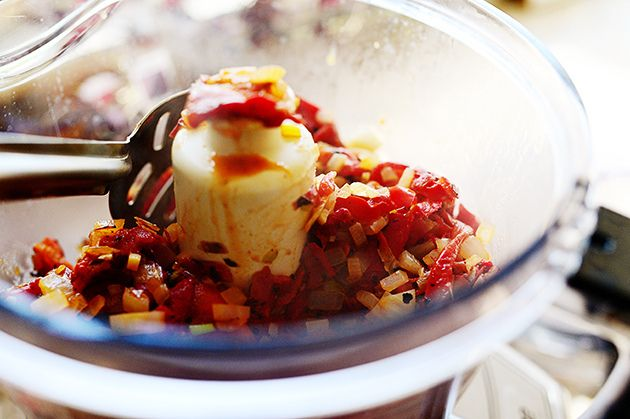 into a food processor or blender….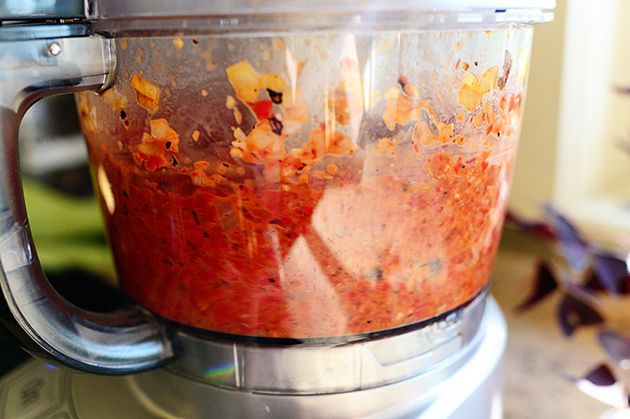 Then puree until whole. …… Voila, it's pureed!
Hmmm… This is divine work, right here. Even when it is completely pureed, it still has a nice texture. It tastes very good.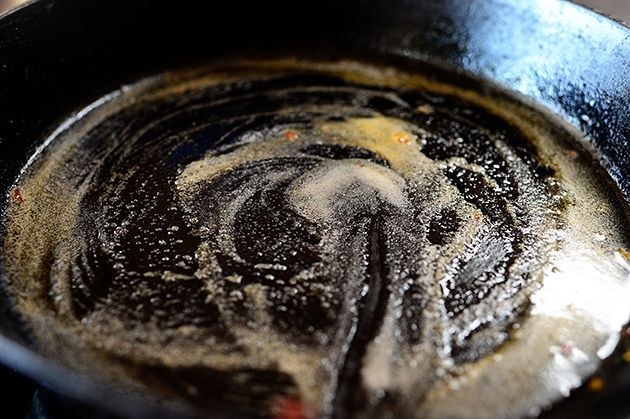 Now, back to the skillet. Heat another 2 tablespoons of butter…
Then pour in the pounded pepper as it is.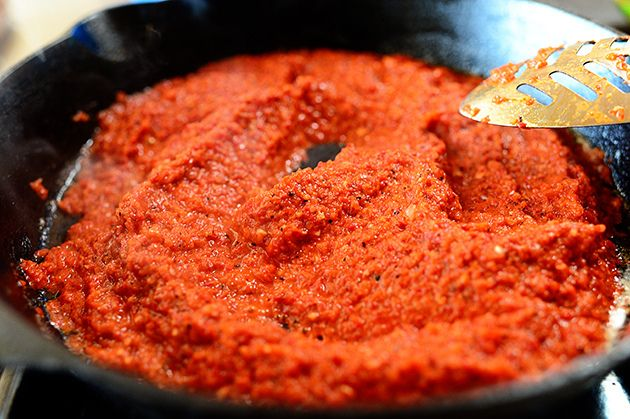 Turn on the fire and start heating the pepper puree…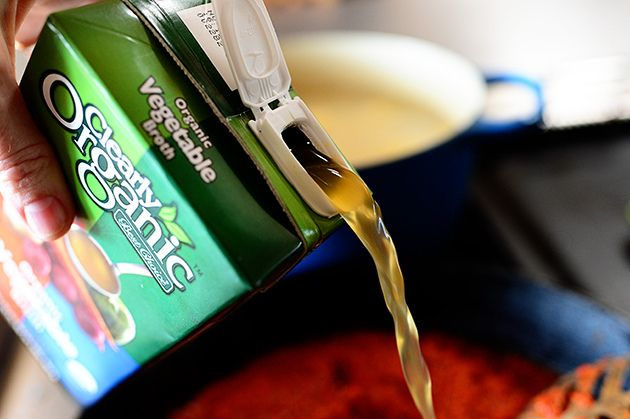 Then pour in the vegetable or chicken bouillon to thin it out a bit.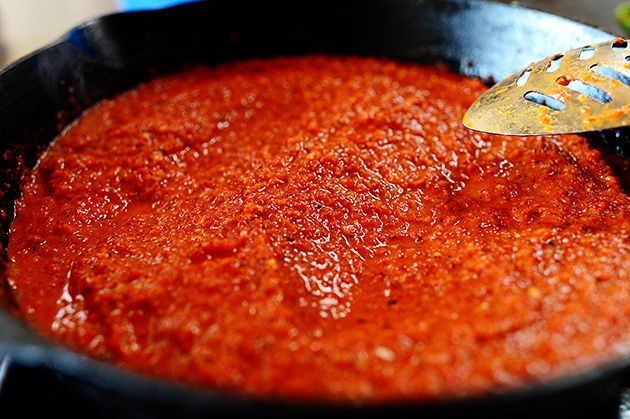 Then stir the whole mixture.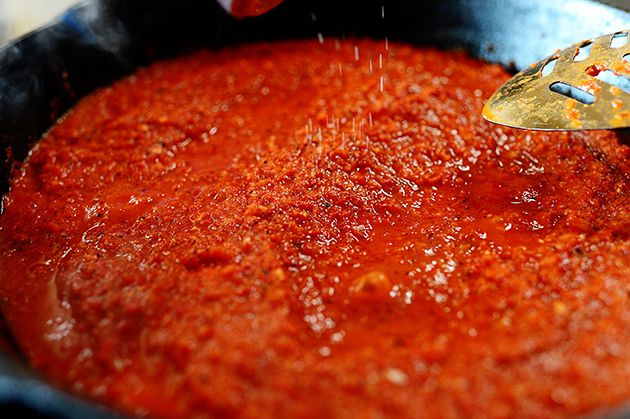 Add salt and pepper…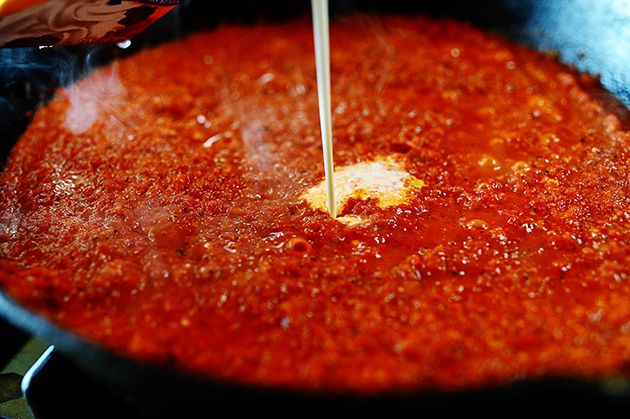 Then my favorite part. Add the cream.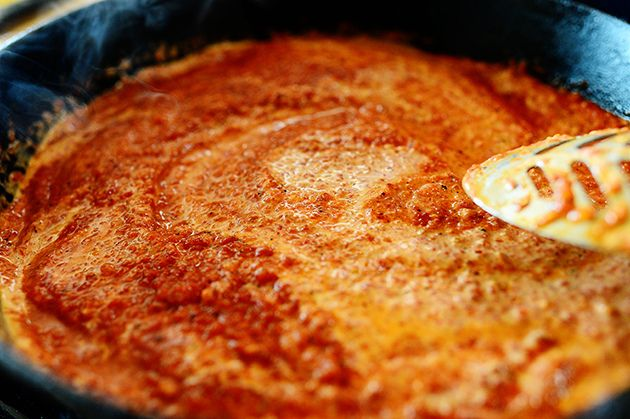 Stir it up and see what it looks like. If you want it richer, add a little more cream.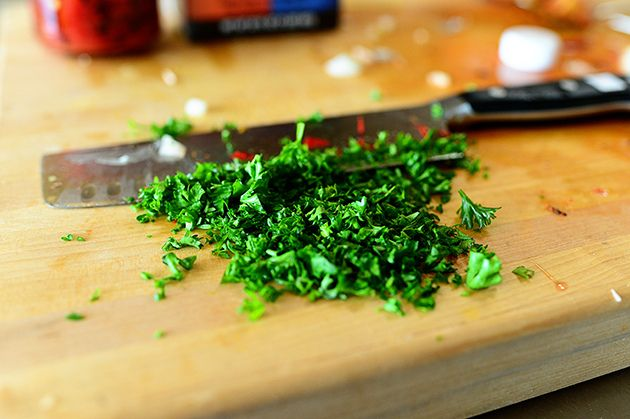 Next, chop the herbs. I only had parsley, but if I had basil I would have gone crazy for it.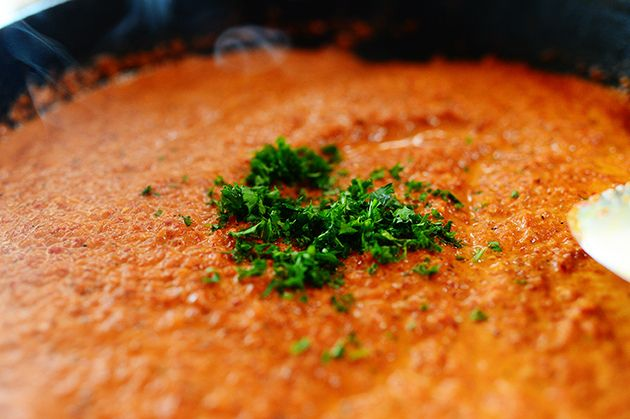 Throw them straight into the sauce…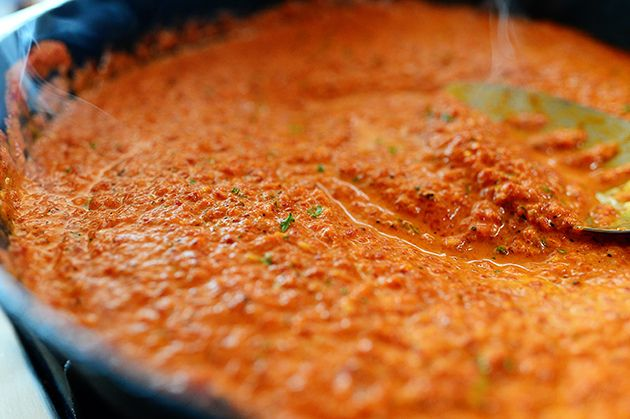 And stir.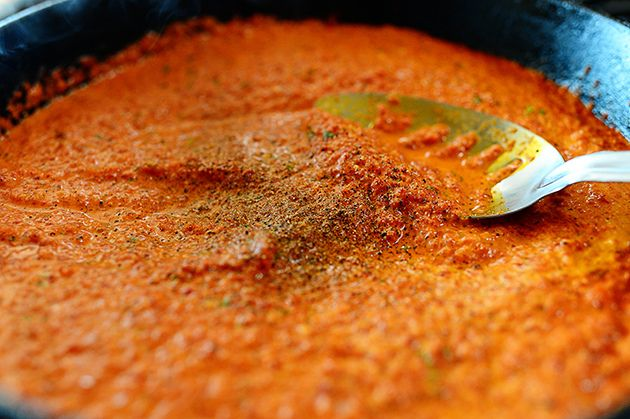 Then taste the sauce, adding salt and pepper if necessary.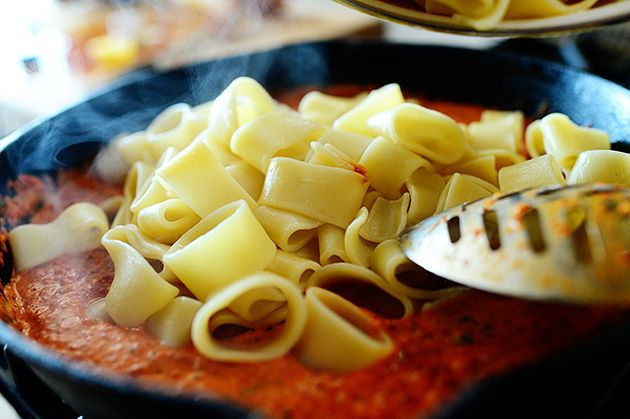 Drain the pasta and throw it into the sauce.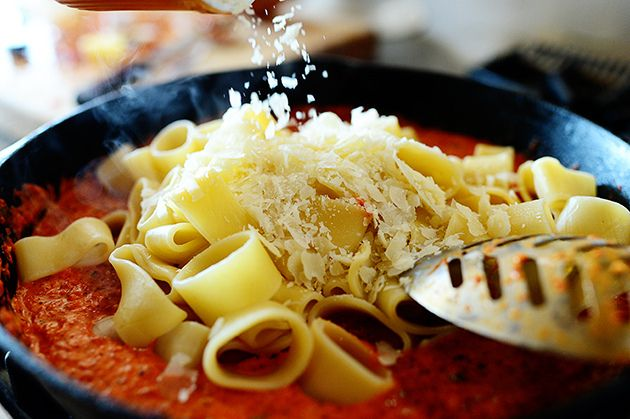 Add the Parmesan cheese.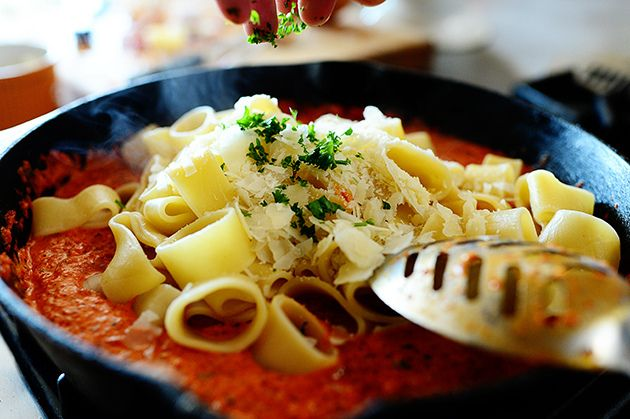 A little parsley too.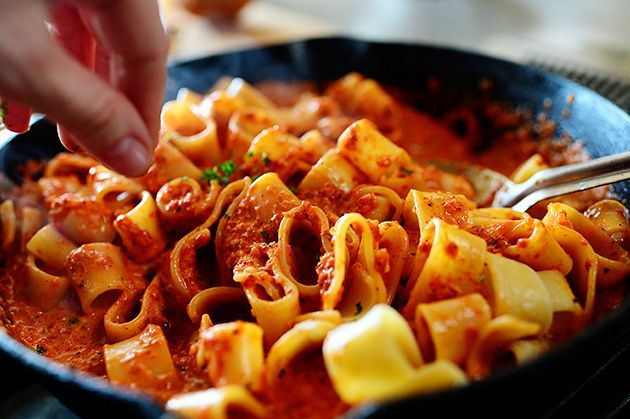 Mix everything together, add parmesan cheese and parsley.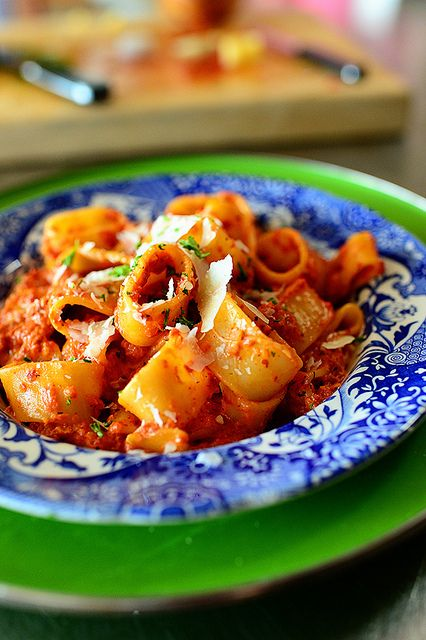 Holy… Help me ronda.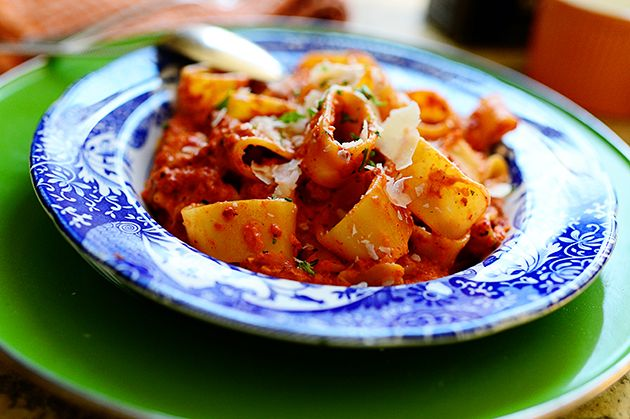 Yummy.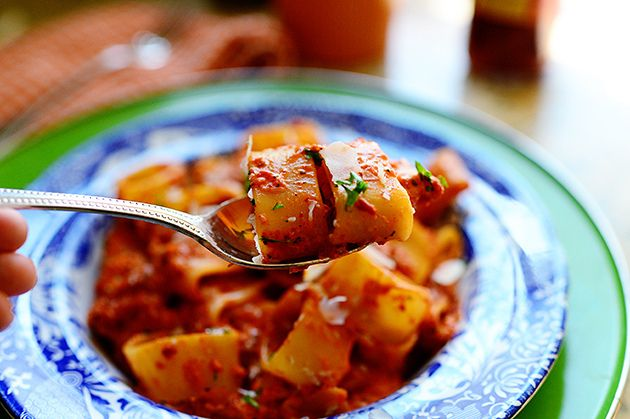 One of my favorite things on earth. And it doesn't take very long. You can eat it with grilled chicken breasts, or slice the chicken and toss it in the sauce.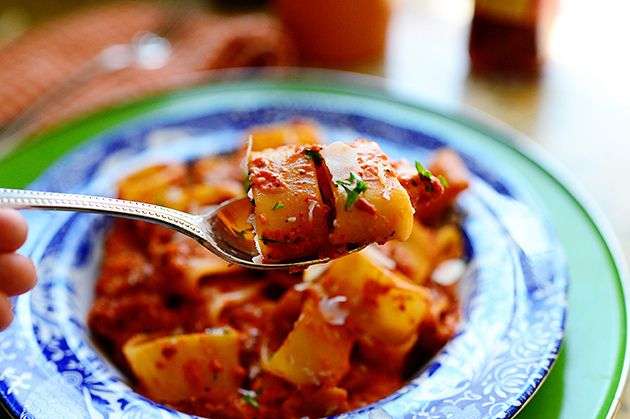 Very tasty!