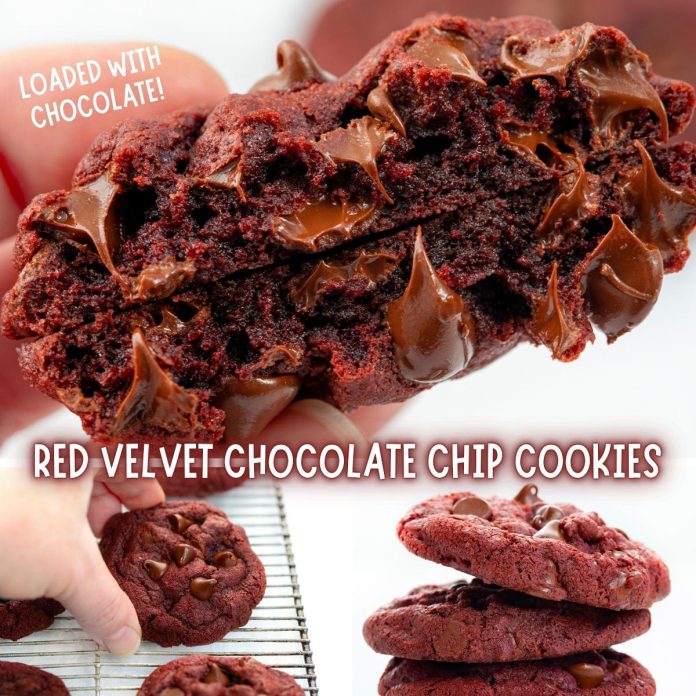 Red Velvet Chocolate Chip Cookies are chewy chocolate chip cookies made more colorful with red food coloring and filled with all the sweetness of chocolate.
PREP TIME : 20 MINS
COOK TIME : 12 MINS
TOTAL TIME : 32 MINS
Ingredients
▢1½ cups (187.5 g) cake flour
▢¼ cup (29.5 g) cocoa powder
▢1 teaspoon baking soda
▢⅛ teaspoon cream of tartar
▢¼ teaspoon kosher salt
▢½ cup (1 stick / 113g) unsalted butter, room temperature
▢1 cup (200 g) granulated sugar
▢1 large egg, room temperature
▢2 teaspoons vanilla extract
▢1 teaspoon red food coloring
▢2 cups (336 g) semi-sweet chocolate chips
Instructions
Preheat oven to 350°F.
Using a mixer with a paddle attachment, cream butter and sugar until light and fluffy (3 to 5 minutes).
Reduce mixing speed and add the egg. Then, add vanilla and food coloring, continuing to mix until incorporated.
In a separate bowl, whisk together flour, cocoa powder, baking soda, cream of tartar, and salt.
Slowly add dry ingredients to the wet ingredients, mixing until just combined. Fold in chocolate chips by hand.
Drop spoonfuls (2-3 tablespoons) of dough onto a baking sheet. Use your hands to roll into equal-sized balls of dough. Add reserved chocolate chips for topping (optional). Bake for 10-12 minutes.
Let cool a few minutes before transferring to a wire rack to cool completely.
Notes
We found that 1 teaspoon of red food color was plenty for this cookie. Adding more food coloring only makes the cookie darker, not redder. If you want a pure red cookie, omit the cocoa powder and add as much food coloring as desired.
Nutrition
Course: Dessert
Keyword: Red Velvet Chocolate Chip Cookies
Servings: 21 cookies
Calories: 217