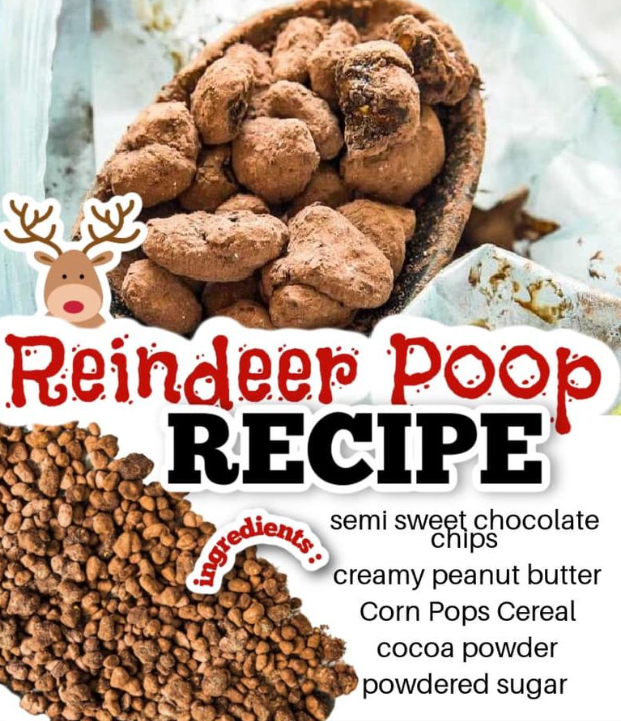 Surprise everyone with a delicious reindeer poop! Don't worry, it's not real. Corn cereal is made into a version of puppy food to look like reindeer poop!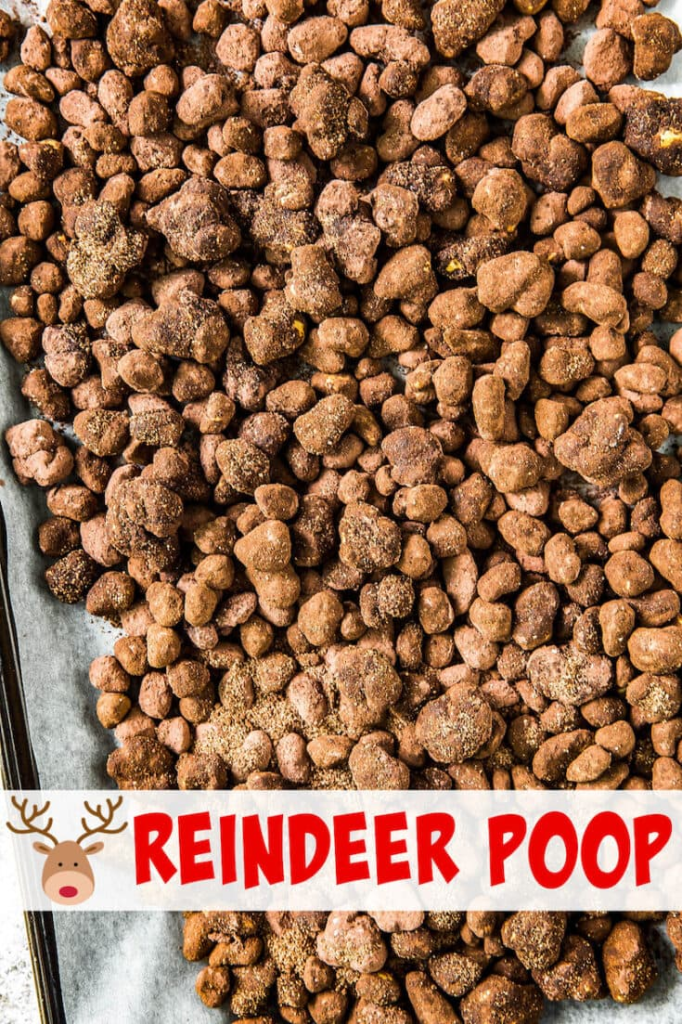 Reindeer poop may look like poop, but I promise it smells and tastes delicious!
My girls loved making and eating this recipe, laughing the whole time. This is the perfect Christmas recipe to get the kids involved in making it.
You don't need an oven, the recipe is a no-bake dessert, you just need a few minutes and a microwave! Bonus: it uses only 5 ingredients!
If you like this fun, kid-friendly Christmas recipe for the holidays, be sure to check out my Grinch Pancakes and Hot Chocolate!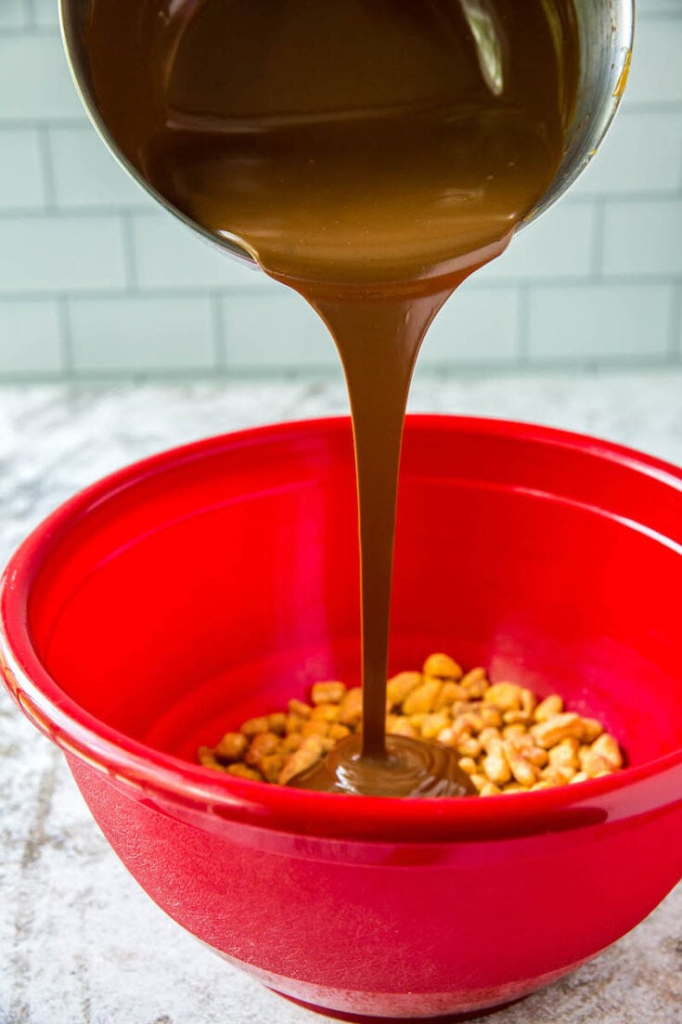 REINDEER POOP INGREDIENTS 
Reindeer Poop is made like another funny named recipe — Muddy Buddies or Puppy Chow (depending on where you are from!). 
You only need 5 very simple ingredients – most of which I bet you already have in the pantry!
Corn Pop Cereal
Creamy Peanut Butter
Chocolate Chips
Cocoa Powder
Powdered Sugar
If you want, you can use this same exact recipe to make SNOWMAN POOP!
Skip the cocoa powder and just use powdered sugar for the outside coating…and guess what, you made Snowman Poop instead!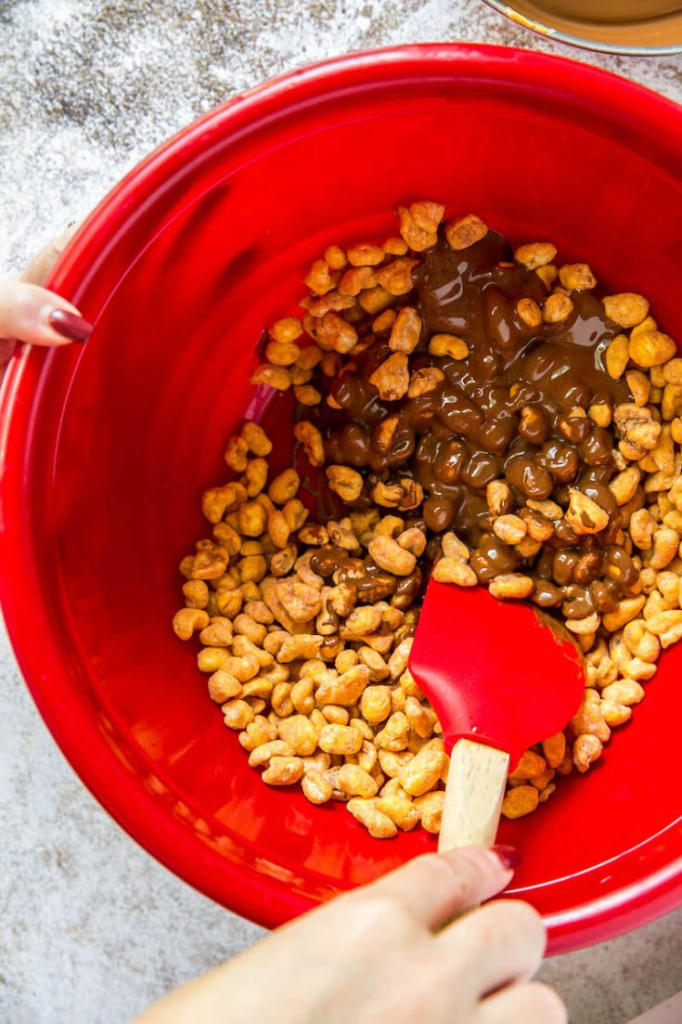 HOW TO MAKE REINDEER POOP
Got 10 minutes to spare? Great, you have plenty of time to make Reindeer Poop!
Which also happens to be about the max of my kids attention span, so it works out perfectly. 😉 
To start, we melt the chocolate chips and peanut butter together in the microwave (or stove top) and coat the corn chips in the mixture.
Then we put the coated corn pops into a ziplock bag and add our powdered sugar and cocoa powder mixture. 
SHAKE SHAKE SHAKE until the cereal is well coated. This is always the kids favorite part. 
Then let it cool and it's ready to be enjoyed!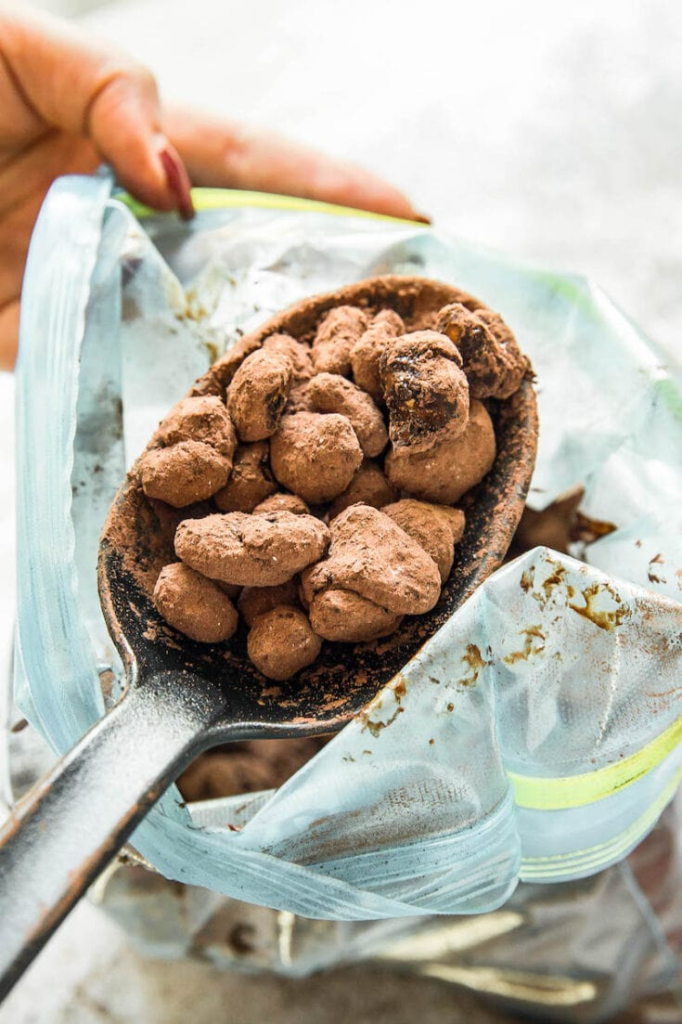 Surprise everyone with delicious Reindeer Poop! Don't worry, it's not real. Corn pop cereal is made into a version of puppy chow to look like Reindeer Poop!
PREP TIME : 10 minutes
TOTAL TIME : 10 minutes
INGREDIENTS
1 cup semi sweet chocolate chips
1 cup creamy peanut butter
6 cups Corn Pops Cereal
3/4 cup cocoa powder (dark for a darker look)
3/4 cup powdered sugar
INSTRUCTIONS
In a medium bowl, mix together the powdered sugar and cocoa powder. Set aside.
Melt peanut butter and chocolate together:
Stovetop: in a double boiler over low heat, melt peanut butter and chocolate together and stir until smooth.
Microwave: In the microwave safe bowl, add peanut butter and chocolate and microwave on high for 60 seconds and stir. Then continue in increments of 30 seconds, stirring after each, until mixture is melted and smooth.
Add 3 cups of corn pops to a large bowl. Pour half of the chocolate/peanut butter mixture over the cereal.
Add remaining corn pops to the bowl and then pour the rest of the chocolate/peanut butter mixture on top. Stir until the cereal is evenly coated.
If there are pools of chocolate/peanut butter at the bottom of your bowl, add more corn pops 1/3 cup at a time until there is no extra pooling chocolate mixture.
Transfer to an extra large ziplock bag. Pour cocoa powder mixture over corn pops in ziplock bag, seal, and shake until well coated. Pour out onto a parchment-lined rimmed baking sheet and let cool.
Store in an airtight container at room temperature.
NOTES
Snowman Poop: Leave the cocoa powder out of the recipe above and this recipe becomes white snowman poop!
NUTRITION INFORMATION:
YIELD: 15 servings 
SERVING SIZE: 1
Amount Per Serving: CALORIES: 243TOTAL FAT: 12gSATURATED FAT: 4gTRANS FAT: 0gUNSATURATED FAT: 7gCHOLESTEROL: 0mgSODIUM: 125mgCARBOHYDRATES: 30gFIBER: 4gSUGAR: 16gPROTEIN: 5g