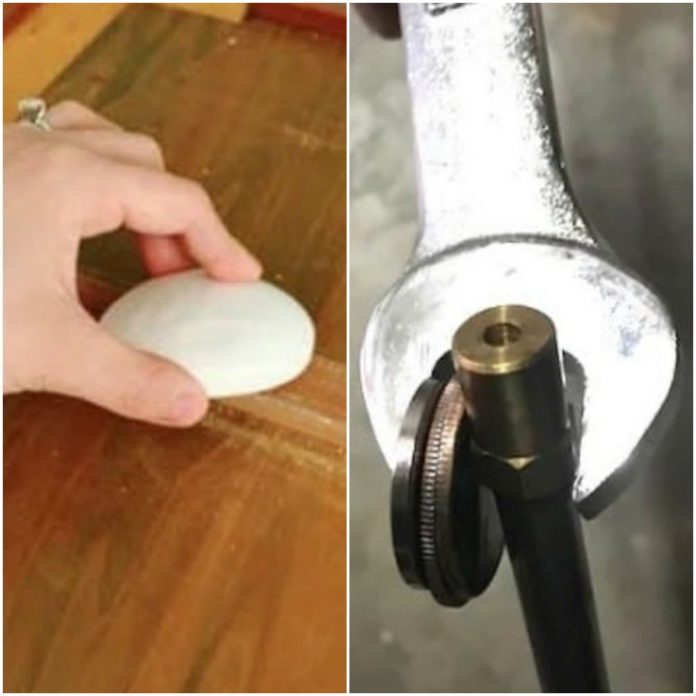 There are few things more fun than starting a DIY project at home. It's cheaper than paying someone to do it for you, but it also gives you that special sense of accomplishment. When you finish, you feel like the king of renovation, sitting on a throne made of nuts and bolts.
And then you encounter one of the millions of obstacles and inconveniences inherent in these projects. There should be a way to do all these projects, while skipping all the challenges. Well, as it turns out, there is. For example, did you know that you could…
Use glue to hold screws in place
Installing a screw is one of the most basic parts of any do-it-yourself project, and yet it's not so easy. The screw sometimes slips off and rolls away, leaving you to crawl under the couch to try and get it. Things are even harder when the screw has to put in at an angle.
The solution for your woes couldn't be simpler. Just dab some rubber glue on the tip of the screwdriver, and that'll prevent any unruly screws slipping off. Then, when you're done, just peel any remaining glue and voila. Take that, IKEA!
Use toothpaste to fill in nail holes
This one concerns the opposite of moving in, and can be encountered when you move out of a place. To make the place feel like home, you've no doubt hung some photos on the walls. Heck, maybe you even put up shelves.
You took everything down when it was time to go, but what about those unsightly nail holes? If the landlord sees those, you're not getting your security deposit back. There are several ways of making nail holes go poof, but we're betting you never thought of the easiest one. Simply fill them in with a little bit of white non-gel toothpaste, then remove any excess residue. It'll be like they were never there.
Use coffee grounds to restore wood furniture
Every negative can be turned into a positive, if you have the right perspective. Case in point, have you ever spilled coffee on yourself? If you have, you know it stains like nobody's business. But while that's less than ideal on your shirt, it'll work wonders on your furniture! If you have anything – dressers, cabinets, picture frames, chairs, whatever – made of unfinished wood, simply rub them with coffee grounds.
It'll fill out any nicks and scratches that item might have, while also giving it a nice fresh coat of brown color, without you having to buy a paint can you'll only ever use once. Don't spring for paint or a specialist – the solution's right in your morning cup of joe.
Use home objects to protect your fingers from hammers
While you might want to bang those nails into the wall, the chances are you don't want to hit your fingers with a hammer. Now, there is a way to protect your fingers while still getting your nail in the right place.
Clothes pegs, a bobby pin, or a fine-tooth comb can all be used to make your life easier. Simply slot the nail into one of the objects and line it up on the wall. Now, you can nail them into the wall while keeping your fingers out of the way.
Soak tiles in water before cutting them
Cutting tiles can be tough. Well, it used to be until we learned this home repair hack that could save us plenty of sweat and tears. You still need to make a rivet or pre-cut into the tile before you begin.
Measure out how much you need to take off and get cutting. Then, soak that end in some water for a couple of hours. This makes it a lot easier to chop it off without having to put in too much effort.
CLICK NEXT PAGE BELOW TO CONTINUE READING …