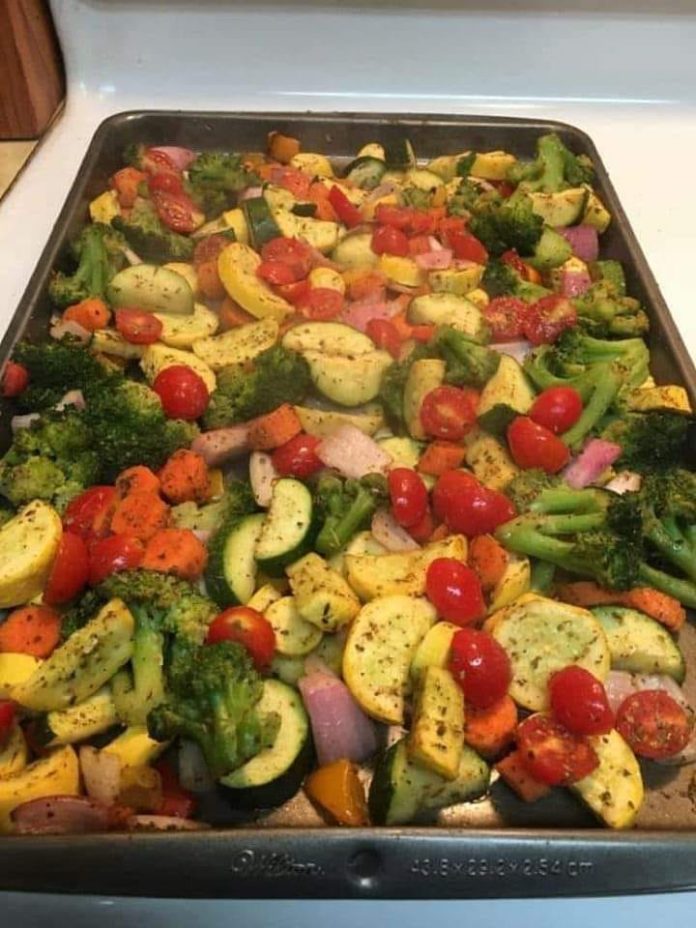 Roasted vegetables: this is by far the best way to cook vegetables. When roasted, they add depth and delicious flavor, and finish with the perfect texture. This is one of my favorite lunches lately: a bowl of quinoa with roasted vegetables and lemon. Simply delicious.
Ingredients
1/2 medium red onion, peeled and cut into 1-inch chunks
1 1/2 teaspoons Italian seasoning
2 – 3 cloves garlic, minced
2 medium carrots, peeled and sliced into 1/4-inch-thick slices
2 tablespoons olive oil
1 medium broccoli crown, cut into small florets (reserve stem for another use)
2 medium bell peppers cored, chopped into 1-inch pieces (I used 1 red 1 yellow)
1 c grape tomatoes (optional)
1 small zucchini, ends trimmed, sliced through the length then cut into 1/2-inch pieces
Salt and freshly ground black pepper
1 tablespoon fresh lemon juice
How To Make Roasted Vegetables
Prepare the oven and preheat to 200 degrees C or 400 degrees F. On a 13-inch baking sheet with a rim, add bell peppers, zucchini, broccoli, carrots, and red onion.Drizzle olive oil on top of the mixed veggies.Sprinkle Italian seasoning, pepper, garlic, and salt. Toss everything until well blended.Move the mixed veggies inside the preheated oven and roast for about 15 minutes.
Remove from the oven, then add the tomatoes and toss until well mixed.Put it back inside the oven and roast for another 10 minutes.Remove from the oven and drizzle lemon on top of the mixed veggies.Serve right away and enjoy!