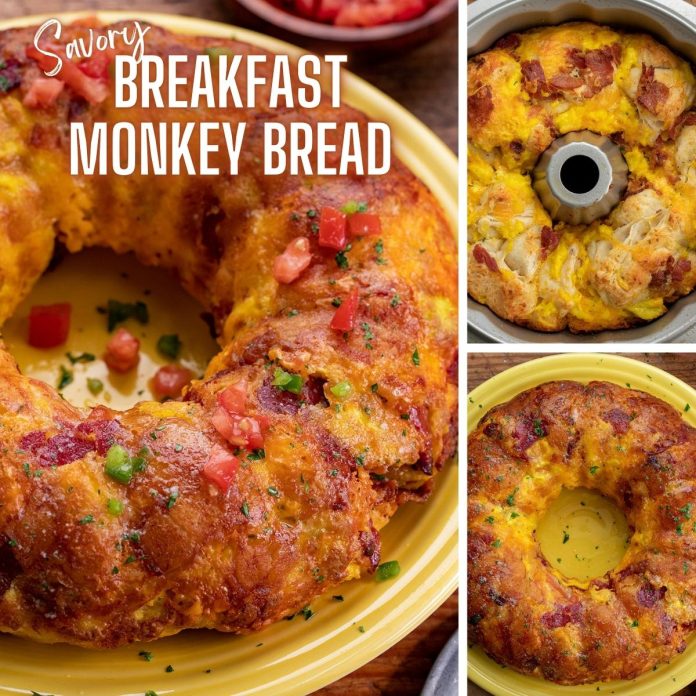 PREP TIME : 15 MINS
COOK TIME : 40 MINS
TOTAL TIME : 55 MINS
Share this delicious Savory Breakfast Monkey Bread at your next brunch or save it all for yourself to eat anytime!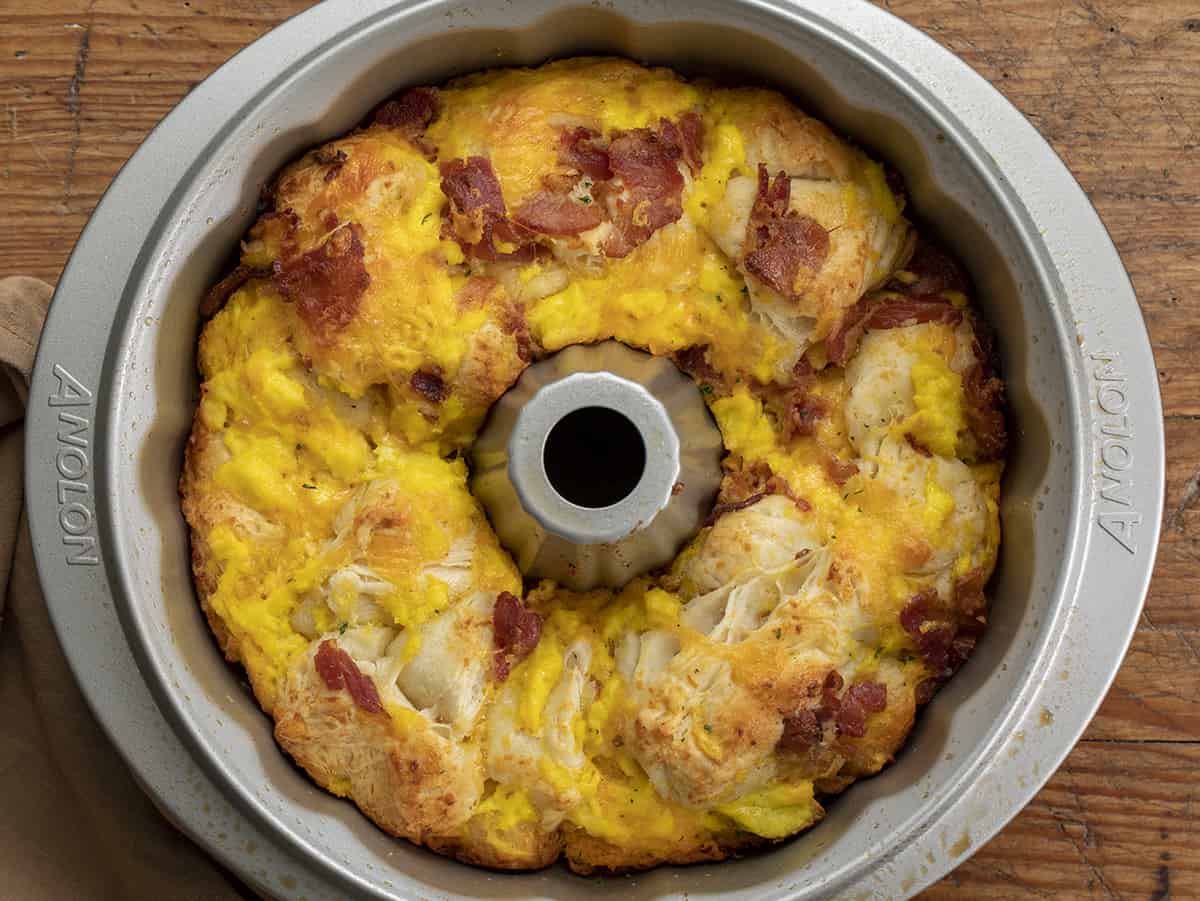 Ingredients
Bread
1 tube (16 ounces) homestyle biscuits
¼ cup (½ stick / 56 g) butter, melted
6 large eggs, softly scrambled*
6 pieces bacon, cooked and crumbled
1 cup (113 g) cheddar cheese, shredded
Garlic Butter
¼ cup (½ stick / 56 g) unsalted butter, melted
½ teaspoon garlic salt
Garnish (Optional)
chopped tomato
diced jalapeno peppers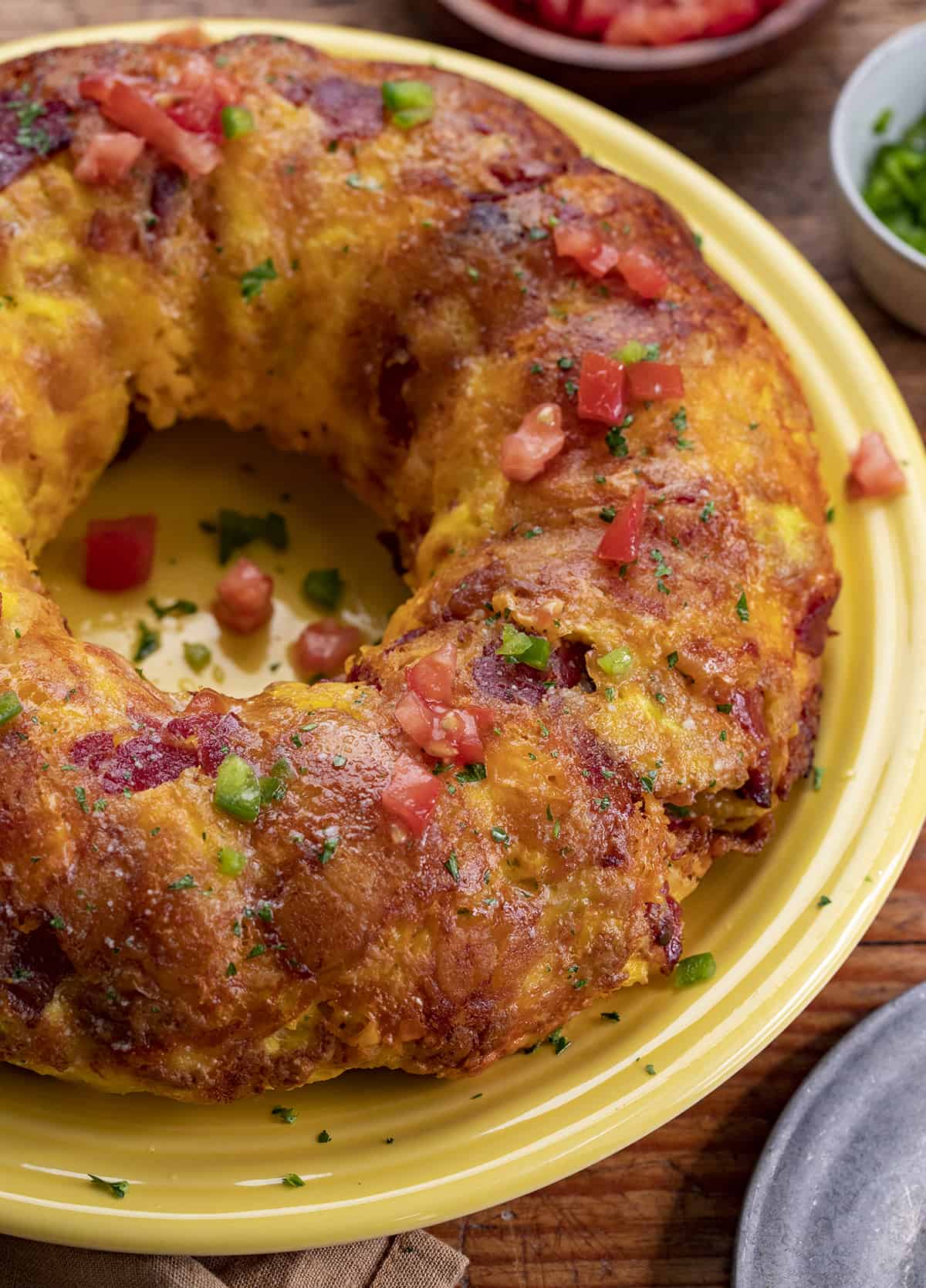 Instructions
Preheat the oven to 350°F. Spray a bundt pan with nonstick cooking spray.
Cut each biscuit into 6 pieces.
In a large bowl, combine the melted butter and biscuit pieces.
Add the scrambled eggs, crumbled bacon, and shredded cheese. Toss it all together until combined.
Add the mixture to the prepared bundt pan.
Bake for 30-35 minutes, or until golden brown on top. Allow the bread to cool for a couple of minutes before inverting it onto a serving plate. While the bread is cooling, make the garlic butter.
Garlic Butter
In a small bowl, combine the melted butter with the garlic salt. Mix well.
Brush over the monkey bread. Serve warm, garnished with tomatoes and jalapeno peppers (optional).
Notes
*Soft scrambled eggs are cooked over a low temperature and are removed from the skillet while still soft and wet looking. The eggs should be cooked enough to easily remove from pan. They will continue cooking in the oven.Course: Appetizer, Breakfast, SnackKeyword: Monkey bread, Savory Breakfast Monkey BreadServings: 8Calories: 329