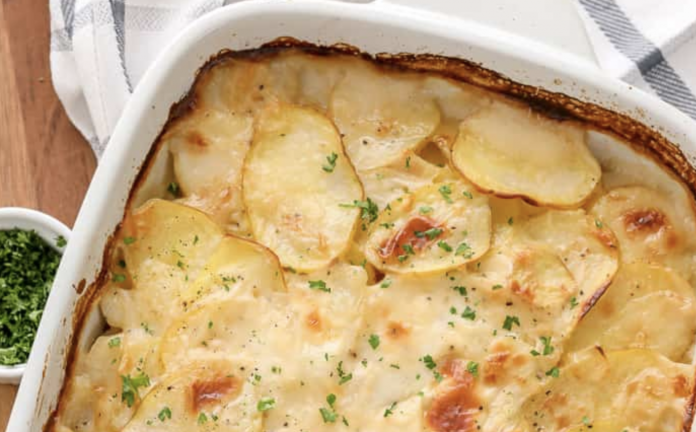 Scalloped potatoes come together with just a few basic ingredients from the pantry. Once layered, bake this easy potato casserole until tender, golden, and bubbly. Potato perfection!
Get creative by mixing in sliced mushrooms, peas, or broccoli! Make it an entrée by layering the potatoes with ham and cheese! Talk about a one-size fits all dinner!
THE BEST SCALLOPED POTATOES RECIPE
Who doesn't love a good homemade scalloped potatoes recipe?   Of all the potato side dishes from Oven Roasted Potatoes to Perfect Baked Potatoes, nothing says comfort food like a big steaming side of scalloped potatoes (except maybe creamy buttery mashed potatoes).
So exactly what are Scalloped Potatoes? Thought to have originated in England, the word 'scallop' is basically a definition for how the potato is sliced. Thin and uniformly cut potatoes are layered in a casserole dish and then covered with a seasoned onion cream sauce and baked. The result is this savory scalloped potato recipe!
WHAT IS THE DIFFERENCE BETWEEN SCALLOPED AND AU GRATIN POTATOES?
Potatoes au Gratin are also called cheesy potatoes because the white sauce is actually a cheese sauce (and they often have cheese sprinkled between the layers and/or breadcrumb topping).
This scalloped potato recipe can (of course) be topped with cheese or have cheese added in but sometimes I love the simplicity in this recipe without cheese. The sweetness of the onions and milk is the perfect addition to these sliced potatoes!
HOW TO MAKE SCALLOPED POTATOES
POTATOES:
Slice the potatoes evenly to ensure the scalloped potatoes cook evenly
Use a mandoline to make this job extra quick
Yukon gold potatoes (or red potatoes) have tender skin and don't require peeling (they hold their shape well).
Russet potatoes or Idaho potatoes will work but tend to break apart more (but still taste pretty good).
SAUCE:
A good roux is the foundation for a flavorful and creamy sauce. Don't let the word roux scare you, it's easy, I promise!
A roux just means to cook the fat (in this case butter) and flour and add liquid to thicken and make a sauce!
Cook the onion and butter. Add flour.
Add liquid a little at a time stirring until smooth.
Sauce will seem thick in the beginning, just keep working the roux a little at a time until it smooths out.
Adjust flavor with salt and pepper.
ASSEMBLY:
Layer sliced potatoes with sauce in a greased 9×13 casserole dish.
Season the potatoes with salt and pepper between layers (sneak in cheese if you'd like).
Cover with foil and bake (this allows it to steam and the potatoes to cook through).
Remove foil and bake a bit more, this step creates the delicious brown top on the scalloped potatoes
Cool 20 minutes before serving to allow the sauce to thicken.
INGREDIENTS
1/4 

cup

 

butter

1

 

large

 

onion

 

diced

2

 

cloves

 

garlic

 

minced

1/4

 

cup

 

flour

2

 

cups

 

milk

1

 

cup

 

chicken broth

1/2

 

teaspoon

 

salt

1/4

 

teaspoon

 

pepper

3

 

pounds

 

white potatoes

 

sliced about 1/8 inch thick

salt and pepper

 

to taste
INSTRUCTIONS
SAUCE
To make the sauce, melt butter, onion and garlic over medium low heat. Cook until onion is softened, about 3 minutes. Add flour and cook for 1-2 minutes.

Reduce heat to low. Combine milk and broth. Add a small amount at a time whisking to thicken. The mixture will become very thick, continue adding a little bit of liquid at a time whisking until smooth.

Once all of the liquid has been added, bring to a boil over medium heat while continuing to whisk.  Stir in salt and pepper and let boil 1 minute.

ASSEMBLY

Grease a 9″x13″ baking dish. Place 1/3 of the potatoes in the bottom and season with salt and pepper. Pour 1/3 of the cream sauce sauce over top.

Repeat layers ending with cream sauce. Cover and bake for 45 minutes.

Uncover and bake for an additional 35-45 minutes or until golden brown and potatoes are tender. Broil for 3-4 minutes to obtain a golden top.

Allow to rest for 15 minutes before serving.

NUTRITION INFORMATION

Calories: 286, Fat: 11g, Saturated Fat: 7g, Cholesterol: 30mg, Sodium: 484mg, Potassium: 1122mg, Carbohydrates: 39g, Fiber: 6g, Sugar: 5g, Protein: 9g, Vitamin A: 9.3%, Vitamin C: 37.3%, Calcium: 17.9%, Iron: 42.9%

(Nutrition information provided is an estimate and will vary based on cooking methods and brands of ingredients used.)
Credits : spendwithpennies