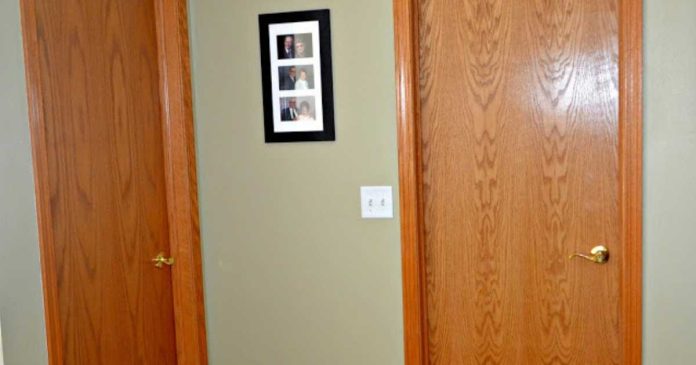 It's easy to look around and make a mental list of all the projects we'd like to see happen. But renovations are expensive, and life is expensive. We can't always tackle the home improvement projects we want – unless we get a little creative! The DIY project we're about to share with you is a perfect example of how you can make a dramatic change to your home with a little money and a lot of creativity.
Sherri, from the blog Thrifty Artsy Girl, was tired of the hollow "slab" doors in her house. You know, those cheap but cheap-looking wood doors? However, she didn't want to spend a ton of money on new solid wood panel doors. So, with a little paint and some decorative trim, Sherri completely transformed them into beautiful and expensive new doors (for about $20 each!).
If you're looking to transform a cheap door or two in your own home, here's what you'll need:
Decorative trim
A tape measure
T-square or carpenter's square
Pencil
Mitre box with saw
Liquid nails (or other comparable wood glue)
Adhesive tape
Paint
Level
On Sherri's blog, she explains in detail (with photos) how she did this project. She even took the old brass door handles and spray painted them a much more contemporary black color. Sherri's project proves that even if your budget is modest, a little effort and a positive vision can totally transform the spaces in your home.