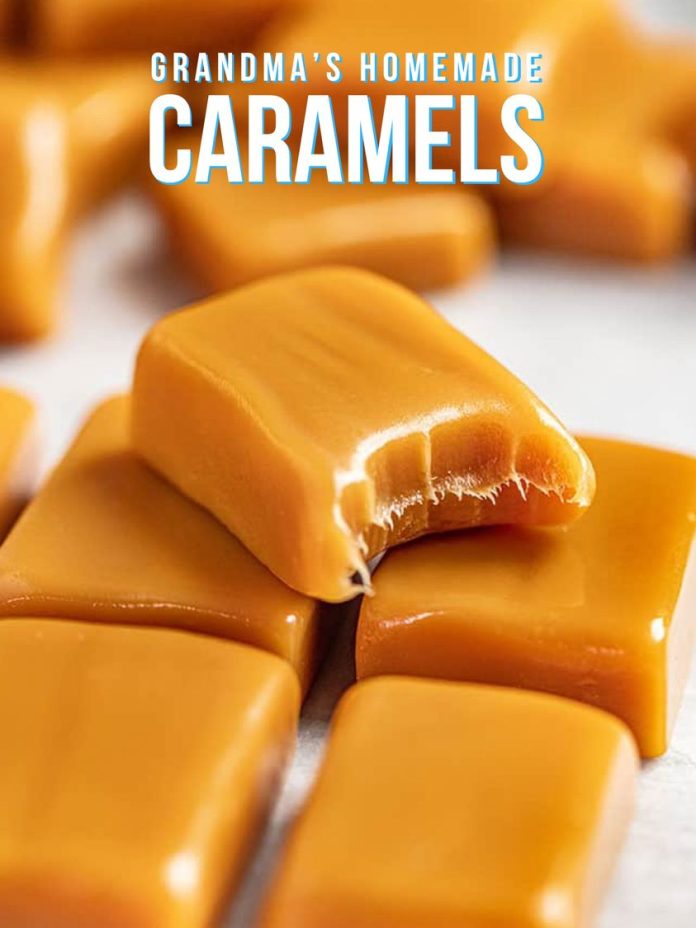 If you can stir, you can make Grandma's homemade caramels! They're soft, chewy and very easy to make. We've even included instructions on how to make caramels without a candy thermometer!
Prep Time : 5 MINUTES
Cook Time : 25 MINUTES
Total Time : 30 MINUTES
INGREDIENTS
1 cup unsalted butter
14 ounce can sweetened condensed milk
1 cup corn syrup
2 cups brown sugar
2 teaspoons vanilla extract
1/4 teaspoon salt
INSTRUCTIONS
Butter a 9×13 pan well to coat. Set aside
Melt butter in a large saucepan over medium heat. Once melted, pour in sweetened condensed milk, corn syrup, and brown sugar.
Use a rubber spatula to stir the mixture constantly over medium heat until it starts to simmer, scraping the sides and bottom regularly.
Once simmering, continue at a constant simmer, stirring constantly until caramel reaches the softball stage of 235 and 245 F, with higher elevations using the lower temperature range, and lower elevations using the upper end of the range.
At the soft-ball stage, immediately remove from heat and stir in vanilla extract and salt. Pour caramel into the prepared 9×13 pan.
Let cool completely before cutting into squares. Wrap in pieces of wax paper for individual servings if desired.
NOTESDon't have a candy thermometer? You can determine if your caramel is ready the old fashioned way! Fill a drinking glass or bowl with cold water. Add in just a drop of the caramel from the pan on the stove. For the soft-ball stage, the caramel should form a small round ball in the cold water, then when it is removed, it should flatten. Serving size is based on cutting caramels into 1-inch squares. A 9×13-inch pan will produce approximately 117 1-inch squares.
Nutrition
Serving: 1piece | Calories: 48kcal | Carbohydrates: 8g | Protein: 1g | Fat: 2g | Saturated Fat: 1g | Cholesterol: 5mg | Sodium: 12mg | Potassium: 18mg | Sugar: 8g | Vitamin A: 58IU | Vitamin C: 1mg | Calcium: 14mg | Iron: 1mg