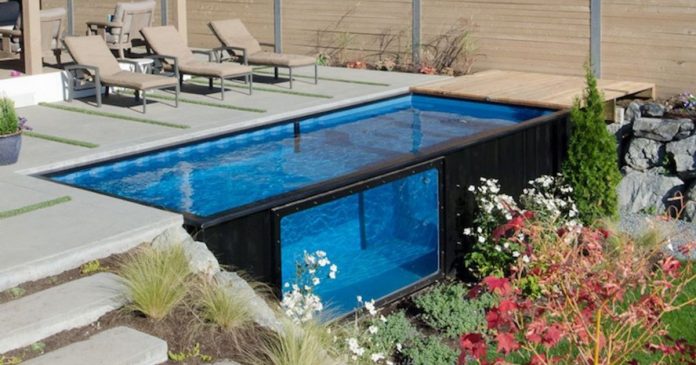 Installing a traditional pool costs a lot of money. That's why people have started getting creative when it comes to finding ways to keep cool during the hot summer months. Last year, the trend seemed to be to make pools out of livestock water tanks. But by the summer of 2021, it's all about sea container pools.
You may have seen people building tiny houses out of shipping containers, and now people are dropping them in their yards to use as swimming pools. The elongated, rectangular shape of shipping containers allows for some swimming, and at an average cost of $3,000 to $5,000, shipping containers are still much more affordable than a traditional in-ground pool.
Shipping container pools will need to be waterproofed and you'll need to install some sort of pump or filtration system, but these are things you can likely do yourself. 
Another advantage of one of these pools is that many shipping containers have windows. This way, you can enjoy a rather interesting underwater view. Many people opt to build decks and patios around their shipping container pools, turning them into a pretty epic outdoor space. And they're not just for warm weather: you can turn your shipping container pool into a hot tub when it's cold!
What do you think, would you consider installing a shipping container pool? If a traditional in-ground pool doesn't fit the budget, I think a shipping container pool is a great, cost-effective way to keep cool in the summer. What a great concept!