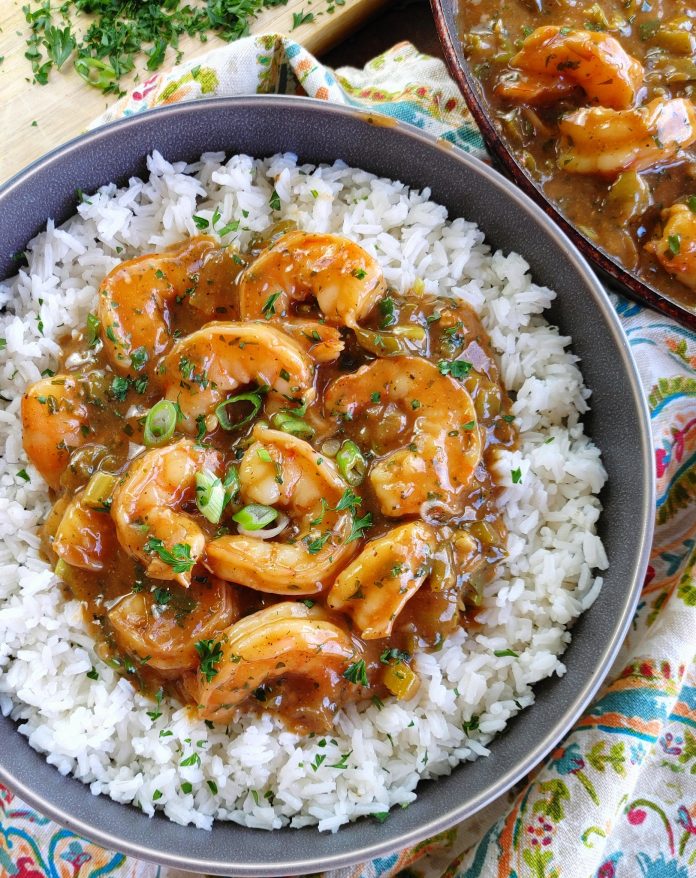 An easy cajun recipe from Louisiana with shrimp cooked in a silky, flavor-packed sauce or gravy (much like an easy étouffée) served over rice. 
A few months ago, a reader from Louisiana named Raul commented on my recipe for Carolina Chicken Bog to commend me for distinguishing between Cajun and Creole jambalaya in my write-up (the chicken bog is similar to Cajun jambalaya). Which made me feel good since it's a major pet peeve of mine for folks to glance at a regional recipe and call it something it isn't.
Raul circled back and asked if I'd ever heard of something called Shrimp Delicate. He said, "There is an official Louisiana recipe from the State web site that I have never seen anyone duplicate in their food blogs. My wife and I had it in a diner in Baton Rouge about 7-8 years ago. It's called Shrimp Delicate and it's made with an envelope of dry pot roast or beef stew seasoning. Have you ever tried it or even heard of it? We make it all the time since being exposed to the recipe."
Well, I was intrigued! And if this guy knew enough about Cajun/Creole cooking to know Cajun Jambalaya doesn't have tomatoes in it, then I kinda felt like he knew a thing or two about the cuisine!
I googled the recipe and landed on the Louisiana website where, sure enough, there was a recipe like he described. I knew it had to be same because of the beef stew packet.
Speaking of… OK, I legit did not know they made seasoning packets for beef stew. At first I thought he was talking about Lipton Beefy Onion soup mix which is what I use to make pot roast but upon closer inspection I learned it's actual Beef Stew Seasoning Mix (which will thicken because it has cornstarch in it).
Since the recipe uses a thickening stew packet, I was surprised that there's a little roux action in it too. I thought it would be one or the other or that the beef stew packet was just a cheater way to make an étouffée without a roux.
Because here's the thing… making a dark roux can be verrrrry tricky since it's so prone to burning in the 20-30 minutes it takes to get the dark color you're after. With this recipe, you still have a light roux (all easy-peasy when you add flour to the sautéing veggies) AND you get that deep dark color and glossy finish from the stew packet. 
This recipe is very much like Shrimp Étouffée but way easier and much quicker to make! Once you've chopped your veggies and prepped your shrimp, the whole shebang is done in less than 45 minutes!
I really liked the base. Like, really liked it. It's not quite a gravy because it's thinner than gravy and not too heavy. It's not quite a sauce because it's richer than sauce and super glossy. It's its own thing! It's a DELICATE!
Also, in my mind, I pronounce delicate like delegate for this dish. I imagine some Uncle Jessie looking fella looking over the back forty, hollering through the kitchen window, "Sugah, that shrimp delahCATE sure does smell good, yessum it surely does!". I'm kinda crossing my fingers that someone from Louisiana is going to comment and say, YES! That's actually how we pronounce it!! 
We loved this recipe. WE LOVED IT. And it's so beautiful!! It was super easy and I'd say, dang near fool-proof. If you're wanting a taste of the Bayou without working all day at it, this is the recipe for you!!
Since I'd never had the dish before, I tried to keep to the recipe but I did change a few things. The only things I did different was to…
Add garlic (the original just has a "dash" of garlic powder)
Use beef broth instead of water then reduced the salt by half (I may try chicken or vegetable broth next time just to experiment)
Use a little less oil
Add the green onions at the end so they didn't cook to oblivion
I am so thankful Raul told me about this recipe! It really is simple and easy to make. Don't look at the list of ingredients and pass this one by. It's just:
Vegetable oil
Onion, bell pepper and celery (the Holy Trinity)
Flour
Beef or chicken broth
Beef stew seasoning mix
Herbs & Spices
Green onions
Shrimp and
Cooked white rice
If I were still hitting an office 40+ hours a week, I would chop the veggies and prep the shrimp before I left for work (or if you're not a morning person like me, do it the night before) then throw it all together when I got home from work.
The whole meal is ready in under 45 minutes AND it's a one-pan meal (other than the rice) so there won't be a ton of dishes to clean. It's the Big Easy-Peasy! [somewhere one of my kids is rolling their eyes at that]