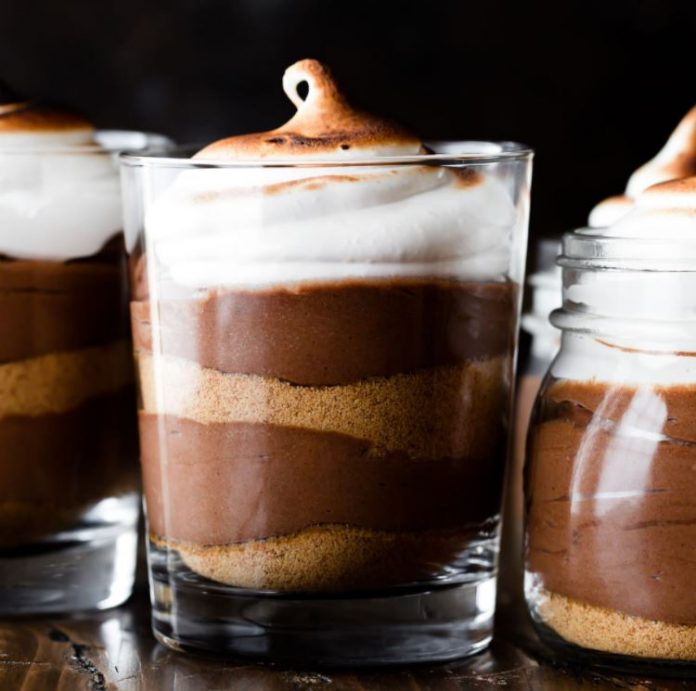 S'mores chocolate mousse combines fluffy mousse with graham crackers and homemade marshmallow creme. Learn how to make homemade chocolate mousse using this tutorial and whip out your kitchen torch for an unbelievable finish to a fun parfait-style dessert.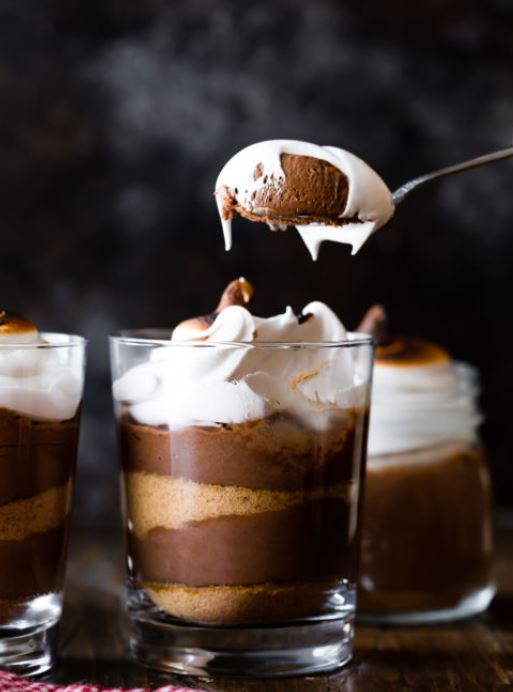 Fingers crossed you love s'mores and all the delicious flavors the campfire treat brings. Crackling fire or not, I love serving this nostalgic dessert in many different forms. With desserts like no bake s'mores cake, s'mores brownie cupcakes, and s'mores chocolate mousse, we can all agree that s'mores-ifying desserts is never going out of style.
National S'mores Day is August 10th, so I'm using this celebration as an excuse to show you how to make real chocolate mousse. We'll layer the homemade chocolate mousse with graham cracker crumbs and top the whole parfait with homemade marshmallow creme, aka creamy sweet meringue. We're toasting that marshmallow, too. ♥
If there's ever been a good excuse to own a kitchen torch (affiliate link, it's my favorite), s'mores chocolate mousse is it!
Let's Make Chocolate Mousse
Have you ever made chocolate mousse before? If not, let me teach you. While the ingredient list is pretty basic, there's a few steps requiring your attention. Helpful preliminary information: you need 2 cups of heavy cream total. Use some in the beginning, then the rest towards the end.
Whisk: 4 egg yolks, sugar, and a pinch of salt together. We'll use the leftover egg whites in the marshmallow topping.
Simmer: 3/4 cup heavy cream on the stove.
Temper: While constantly whisking, pour 1/4 cup warm cream into the egg yolks, then pour the egg yolk mixture into the remaining warm cream.
Cook: Until thickened.
Stir: Remove pan from heat, then stir in vanilla extract. Pictured on the left below.
Melt: Melt two 4-ounce semi-sweet chocolate bars until completely smooth. It's best to use real baking chocolate, such as Baker's or Ghirardelli. Finely chop each bar, then melt in the microwave in 20 second increments until smooth.
Combine: Whisk the melted chocolate and egg yolk mixture.
Whip: Beat the remaining heavy cream into medium peaks.
Fold: Gently fold the chocolate mixture into the whipped cream.
Prep Time: 3 hours, 45 minutes 
Cook Time: 10 minutes 
Total Time: 3 hours, 55 minutes 
Yield: six 6-ounce parfaits
Description
This fun parfait-style s'mores dessert combines homemade fluffy chocolate mousse, graham crackers, and homemade marshmallow topping.
---
Ingredients
Chocolate Mousse
4 large egg yolks
1/4 cup (50g) granulated sugar
1/8 teaspoon salt
2 cups (480ml) heavy cream, divided
1 teaspoon pure vanilla extract
two 4 ounce semi-sweet chocolate bars (226g), finely chopped*
1 cup (100g) graham cracker crumbs (about 8 graham crackers)
Marshmallow Topping
4 large egg whites
1 cup (200g) granulated sugar
1/2 teaspoon cream of tartar
1/2 teaspoon pure vanilla extract
---
Instructions :
CLICK NEXT PAGE BELOW TO CONTINUE READING …