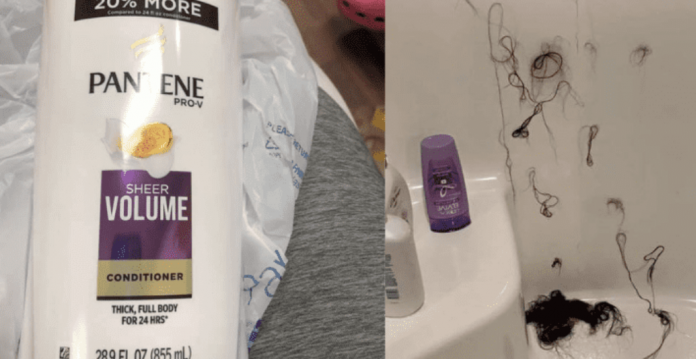 Major stores are a trustworthy destination to get products that are safe. Or are they? A Facebook post went viral where a Facebook user shared an experience that proves the fact that even big stores are not that safe.
The new pranks went from goofy and silly to dangerous and life-ruining because people seem to do stuff for fun not considering the harm they are causing to other people. These activities have gone beyond fun. Activities like spitting in tea, trashing properties, licking store ice creams, and many other disgusting activities
A Facebook user named Taffy Jo Timm shared a very unfortunate experience where her daughter was a victim of one of those sick sabotages.
Taffy's daughter bought a Pantene shampoo from Richmond Walmart and after using it, she noticed that her hair is falling. The mother said:
"As I speak she is losing hair and crying!!
Conditioner below this conditioner is supposed to be white is is an ugly pink color. Please note this is NOT FAKE!"
Wcco Chanel 4 will air tonight August 1 at 6pm***** I am stressed to the max as is everyone else with the rude…

Geplaatst door Taffy Jo Timm op Zondag 28 juli 2019
The mother shared the conditioner's picture and a picture of her daughter's lost hair. Well this obviously seems like a sabotaged item, because major brands won't pull this off and risk their reputation, not to mention that the products produced are well monitored and checked before they go out to the worldwide store, and that is why this is a clear replacement (someone filled the shampoo bottle with Nair hair removal creme).
This is not the first time I personally hear a story about this because I know a bunch of people that were victims of this kind of barbarism. The mother said in her Facebook post that she notified the local police department and they are working on finding the individual(s) responsible for this act of violence.
Her hair is so brittle and still falling out. They can't do anything. She is going to get her head shaved. This momma is full of emotions right now. UGH!" The poor child had to go to a salon to get hair extensions to replace the lost hair.
I don't really understand why an individual would do something like this just for fun or just because he or she wants to. There are sick people out there.