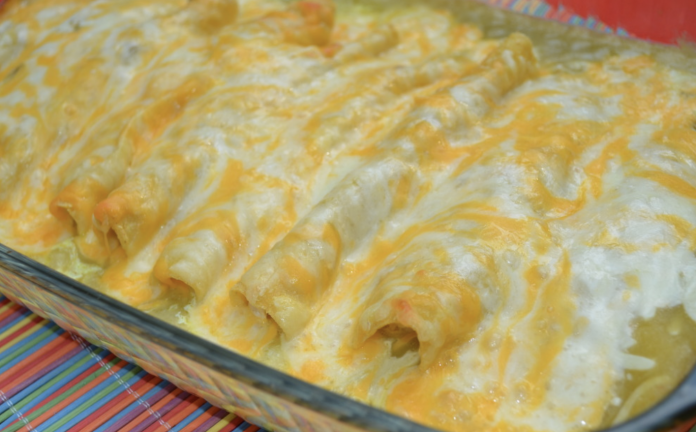 Amazing White Chicken Enchiladas with Homemade Sour Cream White Sauce–No Soup. It is easy to make and off the charts delicious!
Everyone in my family loves it!  I could serve it 7 days a week and there would be smiling faces all around the dinner table if I was serving it.
But these enchiladas are even better than regular Mexican food. Well, of course, Yes, they are indeed Mexican inspired food, but imagine the best, most delicious imaginable, super creamy and Cheesy to boot, Mexican food!!!!!
This recipe is a 10 star outta 10-star recipe. Everyone in my family loved, loved, loved it. It's easy to put together and ridiculously yummy.  The sauce is thick and rich and not at all spicy. Cheesy Chicken Enchiladas in a creamy white sauce, what's not to love?
Ingredients
16 oz. sour cream
1 can cream of chicken soup
1 tbls. fresh chopped cilantro (1/2 tbls. dried)
2 1/2 cups cooked shredded chicken breast
1 can Rotel
1 cup chopped onions
8 tortillas
1 cup shredded pepper jack and colby cheese blend
1 can diced green chiles
How to make it :
Click Next Button Bellow for Full Recipe…