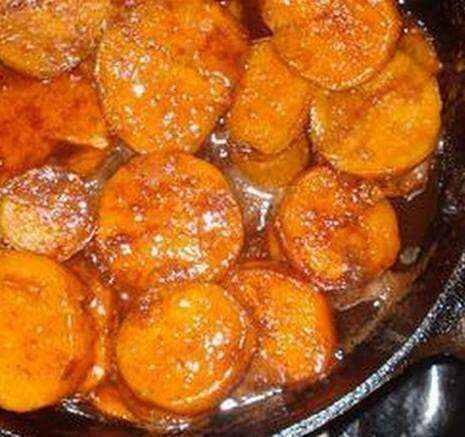 Southern Candied Sweet Potatoes are a wonderful fall side dish. Thick sweet potato slices are covered in a butter and sugar mixture and baked until soft. They are wonderfully sweet and flavored with a little cinnamon, ginger, nutmeg, and vanilla. They are a welcome addition to a holiday meal or a Sunday supper.
Only a few ingredients are needed to make this southern staple and I love to make them in the fall when sweet potatoes are in season and inexpensive.
To make Southern Candied Sweet Potatoes, peel and slice 4 to 5 medium to large sweet potatoes. Go ahead and use as many as you can fit in a 9×13-inch baking dish. Leftovers reheat well. You can even eat them for dessert with a scoop of vanilla ice cream.
Sprinkle some salt on the sweet potato slices and pour a mixture of melted butter, white sugar, brown sugar, and the spices over them. Cover with foil and bake for 30 minutes.
Remove the pan from the oven. Spoon the butter sauce all over the tops of the sweet potatoes and pop them back in the oven uncovered for another 30 minutes.
At this point they will be soft and the butter will have begun to caramelize around the edges of the sweet potatoes. They are so sweet and delicious. I especially love how well these sweet potatoes pair .
2 cups white sugar
1 teaspoon ground cinnamon
1 teaspoon ground nutmeg
1 pinch salt
1/2 cup butter
6 sweet potatoes, peeled and sliced
1 tablespoon vanilla extract
How to make it :
CLICK NEXT PAGE BELOW TO CONTINUE READING …