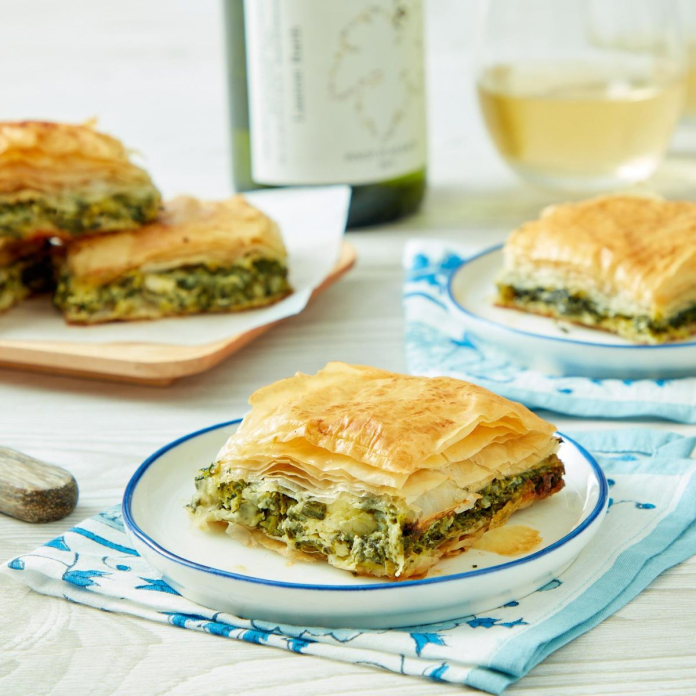 Golden, flaky phyllo pastry filled with a creamy spinach filling, rich feta cheese and fresh herbs. …… Spanakopita (spinach pie) is a dish that even Greek grandmothers are proud of. Spinach pie is difficult to make, but this recipe makes it easy. Fold the whole sheet into a baking dish and butter it." No cutting or folding is required, and if one sheet breaks, no one will know!" . If you cut a slit in the filo pastry paper before baking, it will cut cleanly when serving. Serve as an appetizer at a dinner party or cut into larger squares for a vegetarian Easter dinner. Grandpa!
How do I keep the slices of phyllo pastry from breaking?
Thaw frozen phyllo pastries completely (overnight in the refrigerator is a good idea) so that they don't break when you spread them out. Cover the pile with parchment paper and a damp kitchen towel to keep it from drying out while you are making it.
How do I quickly thaw frozen spinach?
Remove the plastic wrap, place on a microwave-safe plate, and microwave for 1 to 2 minutes until just defrosted. We want the frozen spinach to be as dry as possible before cooking, so skip the rinsing. Press with a strainer or lint-free dish towel (over the sink) to remove excess water.
What should I do with the excess filo pastry paper?
Make traditional apple strudel or baklava, a popular Middle Eastern dessert. Another option is to layer the paper as a top for pot pies.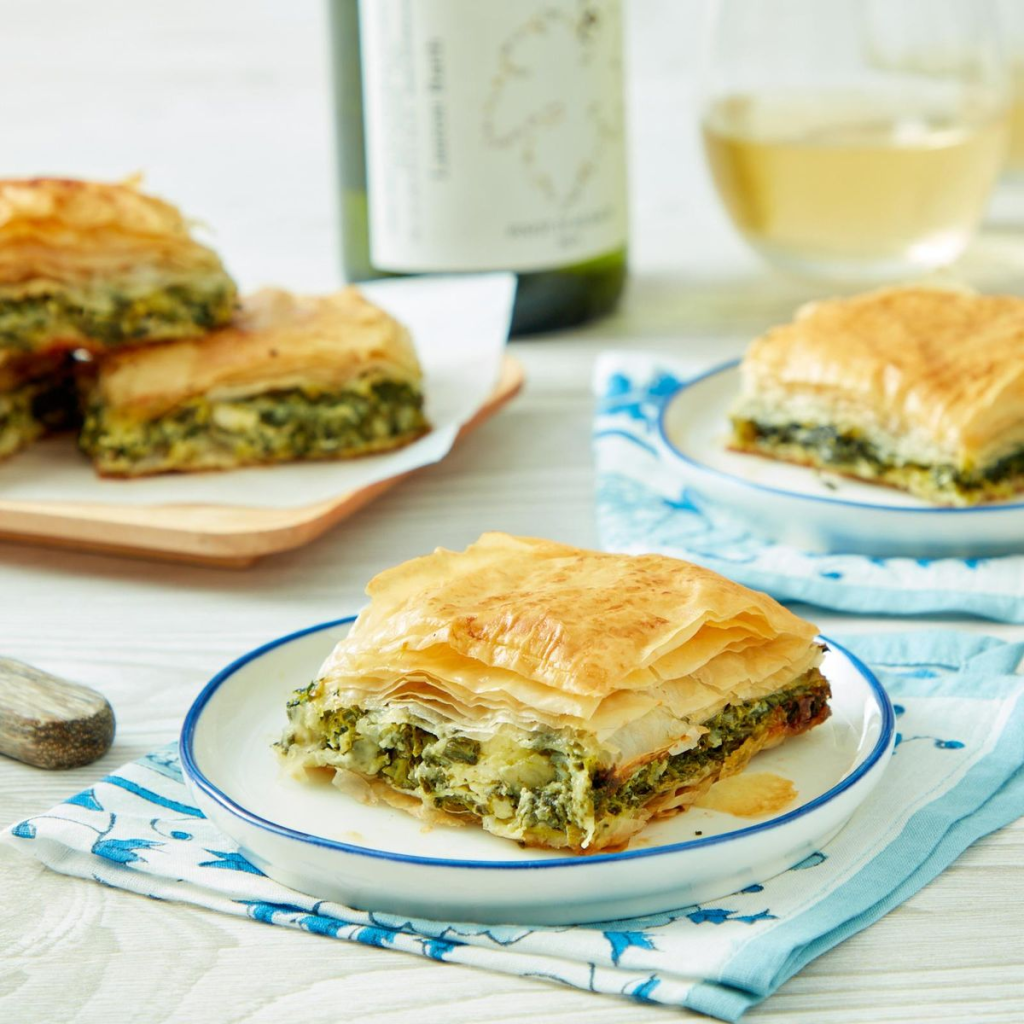 Yields : 15 serving(s)
Prep Time : 15 mins
Total Time : 1 hr 20 mins
Ingredients
2 10-oz. packages frozen chopped spinach, thawed
10 tbsp. unsalted butter
1 yellow onion, chopped
4 scallions, chopped
4 garlic cloves, chopped
2 large eggs, beaten
6 oz. container crumbled feta
1 c. cottage cheese
1/4 c. chopped parsley
2 tbsp. chopped dill
1 1/2 tsp. kosher salt
1/2 tsp. black pepper
16 9-by-13-inch sheets frozen phyllo dough, thawed
Directions.
1 – Place spinach in a large dish towel or double layer of paper towels and squeeze to remove as much excess water as possible. Set aside.
2 – In a large saucepan, melt 1 tablespoon butter over medium heat. Add onion, shallot, and garlic. Cook, stirring occasionally, until onions are tender, 8 to 10 minutes. Transfer to a large bowl and let cool for 10 minutes.
3 – Add eggs, feta cheese, goat cheese, parsley, dill, salt, pepper, and drained spinach to onion mixture. Stir until well mixed.
4 – Preheat oven to 375°. In a small microwave-safe bowl, melt remaining 9 tablespoons butter in 15-second intervals. Generously butter a 9 x 13-inch baking dish. Place 2 sheets of phyllo dough on bottom of dish, overlapping. Brush the surface with butter. Repeat three times, making a total of 8 sheets of phyllo pastry, brushing each layer with butter. Spread the spinach evenly over the pie crust. Top with the second layer of phyllo pastry and brush with butter. Repeat with the remaining 6 layers of phyllo pastry, brushing with butter. Spread remaining butter evenly over the spanakopita.
5 – Cut each sheet of phyllo pastry into 15 pieces with a small knife (this will make it easier to cut after baking). Bake spanakopita for 45-55 minutes until golden brown. Serve while hot.