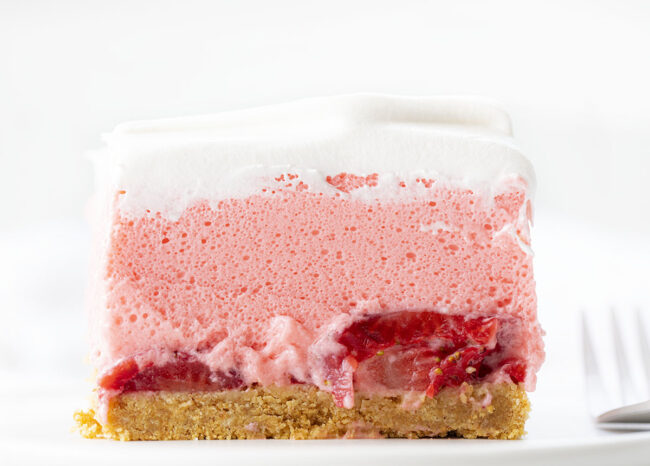 PREP TIME : 15 MINS
CHILL : 12 HRS 30 MINS
TOTAL TIME : 12 HRS 45 MINS
Strawberry Woolworth Icebox Cheesecake is a light and fluffy no-bake dessert with fresh strawberries and a graham cracker crust.
COURSE: DESSERT
CUISINE: AMERICAN
KEYWORD: STRAWBERRY WOOLWORTH ICEBOX CHEESECAKE
SERVINGS: 12
CALORIES: 328 KCA
INGREDIENTS :
CRUST
2 cups graham cracker crumbs
1 tablespoon granulated sugar
½ cup (1 stick or 113g) butter, melted
1 pound strawberries, thinly sliced
FILLING
1 block (8 ounces) cream cheese, room temperature
1 cup (200g) granulated sugar
2 teaspoons vanilla
1 box (3 ounces) strawberry jello mix
½ cup boiling water, 212°F
½ cup cold water, 55°F
1 can (12 ounces) evaporated milk, chilled
INSTRUCTIONS :
Chill the bowl of a stand mixer and the whisk attachment in the freezer, along with the can of evaporated milk.
CRUST
Spray a 9×13-inch baking dish with nonstick cooking spray.
In a medium bowl, add graham crackers and sugar and mix together.
Add melted butter and mix until all ingredients are fully incorporated (no dry spots).
Press the crumbs firmly into the bottom of the prepared baking dish.
Top the crust with a single layer of sliced strawberries. Set aside.
CLICK NEXT PAGE BELOW TO CONTINUE READING …