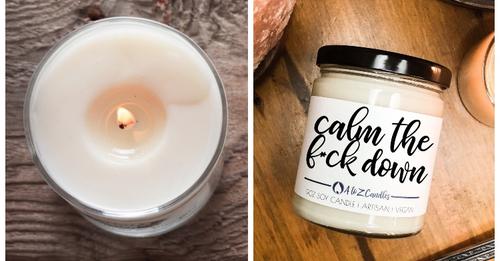 The cooler temperatures are here, which means it's officially candle season! There's just something about lighting a candle that provides all sorts of warm, welcoming feelings and smells, and it's the perfect way to unwind after a long day (especially if you don't have time to take a bubble bath or read a book).
But even better than apple-cinnamon or vanilla scents to help you relax? Swear word candles. These graphic babies have recently popped up in several Etsy stores – and for the best reason. They literally express how you feel about yourself and, in doing so, weirdly help you feel better after lighting one. The phrases in them say it all so you don't have to.
Take the seasonal delights from Etsy store SnuggleFuelCandleCo, which colorfully express how you feel about fall (the F* yeah it's autumn! is our personal mantra), Christmas , and more.
If you're feeling a little sassy, check out YouJustGotBurnedCo, which has everything from "Fresh Outta Fs" candles to popular phrases that authoritatively tell you who you are: "Yes, I'm a f* princess." There are also some blatant phrases that simply say things like "S*head," which is great as a gift for the person who understands your humor.
Speaking of gifts, LightersCandleCo is great for a slightly less aggressive cursed candle that says exactly how you feel about your BFF. Especially if you've been a little sassy lately (the "Thanks for putting up with my s* is the perfect way to thank someone). Our favorite is the one that says "Thank f* for you." What better way to show love, really?
BaumDesignsShop is another great source for a candle that curses. Between their candle that says "S, people will come, light it" and their "I f** love you" candle, we can't pick a favorite, but they have so many options for any mood.
Lastly, SnarkyLights Boutique offers candles that are sarcastic to say the least, just like the store's name. "I don't embellish things, I'm not Willy Wonka" and "Oh for heaven's sake" are just a few of the phrases you'll find in this store.
The best part is, all of these candles are made from scratch and burn nice and slowly, so you can get the most out of your swear-tastic candle. Check each shop description to find out what kind of wax is used, the material of the jar, and the burning hours. And then burn, baby, burn!
Would you ever buy a candle like this, for you or a loved one?
Which of these sweary candles is your favorite?