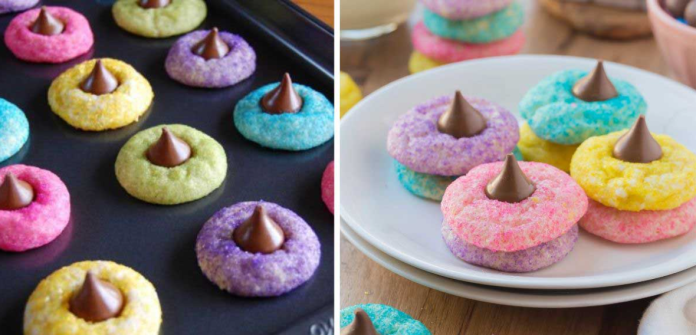 I've always loved Easter. When I was a little kid, my mom would put out my very own "Easter tree" every year, decorated with tiny chicks, bunnies, and flower ornaments. I loved dyeing and decorating Easter eggs with my cousins, and more than anything, I loved indulging in Easter treats – and still do! Of course, Easter involves MiniEggs and lots of chocolate. But it certainly isn't complete without this darling cookie recipe I'm going to share with you.
Easter Blossom Cookies are growing in popularity, and it's such a fun yet simple recipe idea. Easter Blossom Cookies are essentially just soft balls of sugar cookie dough rolled in sprinkles and topped with a Hershey kiss. They're bite-sized, decorated in sprinkles that totally fit the Easter color scheme, and all kids are bound to go wild over them.
There are multiple Easter Blossom Cookie recipes on the internet, but I like the recipe from the baking blog, Oh My Goodness Chocolate Desserts. The steps are extremely simple to follow, and the recipe is complete with lots of helpful photos. There's even a printable template at the bottom of the page so that you can print out this recipe and add it to your recipe book of favorite desserts.
Description
Easter Blossom Cookies are easy to make, super cute and festive Easter dessert. These are soft sugar cookies rolled in sugar sprinkles for a festive touch, with yummy chocolate candy in the center.
Ingredients
3 cups (375 grams) all-purpose flour-spoon and leveled
½ teaspoon salt
1 ½ teaspoons baking powder
1 cup (230g) unsalted butter-room temperature
2 oz. (56g) block style cream cheese- room temperature
1 cup (200g) granulated sugar
1 large egg- room temperature
2 teaspoons vanilla extract
½ teaspoon almond extract
About ¾ cup (150g) colored sanding sugars (sugar crystals, sugar sprinkles)
34–36 Hershey kisses- unwrapped
Instructions
Whisk dry ingredients: the flour, baking powder, and salt together until combined, then set aside.
In a large bowl beat the butter and cream cheese together on high speed until smooth, about 2 minutes. Add the granulated sugar and beat until creamy. Add the egg, vanilla extract, and almond extract and beat until combined.
Add the dry ingredients to the wet ingredients and mix on low speed until combined. The dough will be thick. Cover dough and chill for an hour.
Preheat oven to 350°F. Line baking sheets with parchment paper and set aside.
Pour sanding sugars in small bowls.
Roll 1 Tablespoon of dough into balls, then roll each ball in the sanding sugar to coat. Arrange them onto the baking sheet leaving 2 inches space apart. Using the back of a measuring cup or a glass, gently press down on each dough ball to slightly flatten. Bake the cookies for 11-12 minutes.
Remove from the oven and allow to cool on the baking sheets for 3-4 minutes. Press a chocolate candy into each cookie. Transfer on a rack to cool completely.
It certainly isn't too early to start planning out your Easter brunch or dinner menu with accompanying treats. And these cookies seem like the perfect addition to the Easter treat table.